By Charlene Muhammad CHARLENEM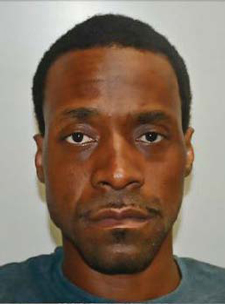 Kori Ali Muhammad, accused of killing three White men in Fresno, Calif., will undergo a psych evaluation before arraignment on those and other charges in a previous shooting. The accused has a troubled past and previous concern about mental issues in court cases.
He is scheduled to return to court May 12.
"Let Black people go with reparations," the 39-year-old yelled out in court on April 21, as his attorney Eric Christensen of the Public Defender's Office was asking Judge W. Kent Hamlin to delay the hearing so he could be tested. He may not be mentally competent to proceed with the case, said his lawyer, who referred to him as Kori Taylor Muhammad, per court documents.
He was arrested for the April 18 shooting of three White men at random according to police, a Pacific Gas & Electric worker sitting in a truck and two men who had come out of a Catholic Charities building, said the Associated Press. He was charged April 21 with the killing of an unarmed security guard Carl Williams at a Motel 6 a week earlier.
Authorities have said the Williams' killing was the first of four by Mr. Taylor Muhammad.
Police have said he told them that learning he was wanted for the Williams' killing spurred him to try to kill as many White people as possible before he was caught.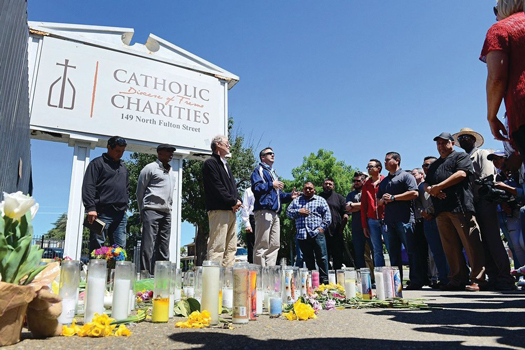 Mr. Taylor Muhammad fired 17 rounds in less than two minutes, police said. Officers with help from acoustic sensors posted in the area arrested him less than five minutes after the rampage began. Police say he surrendered when confronted by officers.
Fresno County Superior Court Judge W. Kent Hamlin assigned a doctor to examine Mr. Taylor Muhammad's mental state. Judge Hamlin set bail at $2.6 million. The accused is facing one count of murder and one count of attempted murder. After allegedly murdering Carl Williams, III and attempting to murder another guard, Oscar Menjivar on April 13, Mr. Taylor Muhammad allegedly went on a one minute shooting rampage, killing Mark Gassett, David Jackson and Zack Randalls, all White men. He shot at a fourth, but missed, according to police.
Fresno Police Chief Jerry Dyer has called the shootings random acts of race hatred, not terrorist attacks. His conclusions stem from posts on Mr. Taylor Muhammad's social media accounts, said officials. Based on Mr. Taylor Muhammad saying "Alli Akbar," police contacted the Federal Bureau of Investigations and will be working with the Bureau of Alcohol, Tobacco, Firearms and Explosives to locate the origin of the gun, he said. Chief Dyer said Mr. Taylor Muhammad threw the weapon away after the April 18 shooting and shortly before being arrested.
Was the same weapon used in the Williams shooting? The Final Call asked Detective David Madrigal via email. There was no reply. He directed questions to the Fresno County District Attorney's Office.
More charges were expected to be filed. It could be a death penalty case, because of the number of victims, defense attorney Christensen said.
After meeting for about five minutes with his client April 21, Atty. Christensen told The Final Call, the accused was relatively calm and generally polite.
"Just after that brief conversation, it was clear to me that there may be some mental issues involved," said Atty. Christensen, who added he's handled mental health cases for over 30 years.
In 2005, lawyers in a federal criminal case found Mr. Taylor Muhammad unfit to stand trial due to mental deficiency.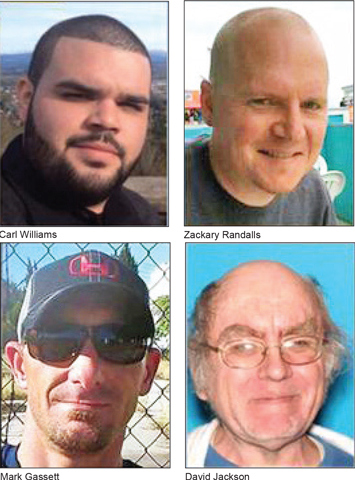 According to Gun Violence Archive, an online archive of gun violence incidents collected from over 2,000 media, law enforcement, government and commercial sources, there were 104 mass shootings in the U.S. as of April 21.
"You can't look at this brother's situation, and separate it from the larger society which uses violence as a way to resolve its issues," said Davey D, a hip hop journalist, talk show host and activist.
For a long time, people have spoken about the importance of deescalation, conflict resolution, and other means to resolve touchy situations, but not anywhere else, he said.
"We don't want to do it in Syria. We don't want to do it in North Korea. We don't want to do it with the police departments when they're brutalizing us. In fact, they want to ratchet things up," Davey D said.
"You don't want to do that with undocumented folks. We want to put down the hammer. We want to hit hard. We pride ourselves on it. We sing songs about it. We glorify it. We romanticize it, and, so, when you have somebody who, if we follow the reports, had a hatred and acted on that hatred, we shouldn't be surprised," he told The Final Call.
There are plenty of examples, from Dylan Roof, who slaughtered innocent Black churchgoers in South Carolina to the some 500 mass school shootings in the past 15 years or so, said the writer and analyst.
"If this brother had shot three Black people in a fit of rage, we would have heard stories about Black-on-Black crime. Nothing really would have been done. If we said mental health challenges, we would have had society say, 'Well, he needs to be more responsible,' " Davey D added.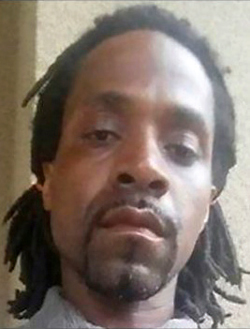 Black sell-outs would be on TV blaming parents and preachers, but now, it's viewed a bit more differently, and people want to punish an entire community, he argued.
Automatically, the false narrative becomes Mr. Taylor Muhammad "is probably one of those Nation of Islam people, and oh, what does Farrakhan say?" said Davey D.
The anger, chaos and confusion sweeping across America is certainly not unusual, nor to be unexpected, observed Demetric Muhammad, a student minister in the Nation of Islam in Memphis, Tenn., researcher and author.
"When I first heard about the shootings, I thought here we go once again where the Nation of Islam and its teachings are dragged into a scenario of violence to hopefully connect the episode of violence to the ideas and the teachings of the Nation of Islam," Min. Demetric Muhammad stated.
There have been prior attempts. For instance, during coverage of the April 19, 1995 Alfred P. Murrah Federal Building bombing by White Christian Timothy McVeigh and Terry Nichols, KABC talk radio station erroneously reported that a member of the Nation of Islam took credit for the bombing, even though it cautioned that the claim might have been a crank call, recalled Terry Muhammad, coordinator for the Nation of Islam Study Group in Oklahoma City, Okla.
"I was on my way to the bakery … I laughed to myself, I said we don't do stuff like that," he said.
Other news outlets reported, then retracted the early and false report.
Micah Xavier Johnson, described as a troubled Afghanistan War veteran, allegedly killed five officers and injured nine others last July 7 in Dallas. Police said he was upset about Black Lives Matter, police shootings of Alton Sterling in Baton Rouge, La. And Philando Castille in the Falcon Heights suburb of Minnesota. Police used a bomb attached to a robot to kill him.
"Is he connected to Public Enemy because he had a fan picture that thousands of people have standing next to Professor Griff? They wanted to know who his daddy knew? Who his mama knew? All that sort of stuff, but we didn't have that when Dylan Roof slaughtered nine people in South Carolina," Davey D observed.
"We didn't go, what music is he listening to? What did his preacher say? We didn't have any of those conversations, so there's a double standard in terms of how things are accepted and not accepted, but more importantly, I think we have a problem with society and general violence, and there's a rationale for that violence depending on where you sit."
"Compare how they're reacting to him versus the White boy that came up from Baltimore and killed the older Black guy in New York City and said he was hunting. Most people couldn't even tell you his name," Davey D continued.
Twenty-eight-year-old James Harris Jackson, a Caucasian, U.S. Army vet, hated Black men since he was a kid and was bent on killing a Black man, media reported. Police said he took a bus from Washington to New York, picked at random, and March 22 fatally stabbed Timothy Caughman, a 66-year-old Black man, with a sword, according to police.
According to CNN Newswire, Mr. Taylor Muhammad "was indicted in 2005 on charges of possession with intent to distribute cocaine and possession of two rifles and a semi-automatic handgun, according to federal court documents. After a psychiatric evaluation, he was found not competent to stand trial in July 2005.
"His public defender at the time raised questions about whether Muhammad was mentally fit to stand trial, according to court records. He 'appeared eccentric with some bizarre beliefs' and appeared to have hallucinations, and he had at least two mental health hospitalizations, court records show. In June 2006, Muhammad was found competent to stand trial. He pleaded guilty and was sentenced to 110 months in prison, which was later reduced to 92 months."
ABC News reported that the accused "told investigators that he hid out in a ravine and practiced voodoo rituals after the Motel 6 slayings. He also told investigators he is Muslim, but he prays to seven different gods and hasn't been to a mosque in 25 years."
"Muhammad is really an honorific title in Islam. It's more than just a name. It is a title that designates someone who is commendable or who commits praiseworthy actions," Min. Demetric Muhammad said.
It is proven that the Nation of Islam has a long history of not only being a peaceful community of people, but social activism and stopping crime, he said. "We're not a carnal army.
We're not to carry weapons. Our Restrictive Laws of Islam say we are to be kind and do good to all. It says obey those in authority and even nonbelievers in authority over you," he said.
Members of the Nation can be put out of the community for carrying weapons and are forbidden to commit acts of violence on self or others.
(Final Call staffers and the Associated Press contributed to this report.)