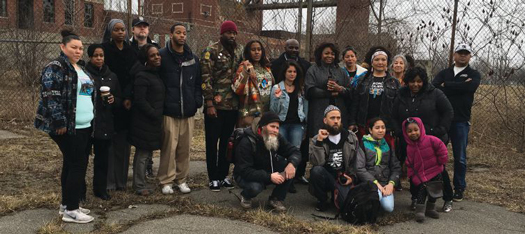 FLINT, Mich.–A weekend event devoted to connecting the Flint water crisis and Standing Rock anti-Dakota Access oil pipeline movement included workshops, entertainment, and a tour of the city. It was part of efforts to show how Black, Latino and poor suffering communities should be linked to the struggles of Native Americans in North Dakota fighting to protect sacred spaces and their water supply from contamination.
Why unite the struggles of the Flint water crisis and the battles by Sioux on the reservation in North Dakota? asked event organizer Yonasda Lonewolf. The March 24-26 event was necessary because both groups have been victimized by government injustices and failures, she said. Both suffer from social and human inequalities which have led to the poisoning of people, she added.
Pastor Jeff Hawkins of Prince of Peace Missionary Baptist Church and his wife April Cook-Hawkins were co-organizers for the event and live in the city of Flint.
The remarkable expo connected many races, religions, cultures and social groups interested in helping Flint residents with water filters, including Berkley and Global whole house filtration systems.
The Red Nation, It's Bigger Than Hip Hop and Endemik Graphics teamed up to travel from Albuquerque, N.M. and San Francisco, Calif., to sell t-shirts and handmade jewelry to help raise funds for the effort. Sharidynn Denetchiley of The Red Nation said she wanted to be in Flint and to be a part of this important movement.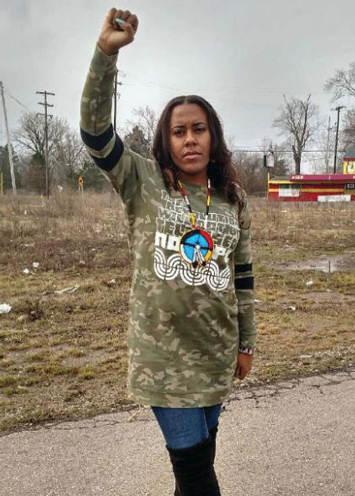 Activists in Washington, D.C., parts of New Jersey and Baltimore Bloc members of Black Lives Matter helped pull the event together. D.C. activist Jazzlyn Lindsey said, "Meeting the Flint residents and getting to spend time with them was eye opening for all of us. You can read about the crisis as much as you want to know all of the facts. But until you really come and sit down with the people and eat meals with them and understand their pain and see that it really could be any of us at any point in time, the severity of this and why we all have to stand together in unity. This is why we as Black Lives Matter and just we as a community and us, as individuals, are very, very grateful to have had this opportunity.
"We just really want to love and thank the people of Flint for having us here and know that you have our full support," she said.
Water expo presenter Nancy Sullivan from Kettering University explained what is in Flint's water and the various studies completed up to this time. These studies have also included the needs of the community and how the community is responding to the overall crisis, she said.
Harold Harrington, a plumber and representative of the UA Local 370 Plumbers, Fitters, Welders and Service Techs Union, not only talked about what his union has contributed to Flint residents, but also demonstrated various types of plumbing that could possibly be inside a home. He showed plumbing that was corroded, lead piping versus copper, PVC and various other home fixtures.
William Korreck, president of Global Environmental Engineering, offered a demonstration of various home filtration systems, including systems that will filter an entire house and under the sink filtration for faucets and shower filters. Plans are to use funds raised during the weekend to purchase and install some of these with filters.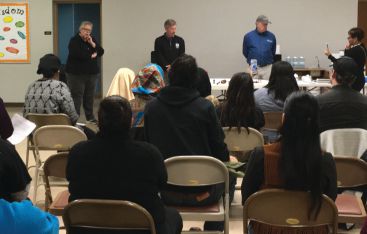 Native American lawyer Gysai Ross called for greater social responsibility with individual changes, finding networks to work with for change and justice, holding others accountable and unleashing marches and protests once when the power structure does wrong.
Whistleblower John Bolenbaugh brought his Mobile Action Theater Education Center (M.A.T.E) to demonstrate and show videos on big oil spills throughout the United States. He became active following a huge 2010 oil spill in Marshall, Mich. that polluted water in Calhoun and Kalamazoo counties. A former environmental cleanup worker, he has accused the industry of cover-ups. These spills have compromised the safety of water throughout the country, he said. He prides himself on exposing the truth about spills–their origins and the process and the methods used to clean up spills. Many times people are not properly notified of the spills and the truth about clean-ups is covered up, charged Mr. Bolenbaugh.
Other presenters such as Chaavas Muhammad and WAIKEA Hawaiian Volcanic Water had discussions about how essential water is and the importance of water to human beings and agriculture.
This weekend included singing, dancing, spoken word performances, musicians, comedians and visual artistry from local and nationally known artists, including Mama Sol, Tobias Truvillion, Buc Hollingsworth, Charisse Bradley, Jiggy Jada, Mari "Little Miss Flint" Copeny and others. Musical artists ranged from Neo-Soul to R&B, hip hop and country western music.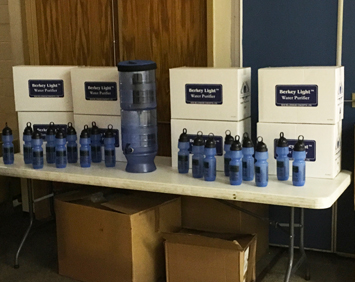 The artists delivered messages about struggle, information, concern and solutions to social injustices that violate human rights regardless of race, religion, economics, social status or age. These messages connected the participants across boundaries.
April Cook-Hawkins and her husband hosted a tour of the city of Flint that included a visit to the Flint water plant, various sites where General Motors was once located and has since moved to other regions of the country and world. A predominately Black community was torn down due to industrial complexes, said activists. A drive through many neighborhoods showed blight, destroyed homes and upscale neighborhoods, home to the mayor and others, such as, doctors, lawyers, judges, clergy, educators and business people. The tour takers expressed shock when told many of the properties have been sold for as little as $1 and redeveloped to increase the economics of some well to do people in Flint.
A visit to the infamous Flint River, the source of the Flint water crisis, was followed by a city tour. Flint has suffered from a water crisis since state officials decided to change the city's water source to the contaminated Flint River, which was filled with unsafe water for drinking and even bathing.
Other weekend partners included the Hip Hop Caucus, Pow Wow.com, Hip Hop 4 Flint, Next Generation Action Network (NGAN), Black Lives Matter and many others.