By Charlene Muhammad CHARLENEM
Funeral for beloved brother of Nation of Islam first lady held in Los Angeles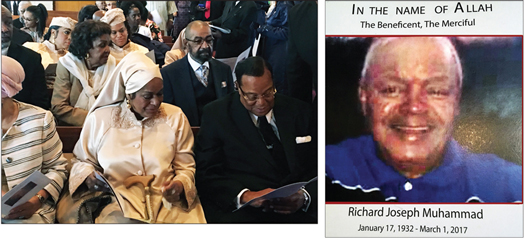 LOS ANGELES–Joy and pain dwelled on the faces of family and friends who filled the Harrison Ross Mortuary to celebrate the life of Richard Joseph Muhammad who returned to Allah on March 1, 2017.
Student Minister Charles Muhammad of Phoenix, Arizona began the Janazah, or Muslim funeral service, in prayer for Richard Muhammad, beloved brother of the Nation of Islam's First Lady Mother Khadijah Farrakhan.
Two large bouquets–one multicolored and one with white roses only–flanked Richard Joseph's cool, grey casket. Some looks of pain began to dissipate as Min. Charles Muhammad read from the obituary of the Muslim pioneer who accepted Islam under the Honorable Elijah Muhammad in 1957.
Looks of anguish also faded as the Honorable Minister Louis Farrakhan began to explain the Muslim service and how his brother-in-law's life would be presented.
"We don't have a lot of flowers at our home going because we try our best to give flowers while we live," Min. Farrakhan said. He explained Muslims don't spend an inordinate amount of money on the most fabulous caskets, because they live by each other in such a way that when death comes, they have no regrets.
There's no "show," in returning the body to the earth, because the deceased has already returned to Allah. There's not a lot of music or sad songs because the dead cannot smell the flowers, nor hear the sad songs.
"We are present, because Brother Richard touched our lives in some way that we don't have to talk so much about what he meant to us, because our presence is demonstrative of what he meant to all of us," Min. Farrakhan said.
Death is a natural part of life, he said. There cannot be one without the other, and if one comes to birth, at some point in time, they'll have to taste of death. Life and death are from Allah, Min. Farrakhan stated.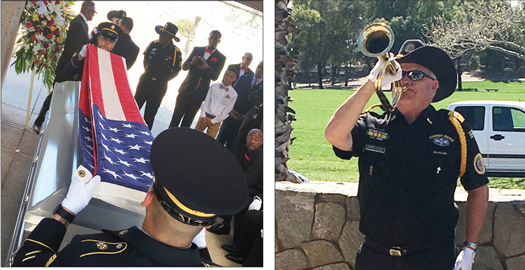 "Our job is not to do or say anything that will add to the sadness or the sorrow of those of us who mourn his loss. The God that we all serve, whether you know him by whatever name you know him, is a God of mercy," he said.He underscored, as written in the program, his longtime friend and brother-in-law "returned to Allah." "How could he return to some place that he didn't come from? So if he returned from God or Allah, the means he came from God and Allah," he said. God "lent" Richard Muhammad for a certain time, he explained.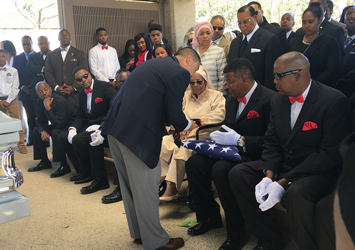 The Minister motioned and pointed several times to the body that once housed his brother-in-law's spirit as he gently, eloquently, and with levity took the mourners on a journey down memory lane.
Heads nodded and affirmed Min. Farrakhan's words. "We are here because we experienced him. We know him. We love him. We remember all the good things that brought us here to celebrate his life, and so there's sadness in us, but God never intended for the righteous to grieve," he said.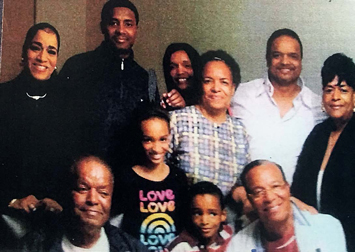 "Grief is for the wicked. They do evil in their lives. They do evil to one another, so when they pass, they have affected people, so there's grief there. That's part of a punishment from God," Min. Farrakhan said.
Sorrow is natural, he continued. "We are sad. We are sorrowful, but we are not grieving, because we had him for 85 years, and because he came this way, we are here! Because he came this way, me and Khadijah, who was Betsy at the time, we met each other," Min. Farrakhan stated.
"Allah-U-Akbar! (God is the Greatest!)" a voice rang out from the pallbearers' row, where Richard Muhammad's sons sat. Donned in black suits and red bow ties, they looked and listened intently as Min. Farrakhan went on.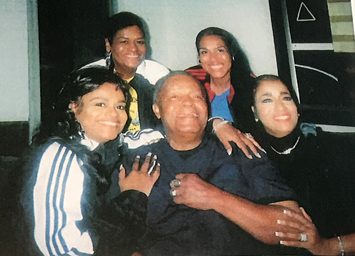 Some in the modest mortuary wiped away tears and laughter began as Min. Farrakhan went on to share he was 11 and his beloved future wife was eight when her brother introduced them.
"I didn't know nothing about love … but he and I were in school together, and a bully wanted to fight Richard, and Richard being such a sweet soul–but don't, don't stress that, because those who know Richard, know that he was nobody to play with if you got him stirred up," Min. Farrakhan recalled.
Refrains of "Yes sir! Yes sir," co-mingled with laughter filled the air.
Min. Farrakhan resumed, "But this young man that was trying to fight him, he was bullying brother, and brother didn't want to fight him, so I stepped in and whipped him."
As a reward of whipping that bully, Richard Muhammad brought Min. Farrakhan–then Louis Walcott–to his home.
"And that's when I met my Khadijah. She was eight and I was 11, and time has brought us to the point where we have been married 64 years now, and it was because of Richard. So I know why I'm here: I'm here to say all praise belongs to God for the life of this man that brought me to the woman that only God could have prepared for me," Min. Farrakhan said.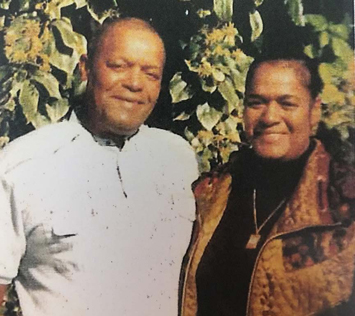 He was there in gratitude, not in sadness, he continued. He asked each who was touched as well, what should you feel? He said they could scream out if they wanted to, but God didn't wrong anyone by taking back what he sent, said the Minister.
"What should our attitude be? It should be one of gratitude and thanksgiving," Min. Farrakhan said. He asked each person to think about why they could thank God for Richard Muhammad, saying a better spirit would be felt and help them deal with their loss.
He stated, "The Quran says it like this: 'No soul dies but with the permission of God. The term is fixed.' "
His brother-in-law had plans with his beloved sister Sylvia (Diamond), Min. Farrakhan shared. They were going to live together and she'd care for him. "He was a strong soldier, but these two women that sit here (he motioned to Ms. Diamond and Mother Khadijah), he guarded them. He protected them. He was a good big brother, so they're here out of pure love, and gratitude, and thanksgiving for such a soul as this," Min. Farrakhan said.
Richard Muhammad's son Robert, who fought back tears, stood up and saluted.
His father had gone in for a surgery, and knew his term was fixed, and went out, but before he left, he talked to all of his family and was charged up, ready for the next step, Min. Farrakhan shared.
When one knows all their tears and prayers can't change the reality of returning to God, the only Creator and only Life Giver, submit to the understanding that the term is fixed, he said. "When you recognize that life and death is the will of God, then we are only Muslims when we submit to the will of God. Since we can't change it, then we bow down to it," Min. Farrakhan stated.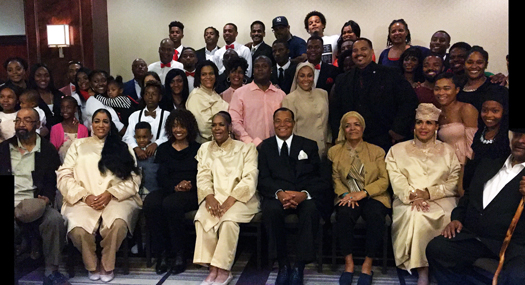 Funerals are reminders that all will be in this state, and since life is like a vapor and appears for a short time and then is gone, the question looms, what is judgment about?"It's about asking us, what did you do with God's time, and what are you willing to do for the rest of the time that we have?" Min. Farrakhan asked.
Richard Muhammad lived a full life. Born Richard Joseph Ross, Sr. on Jan. 17, 1932 in Boston, Massachusetts, he served in the U.S. Army during the Korean conflict from 1949-1952. He was assigned to the 272nd Field Artillery known as "The Deuce," a celebrated all-Black unit.
After joining the Nation of Islam in Boston's Muhammad Mosque No. 11, he relocated to Los Angeles. He attended mosques in Pasadena, and then Mosque No. 27 in Los Angeles. He worked as an electronic technician at several engineering and aerospace companies, including Lockheed Martin.
A caravan followed a regal gold limousine hearse to the Riverside National Cemetery where he received military funeral honors. The Armory Honor Guard Team performed a gun salute after a bugle played "Taps." Afterward, a male and female serviceman folded and presented the flag to his son, Rahman.
Before everyone dismissed, Rahman presented the flag to Mother Khadijah Farrakhan.
Left to cherish Richard Muhammad's precious memories are his children Richard, Sharon, Sheldon, Aaron, Alicia, Robert, Tarik, Rahman and Eric, 33 grandchildren, 15 great-grandchildren, and a host of nieces and nephews, including Joshua Farrakhan, who facilitated the repast, held at the Courtyard Marriott Hotel in Culver City.
The celebration continued with a wholesome meal and slide presentation, which featured some never-before-seen photographs of Richard Muhammad, Mother Khadijah Farrakhan and sister Sylvia, and their families. It was a precious moment. Never before had the entire family been in the same place and time at once.
"On behalf of this beautiful family, most beautiful, all of you … I would like to first tell you that this is one of the best days of my life, that all of us could come together after so many years, being apart, it always takes a special occasion to bring us together," said Joshua Farrakhan.
He said he'd worked three days to write a speech, but that morning he'd misplaced it while helping his father get ready. "When I heard him earlier at the funeral home, I was like, he got my speech!"
That reignited the joy, laughter, jokes, the family reunion in the spirit of love for and instilled by Richard Muhammad.
At the mortuary, Reva' Gipson-Parks, a longtime friend to the Farrakhan family, told The Final Call she'd never attended a Muslim funeral.
"I thought it was very nice. I thought it was short, brief, to the point. I thought it was very, to me it was quite emotional because it was so beautiful, and I had never experienced anything quite like this before," she said.
"I thought the Minister was absolutely wonderful, as always. I just thought everyone in the crowd was all so wonderful, so sweet. It was really a celebration of life and I just think it was done perfectly," she added.
Rahman Ross, who cared for his father in his final year and a half, concurred. He openly reflected on that time and support he received. He spoke softly as he expressed gratitude to many, particularly his brothers, his cousins, family, his mother, Amirah, his aunt Sylvia, Mother Khadijah and Min. Farrakhan.
"It was a beautiful, beautiful day. A beautiful celebration of my father," he said.