By Charlene Muhammad CHARLENEM

LOS ANGELES–Advocates escalated their calls for jail reform in light of revelations 300 deputies were cited for serious on-the-job misconduct, and an ensuing battle to hand their names over to the District Attorney.
Activists with Dignity and Power Now and the American Civil Liberties Union (ACLU) of Southern California had been voicing support for L.A. County Sheriff Jim McDonnell's quest to send prosecutors the deputies' names.
In February, Superior Court Judge James Chalfant ruled the department could give the names to the D.A.'s office, but in relevant cases calling for the deputies' testimony. After the Association for Los Angeles Deputy Sheriffs protested the ruling, two Appellate Court judges temporarily blocked the release of names.
Calls for requests for interviews with the Sheriff's Department and its union were not returned by press time.
The ACLU and the law firm of Bird Marella filed a friend of the court brief on March 3 in support of the Sheriff Department's efforts to make information about past misconduct of its deputies more available.
But activists took further action after receiving shocking news from an inside source, according to Patrisse Cullors, founder of Dignity and Power Now, a L.A.-based grassroots civil rights organization.
"There have been two suicides inside Twin Towers," Ms. Cullors told reporters at a March 10 press conference in front of the correction facility in downtown L.A.
According to Ms. Cullors, there are about 1,400 people diagnosed with mental illness inside the jails, and 750 are identified as high risk observations.

"Nobody should die inside an unnatural environment. Nobody should be able to commit suicide inside a jail cell," continued Ms. Cullors, who is a founding member of Black Lives Matter in Los Angeles.It's problematic that the Sheriff's Department has been blocked from turning over the names of hundreds of deputies known for bribery, theft, and domestic violence, she argued.
"And you would think that this county wants transparency, but instead, the Sheriffs Union has actually blocked two judges' ability to get this list to the District Attorney's Office," Ms. Cullors stated.
In addition to transparency, the activists say the issue is accountability. They're calling on L.A. County's Board of Supervisors to grant subpoena power to the new 9-member civilian oversight body to subpoena officers, their personnel files, and medical documents.
County officials voted to implement the oversight commission on Jan. 12, 2016.
"Without this tool, we can't actually get real reform in this county. Without the ability to investigate properly, we cannot get real accountability in this county," Ms. Cullors said.
She at one point appealed directly to the supervisors to understand the pain of grieving families. "These two individuals were 40 years old and 60 years old. They had loved ones. They came from a community, and their life was taken from them, because we don't have a county that believes in transparency and accountability," she charged.
Esther Lin, deputy director of advocacy and director of jails with the ACLU of Southern California, said L.A. County took a significant first step to hold the Sheriff's Department accountable by establishing a civilian oversight commission, but something's missing.
Accountability and transparency are necessary to know what the department is doing, when, where, and how, she said. March saw three jail deaths total, she said.
Atty. Lin said the facility is plagued with stories of inmates not receiving proper medical and mental health care, let alone any care in the jails.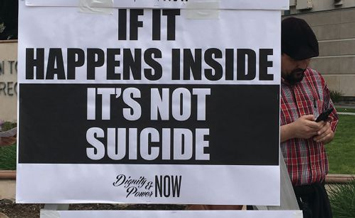 "We don't know if these three deaths are due to negligence, mistreatment by custody staff, or suicide because of poor mental health treatment. Anytime there's a death in the jails, it should raise a lot of questions, but because of the lack of transparency, it's hard to know what really happened to these people," Atty. Lin said.
That's just one example of why the oversight commission needs subpoena power, she added.
James Nelson said he once was on the inside of Twin Towers, and was subjected to abuse. "In fact, while I was getting jumped on, they'd say 'senior walking,' meaning upper administration. I thought they would stop, but it increased," Mr. Nelson said.
Shortly after, he said he landed in the hole–or isolation. "Now, I had the charge of abuse on staff, but also, I know how important it is to have a voice out here. … People power is subpoena power, because the appeals process don't work, not even in there," Mr. Nelson said.
Nana Gyamfi, a 23-year criminal defense attorney, said she stands with Dignity and Power Now's demand for sheriffs' accountability and transparency. What's happening cannot continue, she said.
"That accountability is so critical, and it's a long history. It's a long history of abuse, of torture, a long history of suicides in the jail, a long history of misconduct occurring in the streets, in the homes, in the cars of Los Angeles Sheriff's Department, as well as in the jails themselves," Atty. Gyamfi argued.
The list of 300 is what the department is giving up, or is trying to turn over to prosecutors–not the community–so people know it's more than 300, the attorney said. And, she added, they were still going to have to make a request through the court system for those names, and that was too transparent for the Sheriffs Union.
As a defense lawyer, Atty. Gyamfi said she knows that the brutalization of community members often results in their criminalization.
"After they whip your behind, after they taser you, after they throw you on the car, they turn around and say you did something to them, and it doesn't matter how many of them there are and that there's only one of you. Still somehow you find yourself facing felony charges for assaulting officers who in fact engaged in your assault and in your violation."