CHARLENEM and Darrielle Muhammad -The Final Call-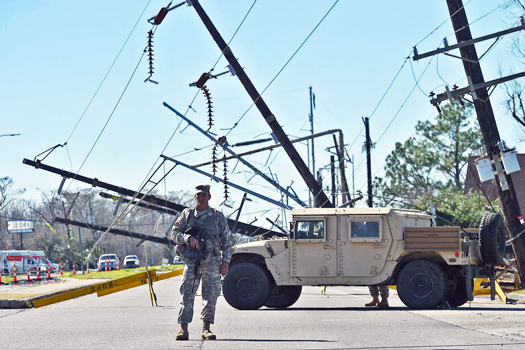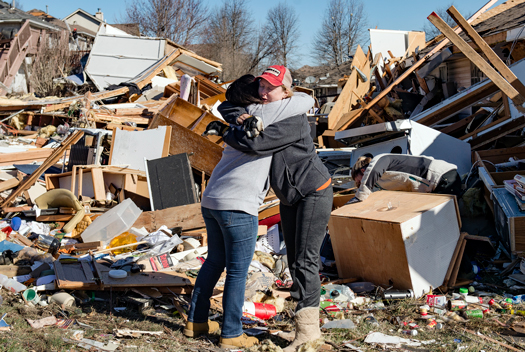 "See they not that We are visiting the land, curtailing it of its sides? And Allah pronounces a doom–there is no repeller of His decree. And He is Swift in calling to account." -Holy Qur'an, Chapter 13:41 (Maulana Muhammad Ali translation)
Divine words of warning from the Honorable Minister Louis Farrakhan were followed by severe weather affecting America from coast to coast.
"Watch the weather," Min. Farrakhan stated, as he concluded his monumental Feb. 19 Saviours' Day speech in Detroit, Mich., "Have No Fear for the Future: The Future is Ours."
"This is not a forsaken people, and the God that we serve has promised us that he would fight our battles. We don't have no gun to equal yours, but we got a God," said Min. Farrakhan.
"Check out the West Coast. You never seen no rain like that. You haven't seen nothing yet," he warned.
Then came Storm Stella.
At the time of year when most of America would be bidding the cold spells of winter farewell and giving spring a warm welcome, instead the country was caught off guard by this powerful winter storm.
Blizzard and winter storm warnings were issued to what seemed like the entire East Coast, including parts of the Midwest.
Residents were urged to prepare for the massive nor'easter, which means its strongest winds blew from the northeast.
In addition to transit interruptions, over the course of her three-day lifespan, the late winter storm caused seven deaths. Among them was 16-year-old Ava Doris of New Hampshire. She lost control of her vehicle and slammed into a tree.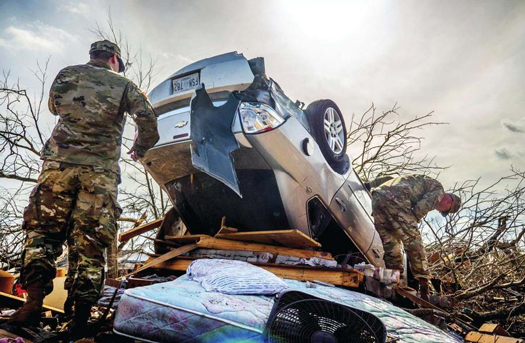 Anticipation of Stella put more than 18 million people under blizzard watch. The storm was to hit hard a large part of the Northeastern U.S., including Washington, D.C., Pennsylvania, Massachusetts, New York, Connecticut, New Hampshire, and other states. Each state was given a severe weather warning.The National Weather Service predicted the gusty winds of the storm to cause snow winds and produce low visibility. There were flight cancellations and major highway closures as a result.
Andrew Taylor of FlightAware, an organization that monitors real time flight patterns from U.S. Air Traffic Control, detailed Stella's impact on air travel.
"Airlines cancelled 1,661 flights Monday, 6,266 flights yesterday, and 1,012 flights today (Mar. 15) for a total of 8,939 flights cancelled, impacting over 500,000 travelers," he told The Final Call. The storms raged March 13 through March 15.
Gov. Dannel Malloy declared a civil preparedness emergency in the state of Connecticut. An emergency no travel order shut down Interstate 95 and all state roads.
Two avalanches were reported in Pennsylvania, which resulted in the closing of Pennsylvania Route 92.
Gov. Malloy also activated a statewide travel ban that began on March 14. The next day he announced state offices were re-opened.
This unprecedented weather ravaging America's coastlines comes in the wake of the direct warnings from Min. Farrakhan. He has for 40 years absent his teacher, the Honorable Elijah Muhammad, been putting the American government on notice that God will use the forces of nature as a weapon of mass destruction against America.
"The plagues of God's Judgment are on America. The White man is worried about terrorists, but no one terrorizes like God," Min. Farrakhan tweeted on March 15.
Several states received record breaking snowfall for March, according to the National Oceanic Atmospheric Administration.
The states with areas hit the hardest included New Hampshire, which saw 32 inches of snow in areas. Some parts of Vermont saw 35 inches, and Ilion, N.Y. topped the list with 43 inches of snow in certain areas. Meteorologists with the Weather Channel reported some areas of New York were astonished with seven inches of snow in an hour.
"The four great judgments that Almighty [God] Allah) is bringing upon America are rain, hail, snow and earthquakes. We see them now covering all sides of America, as the Holy Qur'an prophesies, 'curtailing her on all her sides.' And these judgments would push the people into the center of the country, and there they would realize that it is Allah (God) Who is bringing them and their country to a naught," the Honorable Elijah Muhammad wrote in his monumental book, "The Fall of America."
The reason for the divine chastisement, according to the Teachings of the Hon. Elijah Muhammad, is that America is being punished for the slavery, suffering and death Blacks have endured at the hands of Caucasian people. Fulfilling biblical and Quranic scripture, the divine Supreme Being today is using the weather as a weapon to destroy America until she relents and let's Black people go free–and gives justice to the American Indians for genocide against them. It is time to separate from the open enemy just as the children of Israel had to separate and leave Pharaoh and Egypt in the Bible.
In chapter 36 of The Fall of America, Elijah Muhammad writes that to be plagued with too much rain will destroy property and lives and swell rivers and creeks.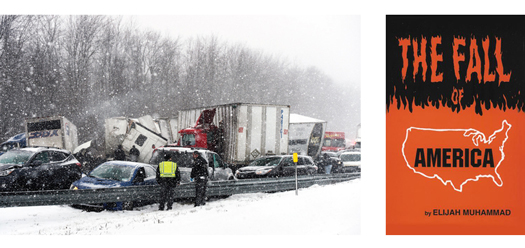 The truth of his words written 40 years ago is readily apparent today.In the fourth installment of his historic 2015 series, "The Time and What Must Be Done," Min. Farrakhan warned, "You don't like what I am saying, and you wish I would stop. And some of you will try to stop me! That is entirely up to you. … But remember! When you plan against me, the plan is already against you. And to prove it: He's (God's) going to increase the calamities shortly after you hear this message.
He continued, "In fact, this whole year, the more I speak by the Grace of God on 'The Time and What Must Be Done'–by you as a government, and a people; and what must be done by us, the Black man and woman of America: God is going to increase the whipping on both people until we decide that what God has set down as 'what must be done,' must be done."
On March 7, California Gov. Jerry Brown wrote to President Donald Trump, seeking a Presidential Disaster Declaration, which was approved March 16.
"California is experiencing one of the heaviest precipitation years in recent history, and the impacts of storms that occurred in January and February have been extremely destructive to the State," Gov. Brown wrote.
He described river flooding statewide and some 55,000 households and businesses were without power.
In February, almost to the day from Feb. 16-17, and finally tapering off on Feb. 18, the West Coast had its very own encounter with havoc some meteorologists labeled "unusual weather patterns."
California's severe drought ended but a barrage of storms brought record rainfall, winds, and other problems. The first wave that pummeled Southern California brought more than six inches of rain in some areas. That resulted in sinkholes, floods, and downed trees and power lines.
Winds in the Sierra Mountains hit an astonishing 199 miles per hour.
The weather reportedly caused five deaths.
Many California residents were forced to evacuate their homes due to damaged levees and overflowing rivers, leaving many people displaced and property destroyed. In San Jose, which experienced massive flooding, fire crews rescued 186 people.
"It's incredible … It's absolutely overwhelming," said Student Minister Tony Muhammad, the Nation of Islam Western Region representative. "We haven't seen this kind of rain since God knows when … . They've stabilized it, but the city can't take too much more of it," he said.
"The drought is gone, but there's too much rain, and where you've had fire, now you have mudslides, because there's no vegetation to stop the mudslides," he added. "Houses are sinking …. The Minister's warning is real."
Back on the East Coast, clean up in Wilkes-Barre, Penn. was estimated at $500,000, while clean-up in Scranton was estimated at $300,000.
According to Josiel Estrella, a press representative for New York City's Comptroller's Office, it would cost $1.8 million per vertical inch to clear snow and ice off city streets, and snowstorm Stella's projected snowfall of 12-18 inches is estimated to cost $23.9 million to $35.9 million.
According to Ray Marchin, a meteorologist with the National Weather Service, recent weather patterns are unique because they seemingly appear out of thin air.
Both of the massive storms above have the same internal mechanics. The February storm that hit the West Coast underwent a process meteorologists call "bombogenisis"–bombs made of weather. They're comprised of energy that combines to help storms develop explosively, he explained. "That's not a common occurrence," Mr. Marchin told The Final Call.