ERICTOUREM -Contributing Writer-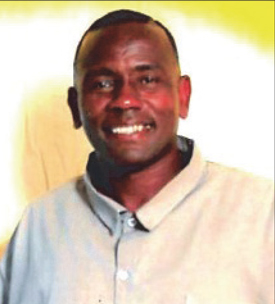 ATLANTA–In 2014, the Obama administration allowed Federal Bureau of Prisons inmates to submit applications for clemency–or the commutation of sentences thousands of mostly Black, first time, nonviolent offenders, suffered under mandatory sentencing of 100 to 1 for crack cocaine versus powder cocaine convictions in the 1990s.
The penalties were imposed during the U.S. government's so-called "War on Drugs."
The "war" meant that for every conviction involving crack cocaine, there would be longer sentences for men and women who had never been convicted of a crime.
Sentencing resulted in Black men and women often serving as much prison time if not more than their White and violent counterparts.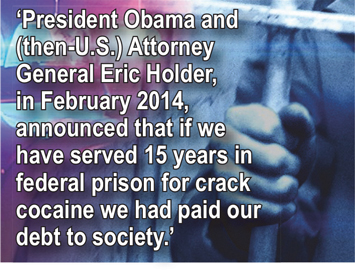 Steffany "Stet" Frazier, 48, is such a man. In 1994, he was convicted of possession of crack cocaine with the intent to sell. He has served 23 years of a life sentence, under the 100-1 penalty. The Fair Sentencing Act of 2010 was signed into federal law by President Obama. It reduced the disparity between the amount of crack cocaine and powder cocaine needed to trigger certain federal criminal penalties. The disparity in sentencing fell from 100:1 to 18:1.
The act also eliminated a five-year mandatory minimum for simple possession of crack cocaine.
But the law is not retroactive and does not affect those incarcerated since the early 1990s.
Mr. Frazier filed for clemency and was denied in January of last year. Now he is petitioning Congress on behalf of inmates in 70 federal institutions. He wants the 2010 law to be made retroactive, in hopes of commuting thousands of sentences.
"January 30 those of us under the crack cocaine disparity are petitioning Congress. The reason is because every branch of the United States government has said that the crack cocaine disparity targeted one race of people," Mr. Frazier told The Final Call.
"This was announced from the Executive branch which is the President; the legislative branch which is Congress and the judicial branch which are all of the courts–including the Appeals Court, the District Court and the Supreme Court. Nobody is willing to change the disparity."
An online petition has been created by the organization 100 to 1 Disparity to be presented to Congress. Though an appeal can only come through the injured parties, those convicted, the petition is designed to raise public awareness. It is available at https://www.change.org/p/united-states-congress-eliminate-the-100-to-1-crack-cocaine-disparity.
There is another stipulation, he contends, that leaves the ultimate commutation of a sentence up to federal judges and prosecutors, which Mr. Frazier argues is not a part of Fair Sentencing criteria.
"Len Bias," reflected Student National Prison Reform Minister Abdullah Muhammad, speaking of the 1980s collegiate basketball great who died celebrating his selection by the Boston Celtics from a powder cocaine overdose. He didn't die from crack cocaine, said Mr. Muhammad, "but the media was used to cause people to fear a crack cocaine epidemic and Congress passed the Anti-Drug Abuse Act during the height of a presidential election season."
With no evidence to support the notion, crack cocaine was billed as more addictive, more dangerous than powder cocaine and the cause of more violence and gun use than powder cocaine, he said.
A Black man named "Bias," said the prison reform minister. "Bias is defined as a prejudice in favor or against one thing, person, or group; usually in a way considered unfair," he said.
A role model and stellar inmate, Mr. Frazier, a Muslim practicing the teachings of the Most Honorable Elijah Muhammad under the leadership of Minister Louis Farrakhan, has been lauded for his work while behind bars. He has worked with fellow inmates since the 1995 Million Man March.
Whether his clemency is granted or not, he wants to be a voice for the voiceless. "When I was denied clemency, January 6, 2016, I went to paying more attention to these clemency denials (of others). When the president granted clemency on Aug. 3, 2016, only 51 individuals were of the 1990s. May 5, 2016, only 21 were of the 1990s. May 30, 2016 only 16 were of the 1990s and October 6, 2016 only seven were of the 1990s. They are excluding us," he said.
Mr. Frazier was denied clemency by the Obama Administration in January, 2016 and January 2017.
In his 2016 denial letter, Mr. Frazier throughout the letter was identified erroneously as a female.
"Congressman Bobby Scott (D.-Va.) got involved with my case. They referred to me as a female, calling me her and she. So, I knew that they could not have read my documents," he said. Early last year, the congressman appealed to the U.S. Department of Justice for a review of Mr. Frazier's clemency documents and application, he said. The Justice Dept. responded, "Mr. Frazier's application was denied on January 5, 2016, only after carefully being considered in the Department and the White House, based on the facts of his case."
"I stand for Keith Ward, Oscar Lee Brown, Robert Moss, Jr., LaTonya Davis, Yolanda Dean, Paulette Morris, Lester Johnson, Willie Norton … I can go on and on. These are those who have been denied clemency and are lifers," said Mr. Frazier.
"We didn't ask to submit a clemency," recalled Mr. Frazier.
"President Obama and (then-U.S.) Attorney General Eric Holder, in February 2014, announced that if we have served 15 years in federal prison for crack cocaine we had paid our debt to society. So throughout the Bureau of Prisons they held town hall meetings soliciting us to put these applications in. Once I was denied clemency, January 6, 2016, it really, shocked the whole institution, including staff members, because they know with my record and the things that I have been doing throughout the system, they know that if anybody could have got it (clemency) it was supposed to be me," Mr. Frazier said.
"The original petition began with a joint brainstorming session with me and Stet," said Corry LeBenjamin Hayward, J.D., founder of 100-to-1 Disparity. "We decided that an online petition would be the most effective mode of getting our message out to the general public."
Mr. Hayward, a Florida attorney, is also Mr. Frazier's first-cousin. Both hail from the rural southwest Georgia town of Camilla. They grew up together. Before 2013, the lawyer had not seen his cousin since his 1994 conviction.
"As I spoke more with Stet on a daily basis, I learned that there are thousands of people serving life sentences for crack cocaine. I knew that we had to do more and get more people involved," Mr. Hayward said.
The goal, he said, "is to do all things that are possible to get these first time, nonviolent offenders home, who are serving life sentences for crack cocaine."
"Hopefully, our efforts will bring exposure to the thousands of men and women who are serving life sentences for crack versus cocaine kingpins caught with tons of cocaine, but only receive a slap on their wrists and are released from custody," said Mr. Hayward. The 30-year-old crack cocaine sentencing disparity has been deemed unconstitutional and its proven that it targets Blacks and minorities, according to 100-to-1 Disparity.org
"The court system tells you over and over, if there is a law that discriminates against a people, you must petition Congress," Mr. Frazier said. "So it's time for society to stand with us, join us and use their voices. The petition must come from the injured party. I'm asking the inmates to stand with me on this. I am the injured party on record but you all are the co-injured parties."