CHARLENEM and Darrielle Muhammad -The Final Call-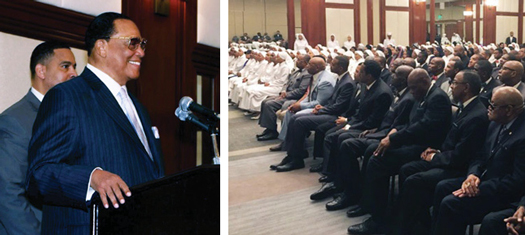 LONG BEACH, Calif.–Tears of joy flowed, laughter, and deep reflection permeated the atmosphere when the Honorable Minister Louis Farrakhan addressed the Nation of Islam, America and the world through a special meeting at the Westin Hotel. The message was also available via webcast.
The Muslims of Muhammad Mosque No. 97 and their guests were hardly able to contain how elated they were to see their beloved minister.
He had promised Student Minister Kareem Muhammad, his representative in Rialto, that he would visit. True to his word and character, Minister Farrakhan fulfilled his promise.
He thanked Minister Kareem Muhammad for his work, and the Believers as well as staff of Mosque No. 97 for the help they give to Minister Kareem, his wife Sis. Terri, his family and to himself.
"… Everywhere I have traveled recently, when I get to my hotel room, there's Brother Student Minister Kareem, there to look out for me," Minister Farrakhan said. The audience laughed, their smiles as big and bright as the student minister's.
"Love is the most powerful force in our universe, and that is why in the Book of John, it says 'God is Love,' " said MinisterFarrakhan.
He also explained how misplaced, unhealthy love and worship of Whites has remade Blacks into their open enemy.
"When you fall in love with the wrong person, you give them power over you, and when you worship that which should not be worshiped, that is unworthy of us to worship, because when you worship imperfection, you cannot grow into perfection, so the worship of anything or anyone other than he who originated the heavens and earth is improper," Minister Farrakhan said.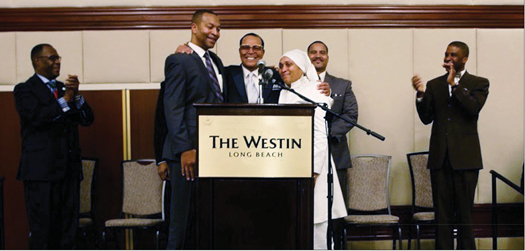 One of the things that the enemy did by destroying Blacks' connection to their own God in 64 years of hidden history between 1555 and 1619 was to make Blacks love their White oppressors, Minister Farrakhan said.The enemy had to break the love Blacks had for one another and for Black leaders, he continued. There was such love for the Honorable Elijah Muhammad, patriarch of the Nation of Islam, said Min. Farrakhan. Such love is also growing for me and it's seen in adults down to small children, he observed.
"This is the danger that the enemy sees, because he is being replaced in your hearts. See, you have always loved Jesus. When you learned of Jesus, you fell in love with Jesus," Minister Farrakhan said.
Blacks weren't wrong, he told the rapt audience, but the enemy offered a false image of Jesus, an image of themselves.
"They knew that if you loved that image you would never go to war with them because it would be like you were going to war with Jesus," Minister Farrakhan said.
But Blacks must learn to forgive each other as they have forgiven the enemy, who did whatever he wanted to Blacks, Minister Farrakhan said.
"I thank Allah God for through his Christ, the Honorable Elijah Muhammad, for teaching me so that I could stand strong and firm for a people and don't shake and be willing to lay it all down to see our people free," Minister Farrakhan said.
The Sunday meeting Jan. 15 was high-spirited, full of energy, and there was an atmosphere of love and amazement, said Minister Kareem Muhammad.
"It was an honor and a privilege that he would consider us," he told The Final Call.
"For me, it was a blessing and blessing for the Believers, a true act of appreciation to acknowledge the support he has from Muhammad Mosque No. 97," he added.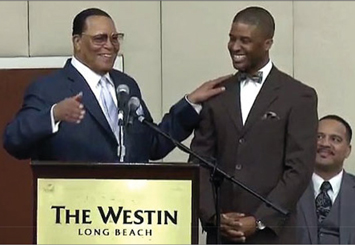 The audience listened intently as the Minister provided guidance on a variety of subjects. He spoke of his early years rising through the ranks of the Nation of Islam in Boston. "The Honorable Elijah Muhammad made me his minister in May of 1957. This coming May, I will be his minister for 60 years, Insha'Allah," said Minister Farrakhan, igniting a long round of applause.
The mosque in Boston was the first property on the East Coast that was owned by the Muslims and not rented, he explained. He shared how during one of the Honorable Elijah Muhammad's trips to Boston, he told Minister Farrakhan it was the most loving mosque in the Nation.
"A mosque can never demonstrate love unless that love is genuinely in the teacher. And he knew that I loved him, and my love for him was something extraordinary," Minister Farrakhan said.
The Honorable Elijah Muhammad was a man that he had been longing for, from the time he was a child, wanting somebody to deliver Blacks from the harsh hand of their oppressor.
"Even in the midst of our strife, the warmth that exuberates from our group can be felt by him," said Betty Muhammad, Mosque No. 97 student protocol director.
Still brimming with light from his meeting a day before in the same location with Black student unions at the Afrikan Black Coalition Conference, Minister Farrakhan thanked organization chair Salih Muhammad. The event made way for Minister Farrakhan to guide and nurture the students.
He began concluding Sunday's meeting by addressing controversy that arose regarding the LGBTQ community during his lecture to students. Minister Farrakhan warned the students about the enemy's attacks on the Black nation through its sex drive and procreation.
Some students walked out and some denigrated Minister Farrakhan in social media. Their actions garnered frustration, some anger, and a defense of Minister Farrakhan among those whom love and respect him.
However, Minister Farrakhan said the students did not offend him. He expressed deep and absolute love for Blacks in the LBGTQ community.
"I really love them so much, and I want to see Allah save them, they're victims of a scientist of evil, who is chemically inducing the feminization of the Black male and the masculinization of the Black female," Minister Farrakhan said.
The enemy is destroying the natural order of the home: God first, man second, women third, child fourth, he said. "If the man submits to God, and the woman submits to man, and the children to submit to the woman, you will have a heavenly home," he said as the audience exploded into a standing ovation.
"To those who were offended for me, don't be. Please don't do that. These are our young people, and you are not their judge, nor am I," Minister Farrakhan said.
"How could I not love them when I've been put on a mission that's bigger than I am? The Honorable Elijah Muhammad, before he left, he told me what Allah told him, 'Take plenty!' "
"When you are in the place of a redeemer of your people, there's a price you've got to pay for the goods that are in hoc. So if you can't pay the price, then don't put your stuff in hoc. God made Jesus a redeemer, a saviour, and if we're following such a man, how could we flee from the price of redemption?" Minister Farrakhan asked.
"Honestly, out of the few times I've seen him, every time I do, it's surreal. It's like it isn't even happening, but it is happening. It's really great. It's hard to explain. It's just dope," said Sana Shabazz, a student at California State University San Bernardino.
Minister Farrakhan followed up his uplifting message to the Nation of Islam with a warning to America. He warned today is the day of judgment of individuals and nations.
"In this day every tub, not some, not just the White tub, but the Black tub … got to come out of the dirty water that you produced and stand up on the day of judgment and receive what you put out," he said. "America! How much evil have you done?"
God is rewarding every person and every nation according to what they have sent out ahead of them, he continued.
Regarding the election of President Donald Trump, he told the audience not to leave God out of the equation, because God's hand is on Mr. Trump. His election was permitted by God as America is under divine judgment and doomed unless she changes course and gives justice to Blacks, he said.
Minister Farrakhan also acknowledged his student ministers and helpers who were present: Student Ministers Tony Muhammad (and his staff at Mosque 27 in the Western Region), Nuri Muhammad (Mosque 74 in Indianapolis), Christopher Muhammad (of Mosque 26 in San Francisco), Hugh Muhammad (of Mosque 8 in San Diego), Robert Muhammad (Mosque 54 in Compton), and Keith Muhammad (Mosque 26B in Oakland).
The audience gave a standing ovation when Minister Farrakhan brought Student Minister Keith and his wife Salamah, Salih Muhammad's parents, on stage. He expressed how proud he was of the young leader.
Do the work, take plenty, and forgive trespassers, Minister Farrakhan advised. "By doing that maybe we will be forgiven for the trespasses that we commit," he said.
"It was an honor to be in the presence of God. It made my heart feel really good. Everything he said hit home," said Myrina Plummer, who is learning more about Islam at Mosque No. 97.