By Charlene Muhammad CHARLENEM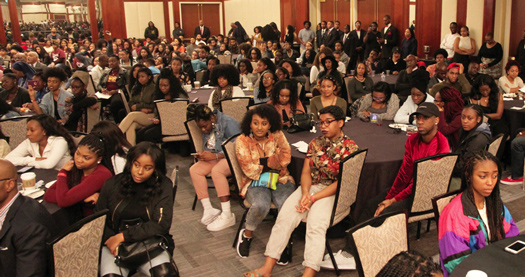 LONG BEACH, Calif.–Before the Honorable Minister Louis Farrakhan electrified students during a keynote address here at the 14th annual Afrikan Black Coalition Conference, coalition chairman Salih Muhammad lit the fuse as he introduced the beloved 83-year-old champion of truth.
"Whether you agree with somebody or not, a man's work always speaks on behalf of that man … for 62 years, this man, Minister Farrakhan, has worked tirelessly–for free–to ensure that our people can have a better condition of life," the young leader said. "How long is 62 years? Sixty-two years means Minister Farrakhan was teaching our people before Steve Harvey was born. Sixty-two years means Minister Farrakhan was teaching our people before most of our parents were in their teenage years."
He continued, "Sixty-two years mean that through three whole generations a man has been standing on his post to ensure that our people have a free, justified, and more equal life!"
The filled-to-capacity ballroom at the Westin Hotel erupted as participants responded with a standing ovation.
Minister Farrakhan spoke to the Afrikan Black Coalition's 800-plus student members, who traveled near and far from 25 campuses to attend the 14th annual conference themed, "Reviving Our Black Nation."
"You are our hope," Minister Farrakhan told the students.
"When I look at you, I'm like a man coming down the mountain, going into the valley of death and I'm looking back and I see you, and you make leaving easy, because there's hope," Minister Farrakhan began. "You, college students, are the young colt, and the unlearned masses are out there, waiting for you. You're going to lead them. You're going to guide their hands to build a nation. You're going to do the things that will inspire the hands and the feet to walk toward liberation, true freedom."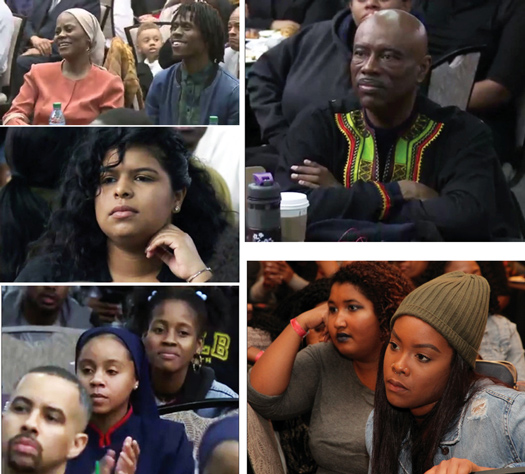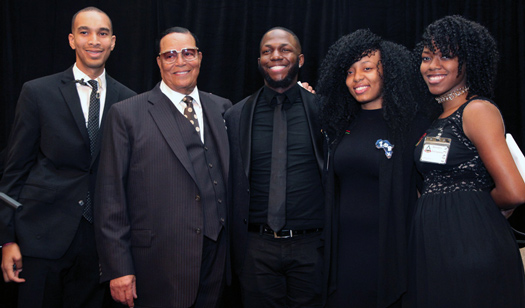 But young people must be willing to pay a price for future generations and their own children and pursue serious studies, he stated Jan. 14."All forms of engineering we must get into. Agriculture. You can't keep letting the White man feed you garbage. They're killing us slowly," Minister Farrakhan warned as students clapped and snapped their fingers in agreement.
Minister Farrakhan tapped his chest, saying the human being is the true house of God, not churches or places of worship. "The house of God is you. The question is what mind is in you?" he asked. "Let this mind be in you the same that is in Christ Jesus. Do you know what that means?"
"The mind of God is your inheritance," Minister Farrakhan stated, his eyes closed, head slightly bent, and hand pounding the podium three times.
You are gods, but you possess the mind of your open oppressor, the Minister observed. "He made us into himself. He's a devil, and that's why we're always raising hell. He made you and me into him, and that's why that master teacher Elijah Muhammad, he brought Malcolm and taught him."
He refuted myths and outright lies that the Honorable Elijah Muhammad was an adulterer. He also admonished young male students to stop playing with women, who outnumber them 9 to 1 in college.
In this society, more women and fewer men devalues the female, he said.
"So you're running, looking for a man, and you can't find a man, you find another sister," Minister Farrakhan said. With those straight truths a small number of students began to walk out.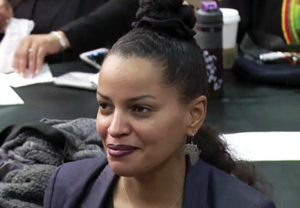 "Wait. Wait. Wait! Wait! Waaaait," appealed Minister Farrakhan. "Wait a minute. … I'm not against you. I don't care what your sexual preference is. I'm your brother, not your judge."
"I love you! But I know the enemy doesn't, and as long as you love each other, you won't procreate, so that means there's no more Black people coming. And if he can make us as men love other men, then where are you? Make you as a woman love other women, where is the future of our people headed? We have a nation to build," Minister Farrakhan exclaimed as the majority of the audience broke into applause.
"I don't want anybody who is LGBTQ to think I'm talking down to you. We're not going nowhere without you! You are some of the most brilliant of our people, but the enemy is a scientist of evil," Minister Farrakhan said.
The enemy utilizes biochemical warfare in food, water and pharmaceutical drugs to change the chemical make-up of the body, he said. Their aim is to feminize the Black male and masculinize the Black female, and the enemy is further using the sex drive against us, he warned.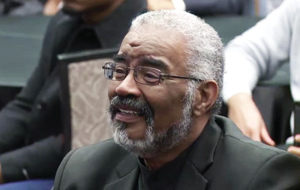 "He can make you think you're homosexual," Minister Farrakhan said. "Don't run," he said to the next small wave of those walking out. " … If I can't teach you it's time for me to die … but look at this. This enemy chemically is producing something against nature itself. Listen. Just listen."
Star Bacon, the conference chair, in a brief, private meeting with Minister Farrakhan backstage straightforwardly, but humbly and respectfully expressed her disagreement with aspects of his message.
Other students were not as kind or civil, many appeared to be outright disrespectful. Minister Farrakhan addressed their actions in a live-streamed Sunday mosque address the next day. "To those who were offended for me, I wasn't," he stated in part.
Social media engagement was very high during the program, especially on Twitter, as students joined the Farrakhan Twitter Army in live tweeting and dialoguing, according to Jesse Muhammad, Minister Farrakhan's social media coordinator.
The official conference hashtag #ABC2k17 trended nationally at the No. 2 spot on Twitter during the program.
"One of the things that stood out for many of us was how every time we saw someone post a critique or a thought about something they disagreed with Minister Farrakhan on or felt he should talk about, Allah would guide him to address it within moments! Everything from LGBTQ to Malcolm X, he covered all bases and thoroughly addressed it with raw truth," Jesse Muhammad said.
Throughout the day and over the entire conference participants said Minister Farrakhan's words addressed problems or answered questions.
Earlier in his lecture, Minister Farrakhan laid the foundation for his message by telling the brilliant young people the enemy is not going to send them a teacher to free them. "Education is one of the greatest slave-making devices," he declared. The way to revive the Black nation is to change the educational system, Min. Farrakhan explained.
"It seems the more education we get, the more unproductive we are in producing the needs of our people … everybody provides our necessities. That's why the immigrants can live the American dream on the African nightmare," Minister Farrakhan stated.
He thanked Salih Muhammad and the conference organizers, saying he was blessed to be in the space. The Minister thanked the students, the future leaders and the admirers and lovers of Malcolm X for spending time with him. "X" in mathematics means unknown, he said, yet Malcolm X was known. Why? It is because he had a master teacher, the Honorable Elijah Muhammad, who only went to the 3rd grade, and the same man taught Muhammad Ali, who had a high school diploma.
Minister Farrakhan described his tireless efforts to teach young people, not for praise, but to show how the enemy works to keep the youth away from him. He admonished the students to unite, not divide themselves based on sororities and fraternities. This message has been taken tirelessly to Black campuses across the country, not for honorariums, but to reach the ears of the young. "I don't need nothing else but your ear because once you hear the right word in the right time, it touches something deep within you and you know when you hear the truth."
He warned the students against advisors who suggest easy courses that lead to degrees that go nowhere. "They want you to take courses that they can make money off of you on your scholarships, but they don't want you to be able to leave college and be a shining light in the liberation struggle of your people," Minister Farrakhan said.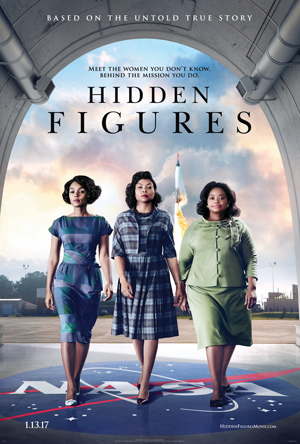 He advised students to see the movie Hidden Figures, based on a true story of Black female mathematicians who were instrumental in launching the first successful American space missions.
"The White man wouldn't have been able to get to the moon if it were not for our Black sisters and their mathematical genius," he said, sending the ballroom into cheers and applause.
Minister Farrakhan noted how long the enemy hid the knowledge of Katherine Johnson, the Black woman who was a mathematical wizard. "She had 30 of her sisters with her at NASA, and when John Glen was orbiting the Earth, she was the one that figured out the precise moment in time that that capsule should enter into the Earth and be able to come through the heat of reentry and live," he said.
It's no accident the enemy hid the truth, said Minister Farrakhan. "Three generations have passed and if our girls knew this when it first happened, we would have been in college taking those kinds of courses, and 60 years later we would have been putting ourselves in space! You're a great people, but how can you know? You've got to have a teacher."
Temesgen Gebreyesus, who is from Ethiopia, was blessed with a personal Q&A backstage with Minister Farrakhan after time constraints prevented him from asking a last question–though Minister Farrakhan was willing to respond.
Dana Chapitao, whose mother was a biochemist for the USDA, bore witness to Minister Farrakhan's message about how the enemy fosters homosexuality through foods.
"My mother … recently retired from the USDA and she was horrified to find out that she was a part of engineering some of the research and studies that she did," Ms. Chapitao said. Her mother contributed to a lot of chemistry and warned her children not to eat or digest certain food because they would change the chemistry of the body.
"Some of these young people really believe it is a conspiracy or some underground hatred and it's really not. It's truth, my mother was one of the people who worked on … was studying what we now know is Splenda, and she told us years ago do not put that into your body and do not ingest that because it all changes the chemical structure of your body and of your hormones," Ms. Chapitao said.
The 37-year-old has been wanting to hear Minister Farrakhan since she was 12 years old. She recalled having painful, intense periods while in college. Her mother searched the home and found her daughter was drinking Splenda-laced apple juice.
"I took it out of my diet and wouldn't you know everything went back to normal," Ms. Chapitao said.