By Charlene Muhammad CHARLENEM
Pain, anger as America's unrepentant ugly side asserts itself in 2016 election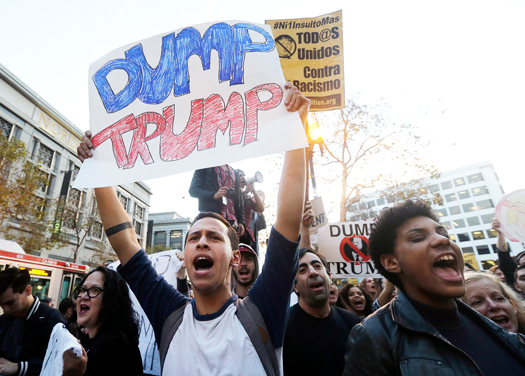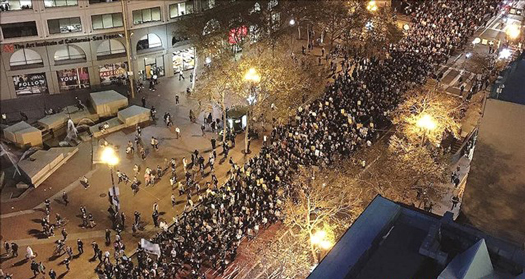 In a stunning upset in U.S. politics and a vitriolic race for the White House, Republican Donald Trump made history when he became America's 45th president.
Thousands joined national protests.
Mr. Trump's win made America red again, and changed geo-political realities when he shifted the U.S. electoral map from Democratic blue to Republican.
White voters, particularly White women, propelled President-Elect Trump into office. He won 290 of the electoral votes and Democratic candidate Hillary Clinton 228.
"Donald Trump's victory is really a victory for White supremacy, White monogyny, White patriarchy," said Dr. Julianne Malveaux, former president of Bennett College for Women.
"Many White people, especially White men, are looking for their place in the American dream, and when you see the presidency being handed from a Black man to a White woman, if you're a White man, your question is, 'What about me?' " the economist and author said.
Some voters felt as if America was in the Twilight Zone, with a candidate once derided as a carnival barker defeating a woman who some called the most qualified candidate ever to run for the White House. Both candidates were hugely unpopular. And Mr. Trump's ugly campaign style, rife with insults, seemed to change everything about acceptable U.S. political protocol, campaigning and decorum in the blink of an eye.
Trump Nation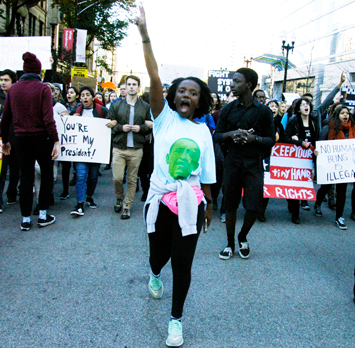 Many joked about leaving the U.S. if Trump were elected. Some said they were packing. Reality struck Nov. 8 when the dark side of United States fears and politics turned the reins of power over to Trump.
Despite his unapologetic threats to ban Muslims, deport undocumented immigrants, build a wall on the U.S.-Mexico border, and even as revelations of his braggadocios, alleged sexual assaults against women and racism were exposed, nothing stopped him.
His base could care less, commentators told The Final Call. They were dissatisfied with the status quo, Wall Street, and America's elite, symbolized by the Clintons, they said. Mr. Trump also freed Whites from the boundaries that dictated respect for non-Whites, careful speech about race relations to assert their White power and identity, said other analysts.
"He put private opinions out as acceptable conversations, in the name of White supremacy, White male supremacy, and patriarchy," said Dr. Malveaux.
Much of the conversation about Hillary Clinton was a nuanced conversation about gender, she said. Yet for all the gender war talk from Democrats, Mrs. Clinton failed to gather the support of White women. "Women did vote overwhelmingly to elect Clinton, but it was White women who helped hand Trump the presidency, according to Edison national election poll. Overall, 54 percent of women voted for Clinton, much higher than the 42 percent of women who voted for Trump. But when the women's vote is divided by race, it becomes clear that Black women actually largely drove the so-called gender gap against Trump," reported Aamna Mohdin in a piece for the website Quartz, www.qz.com.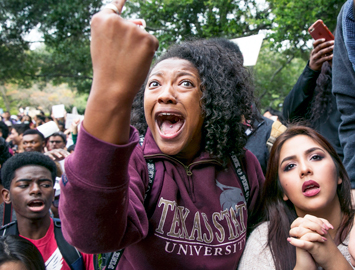 "The majority of non-college educated White women (64 percent) voted for Trump, while 35 percent backed Clinton. This figure is far higher than non-college educated Black women, of which only 3 percent voted for Trump, and non-college educated Hispanic women, of which 25 percent voted for Trump. Black, Hispanic and other non-White women backed Clinton in far greater numbers," she observed.
"One might think Donald Trump's sexist and vulgar statements would sway female voters away from the candidate. But roughly 53 percent of White women voted for Trump," added CNN.
'Not my president'
Post-election marchers took to the streets in cities across the country, from New York to Oakland, Portland to Atlanta to Baltimore and beyond. Anti-Trump sentiment sprang up at universities, in front of his personal residence Trump Towers, outside his Chicago hotel, on freeways, bridges, and in social media into a unified chant: "Not my president," and "F—- Donald Trump," were among the most common refrains.
Demonstrators turned out in big cities and smaller ones, such as Worcester, Massachusetts, and Iowa City, Iowa. The vast majority were peaceful with minor injuries to two police officers in Indianapolis.
Among those railing against him was filmmaker Michael Moore, who tweeted a demand that Trump "step aside."
Fashion designer Noemi Abad, 30, agreed.
"I just can't have Donald Trump running this country and teaching our children racism, sexism and bigotry," she said. "Out of his own mouth he made this division. He needs to go–there's no place for racism in society in America."
Half of U.S. voters rejected Mr. Trump, who lost the popular vote, but won the electoral college with tight wins in Wisconsin and battleground states Ohio, Pennsylvania, Florida, North Carolina and Michigan
Demonstrators in Indianapolis threw rocks at police, slightly injuring two officers, said Police Chief Troy Riggs. Some protesters began chanting threats including "Kill the Police," and officers moved in to arrest seven demonstrators.
Police briefly fired pepper balls into the crowd during the confrontation.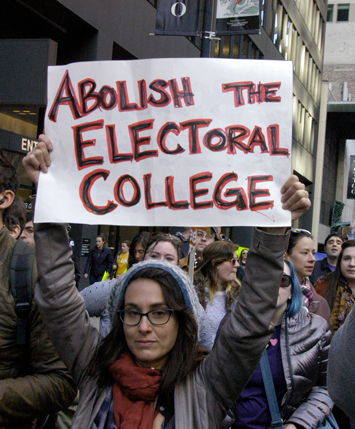 Rowdy demonstrators marched through downtown Portland, Oregon, despite calls from the mayor and police chief for calm. Several hundred people took to the streets and Portland authorities made multiple arrests after protesters threw bottles and other items at officers in riot gear and blocked streets and light rail lines. Mayor Charlie Hayes and Police Chief Mike Marshman urged restraint after several days of violent marches that damaged property and left one person shot.
Police used flash-bang grenades to disperse a crowd of hundreds in downtown Portland. Seventeen people were arrested and one man was shot and suffered non-life-threatening injuries in what police described as a confrontation with gang members. Two people were arrested on attempted murder charges.
In Los Angeles, an estimated 8,000 people marched through downtown streets on a Saturday to condemn what they saw as his hate speech about Muslims, pledge to deport people in the country illegally and crude comments about women.
Jennifer Cruz, 18, of Ventura, California, carried a sign that asked: "Legalize weed but not my Mom?"–a reference to Californians' passage of a measure legalizing recreational marijuana use.
Black voter suppression
According to The Nation, 14 states had new voting restrictions in place for the first time in 2016. They included "crucial swing states like Wisconsin and Virginia," but it was not reported, the magazine said.
Voter suppression is always going to happen because Republicans know keeping people away from the polls increases their chances to win in elections, said author and economist Dr. Boyce Watkins.
"It's also a reminder that a lot of the civil liberties that we fight for and that we value so much are easily taken away. They can be taken away as easily with the Supreme Court decision, senatorial stagnations, whatever," he said.
Dr. Watkins urged Blacks to figure out sustainable ways to achieve power. "We'll always gain a lot more as a people by pooling our wealth than we can ever gain by pooling our votes," he said.
'Veil ripped off of America'
David Banner, a hip hop artist and social justice activist, believes Black grieving over the Trump election isn't necessary. "When was Black America or when was America ever together as it pertains to Black people?" he asked. "I really don't care about anything but the state of Black people. … I'm drawing my line in the sand," he told The Final Call. "Donald Trump said he's here to make America great again. When has America been great for a Black man?"
"I personally think that Donald Trump may be one of the best things that ever happened to Black people in America. The veil has been ripped off of America, the face. It's going to be exactly what it's supposed to be," he stated. "I think part of the thing is that we have been living in a lie."
"Before you go to war with the devil, make sure that your people are not content with living in hell," he added.
Mr. Banner encouraged Blacks to be more solution-oriented. He believes Blacks won't progress unless they take action. A key thing is to stop arguing with Whites about whether racism still exists, when clearly it does, he said.
"Black people gotta wake up," said activist Cleo Manago of the Black Men's Xchange. "It took a hashtag about Black lives to even get people to look at killings of Blacks," Mr. Manago told the Final Call.
"One thing that keeps Blacks vulnerable is the 'White Jesus' complex. We keep on being vulnerable and set up to be re-disappointed all the time because we keep on not allowing ourselves to see White supremacy for what it is," he said.
"I hope the Black community will use this unfortunate situation to come together and rebuild our community. We have to work together because we are all we have. No one will care more than us," said Jerikah Morris, a junior at Missouri State University in Springfield, Mo.
"When we stop discussing the inequalities we face, the discrimination and stereotyping we have experienced, police brutality, and the other issues we face in this country, everyone else will stop too. We have to fight and continue to fight even when the media stops recording. We can't afford to allow Donald Trump to defeat us. We can beat him together," said the 21-year-old.
(Richard B. Muhammad, J.A. Salaam and the Associated Press contributed to this report.)