-Contributing Editor-
Presidential politics won't provide path to freedom, Black America must do much more than go to polls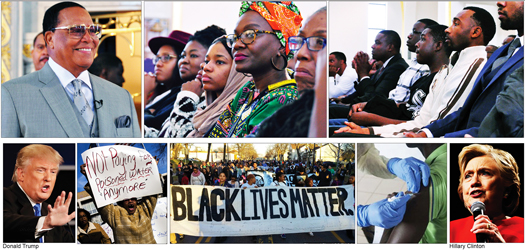 CHICAGO–The Honorable Minister Louis Farrakhan came to Mosque Maryam to deliver a message that would leave no question about where he stands on the upcoming Nov. 8 presidential election and what it means not only for Black America, but for the future of the American nation.
Speaking to a capacity crowd that spilled into the gymnasium at Muhammad University, Min. Farrakhan acknowledged that the subject, "If Satan casts out Satan, he is divided against himself: How then will his kingdom stand?" was not an easy one to deliver.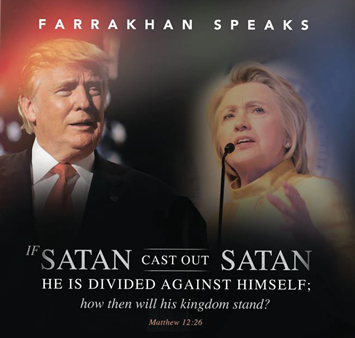 The promotional flyer that featured photos of Republican candidate Donald Trump and Democrat Hillary Clinton had created consternation in the public, and even many of his friends were upset because of the vested interest they may have in Hillary Clinton becoming president, he said.
"This is a very difficult subject for me to attempt to deliver to you," the Minister said. "I'm not talking to you as a man guessing. I'm not a Negro leader nor am I some person trying to be what I am not.
"I've always, by God's grace, been able to see the bigger picture. The bigger picture is not Hillary Clinton. The bigger picture is not Donald Trump. The bigger picture is the Black masses of America and the American people whose lives are at stake," he declared.
To Black people, the Minister said, "I'd love to have your favor. I want your favor but not if I displease God by hiding the truth that you need to know to make wise decisions about your life. So what I know I have to tell and it is a warning to Mrs. Clinton, to Donald Trump, to the Democrat and Republican leaders," he said.
The outspoken Minister opened his Oct. 30 remarks explaining that he is directed by and represents the Honorable Elijah Muhammad, in whose seat he sits, and that his mind and that of his teacher are one. Throughout the lecture, the Minister read from books written by the Hon. Elijah Muhammad that painted a picture of the present national election and the position of America in the world today even though the words were written more than 50 years ago.
The 83-year-old leader said Black people are being held hostage by Whites while the country is under divine chastisement that will only get worse. He said White America has no more jobs for Blacks to do and the rise of police shootings, the poisoning of water in Black communities and unnecessary vaccinations is White America's way of deciding what to do with 40 million unwanted Blacks.
"My job is to warn you and then get out of the way," he said. "God doesn't want you integrated into White America. They are holding us hostage."
With dignitaries seated before him who bore witness to his history, the Minister laid a foundation for his critique. He described how the characteristic of humility allowed him to put the interests of the Black masses before personal interests and sometimes suffer disrespect from people he's trying to help.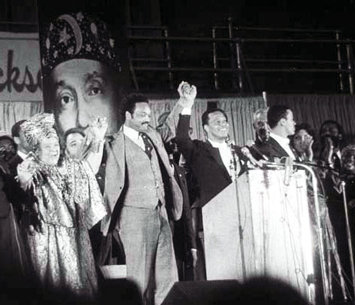 He described his 1983 experience with the presidential campaign of Rev. Jesse Jackson who asked the Minister to be a surrogate speaker on the campaign. Being a novice in politics, the Minister asked for counsel from Nation of Islam laborers who had walked with the Hon. Elijah Muhammad before accepting the civil rights leader's invite.
On the campaign trail, the Minister spoke out against members of the Jewish community who were seeking to ruin Rev. Jackson's efforts, which he described as turning over "a hornet's nest." As a result of that confrontation with the Jewish community that had never confronted a Black man that didn't back down, the Rev. Jackson was forced to disavow his friend.
In 1993 Min. Farrakhan was scheduled to speak at Yankee stadium while New York Mayor David Dinkins was in the midst of a reelection campaign. But because Mr. Dinkins was trying to get Jewish support, Black leaders asked the Muslim leader not to come to the city.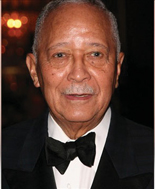 "I said I won't come and they said when you do come all of us will back you. When I came only one of those leaders stood with me and that was Rev. Al Sharpton," he said.
The Minister said the Nation also helped Barack Obama to get elected to the state Senate. Mr. Obama went on to become a U.S. senator and threw his hat in the ring for president, the Minister said.
When Mrs. Clinton and Sen. Obama were locked in a battle for president, the Minister spoke kind words about Mr. Obama during the 2008 Saviours' Day convention that Mrs. Clinton used during a debate on NBC.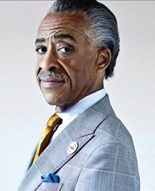 "Barack did not want to denounce me but Hillary forced him and he gave in," he said. "All of you who want national and state prominence sometimes I am the litmus test to see if White folks can do anything good for you. And some of you are so weak that your desires mean more than the integrity of your being.
"But every time, I forgave my brothers and kept moving forward," he said.
Min. Farrakhan said Mr. Trump is giving White people hope that they can put Blacks "back in their place." He cited the Black Lives Matter movement and actions of football player Colin Kaepernick who kneels in protest during the national anthem as examples of slaves vexing the slave master, as referenced in scripture.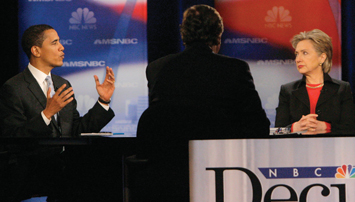 Min. Farrakhan said that Satan has already made the people into "little devils," even to the point where pastors can't preach the true gospel of Jesus. Evil has been made fair seeming to you, he said.
"America is now being torn to pieces politically as Pharaoh's political party was in the days when Jehovah went after the freedom of the children of Israel," Min. Farrakhan said, referencing the plagues that visited Egypt.
He said neither the Republican or Democratic party have given Black America anything of real substance. Candidates only make promises in order to beat their opponents, he said.
While the Million Man March was being organized, Bill Clinton and then Senator Joe Biden were authoring a devastating crime bill, Min. Farrakhan said. Hillary Clinton supported the bill and called young Black men "super predators" and they now admit the war on drugs was really a war on Blacks, he said.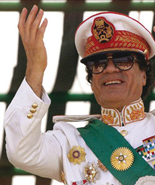 As secretary of state, Hillary Clinton put in motion the activity that led to the death of Libyan leader Muammar Gadhafi, a friend of the Nation of Islam who had committed to helping the Nation of Islam financially. He also said Jewish neo-conservatives like Richard Perle worked to build Col. Gadhafi's opposition that also allowed Al-Qaeda forces to be established in Libya.
Col. Gadhafi wanted to "come out of the cold" and have sanctions on his country lifted, so he agreed to dismantle his chemical and nuclear weapons, the Minister said. Col. Gadhafi had done great works by bringing water under the ground in the desert to cities of Libya and sharing oil revenue with citizens of his country.
"I begged him to be careful with them," Min. Farrakhan said. "He gave them everything they wanted and one thing they didn't want is for him to give money to the Nation of Islam."
The Minister said that Col. Gadhafi wanted to put the Nation of Islam into his country's annual budget once the sanctions were lifted.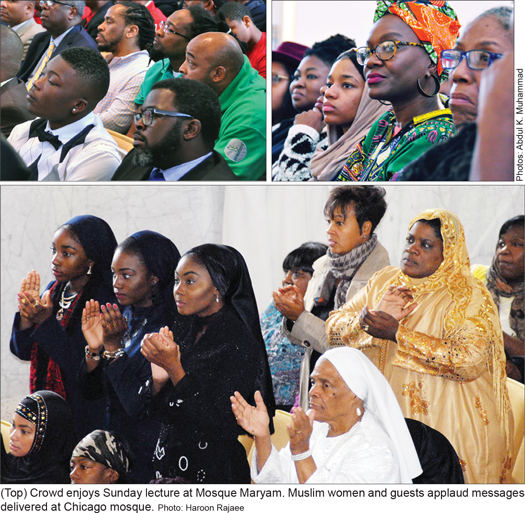 The Minister told his companions if the Nation got that kind of money he would first free the NAACP and the Urban League. "As long as your money, comes from these wicked philanthropists, you are not as free" as you need to be, he said.Min. Farrakhan questioned what the candidates mean when they say they want to make America great or that America is good. They only mean as long as the lies they tell come into reality, he said.
"America and her errant foreign policies created enemies all around the world," he said. "What is your national interest? Is it the riches of the land of other nations?
"I vote to bring in the kingdom of God on earth, which neither Clinton or Trump can do," he said.
Instead of depending on false promises from political parties that have already failed on their promises, Min. Farrakhan called on Blacks to take control of the organs of power to make their communities decent places to live.
The organs of power are education, politics, economics and the boards that make the decisions for the communities, he said, adding that Black politicians are controlled from the outside, so Blacks must finance their own politicians and hold them accountable.
"Walk your community and see who owns the stores. You've got predators in the Black community. Immigrants build their hope of the American dream on the Black nightmare," he said.
He concluded by calling for the continued boycott of Black Friday and the Christmas season.
"What is the slogan?" he asked. "Up with Jesus, Down with Santa," the crowd responded.
"We have declared our independence from White America," the Minister said. "The Bible says God comes after the works of Satan. Satan's work is done."