By Final Call News

The news is horrible and heartbreaking from Haiti with the death toll of some 1,000 people and hundreds of thousands of others lacking food, clothing, shelter and clean water in the Black Republic. Word of aid to Haiti is coming out now but we cannot be satisfied with promises and platitudes.
We have to be engaged and involved in aid making its way to Haiti as well as playing a role in rebuilding a nation of immense historical value to Black people and the worldwide struggle against White supremacy. We have to be engaged because the United States and France and Western powers have meddled in Haiti and constantly tried to derail her progress. The truth is they cannot be trusted. But do we care enough to get involved?
Black America has $1.3 trillion a year in spending power yet our brothers and sisters in Haiti–and other Caribbean islands–are at the mercy of multinational corporations, resource sucking non-profits and non-governmental organizations and international agencies that never seem to quite get things right. And as they fail, ordinary Haitians suffer and the central government remains weak and ineffective.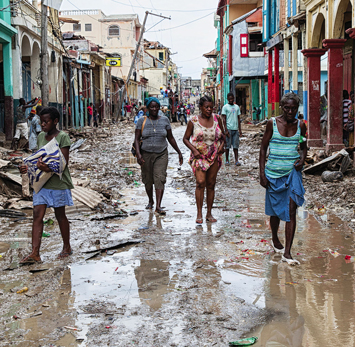 We should not be surprised that there is no massive hope for Haiti campaign or outpouring of sorrow for Haiti. Why should those who have wanted to destroy or control and manipulate Haiti since she took her freedom in 1804 care about her well-being? She is just an outpost, a small piece of earth with a major spirit of resistance and pride and a potential threat that must never be allowed to grow and rise.
"The U.N. humanitarian agency in Geneva made an emergency appeal Monday for nearly $120 million in aid, saying about 750,000 people in southwest Haiti alone will need 'life-saving assistance and protection' in the next three months. U.N. officials said earlier that at least 1.4 million people across the region need assistance and that 2.1 million overall have been affected by the hurricane. Some 175,000 people remain in shelters," the Associated Press reported on Monday, Oct. 10.
"Electricity was still out, water and food were scarce, and officials said young men in villages along the road between the hard-hit cities of Les Cayes and Jeremie were building blockades of rocks and broken branches to halt relief convoys.
"A convoy of food, water and medicine was attacked by gunmen in a remote valley where there had been a mudslide, said Frednel Kedler, coordinator for the Civil Protection Agency in the Grand-Anse Department, which includes Jeremie."
"The U.N. also said the hurricane has increased the risk of a 'renewed spike' in the number of cholera cases. A cholera outbreak since 2010 has already killed roughly 10,000 people and sickened more than 800,000," AP reported.
But Haitians were actively calling for people not to donate money to the Red Cross, because of the group's huge failures following the devastating 2010 earthquake.
The UK-based Independent reported that "accompanying many requests for aid comes a warning–do not give your money to the American Red Cross (ARC).
"Trust in the ARC, and in foreign aid more widely, has been badly shaken by a 2015 report that found donations had been squandered. Despite collecting nearly half a billion dollars to provide relief after the 2010 Haiti earthquake and pledging to build 700 permanent homes, the ARC has been accused of only building six," the newspaper reported.
" 'In the coming days, many of you are going to write and ask me how you can 'help Haiti,', one woman said on Twitter after the hurricane, 'Do not give to the American Red Cross.' "
But it's not just private donations that go to the Red Cross, which is often used as a conduit for funds and services paid for by the U.S. government.
Federal government agencies themselves are also to be watched: During the rebuilding effort after the earthquake the U.S. military was involved in the effort but it was also receiving a kick-back, a payment from other U.S. agencies for work done on behalf of U.S. agencies.
Meanwhile the Haitian government remains weak due to failures to provide funds to the government using the justification that Haiti's "government" is corrupt. There are so many non-profits in Haiti that it is derisively referred to as the Republic of NGOs (non-governmental organizations.)
What is needed is support for groups in the Haitian Diaspora that do incredible work in Haiti using their own resources–human, financial and material. These groups provide medical care, educational opportunities, care for orphans and engage in other vital on the ground projects. Yet these groups never seem to be able to get much help when the big bucks come rolling in.
We cannot afford to be divided, nor can we be apathetic. We have to care enough to get involved by monitoring those who are supposed to help in the name of humanitarian aid and U.S. government assistance and by uniting with our Haitian brothers and sisters in America and inside the country.
We need to watch the U.S. immigration agencies which have already been making it hard for Haitians to enter America. They must be allowed to enter the U.S. where loved ones and vibrant communities are ready to embrace them.
We cannot leave this work to anyone else.