By Charlene Muhammad CHARLENEM
'I Thought A Nice Country Like This Would Protect Us'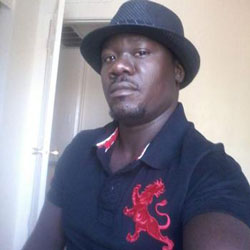 EL CAJON, Calif.–The name Alfred Olango has been added to the list of those who were fatally struck down by bullets fired by police officers in questionable circumstances.
And while this victim may have been an African immigrant from the Motherland, the anguished cries of his family members, his sister, his mother, mirror those of their Black brethren suffering for centuries inside of America
Community leaders, activists, and residents, stunned and angered by the Sept. 27 shooting, are again demanding answers and unhappy with the response of authorities.
"My son was a good, loving, young man; only 38 years old. I wanted his future to be longer than that. I wanted him to enjoy his daughter," lamented his mother Peggy Benge during a press conference two days after his death hosted by the National Action Network.
She is another Black mother thrust into the national movement against police killings of Black and Brown men in the United States.
"I have been seeing all this praying for all the mothers and fathers that have lost their loved ones exactly like mine. I pray that things should be different. … It keeps going," the mother sobbed.
She wants the El Cajon Police Department to release a full videotape of the incident. So far, police only released a still photo taken from a video, in attempts to litigate the case in the media, charged Dan Gilleon, the family's attorney.
The FBI, local police and San Diego District Attorney will investigate the shooting, according to Mayor Bill Wells.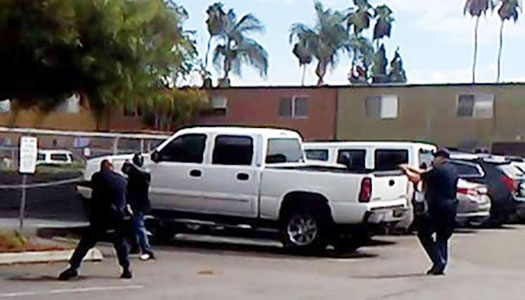 "How painful it is to lose the loved one that you have raised through struggling," Ms. Benge said, often clutching her chest with her right hand.Yes, we are refugees, but that is no justification for killing my son, she said, addressing media's emphasis on the family citizenship status.
She also dispelled reports that her son was mentally ill. He couldn't handle a friend's suicide and broke down, she said.
Mr. Olango's sister said she called 911 three times. She wanted someone to help her brother, help calm him down, not kill him.
It took police 50 minutes to arrive, but just one minute to gun him down, according to family attorneys.
Police said they received calls of a man who was "not acting like himself." He was walking in traffic, endangering himself and motorists, an El Cajon Police Department press release said.
His hands were in his front pocket, and he ignored their commands to take them out, police said. Police said Mr. Olango swiftly drew something from his pants pocket and went into what appeared to be a shooting stance. Officer Richard Gonsalves shot Mr. Olango five times, but another officer tasered him. Who acted first is still unknown, according to Atty. Gilleon.
Atty. Gilleon argued the police department was supposed to dispatch a Psychiatric Emergency Response Team trained to deal with people with mental illness, but didn't. He told Amy Goodman, host of Democracy Now, that Off. Gonsalves, sued last year and in August for sexual harassment against a fellow officer, is a cowboy who took matters into his own hands and escalated the situation.
It turns out Mr. Olango was holding a vape smoking device.
Ms. Benge has maintained her son had no weapon. She explained her family fled from a war zone for protection. She didn't want their children running in fear every night, sleeping in the bush.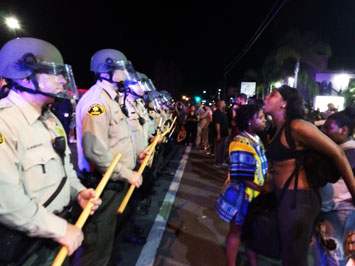 "Now, I ask the question: Where should we go? I don't know … I thought a lovely, nice country like this would protect us," she said.
Since the shooting, there have been peaceful demonstrations and protests, but several turned violent. The turn was blamed by some agitators from outside of the Black community. There was a clash with cops during a Sept. 29 evening march of some 250 people that was for the most part peaceful.
Grassroots activists, faith leaders and community-based organizations held a rally at Marie Whitman Park earlier that day, then a prayer vigil and march at the shooting scene.
Demonstrators chanted, "No justice! No peace!" as they swarmed the streets. At each intersection, they rallied, chanted and danced. Much of the march route was very dark.
Men, women, children in strollers, marched past several police barricades to freeways. As they passed police, protestors chanted louder, "Black Lives Matter!"
Derek Fuller, 37, said he attended the protest because he could relate to Mr. Olango's death. The shooting happened near Mr. Fuller's workplace.
"I have epilepsy. I had my seizure on Friday, so it really hit home," he said. "People don't quite respect mental health. I think personally they carry the Black man, they carry us with that superman mentality. He can't be hurt. He can't be broke. He can't cry. He can't feel nothing," Mr. Fuller told The Final Call.
There was tension among marchers from the time the protest began. White allies of Black Lives Matter marched in solidarity under the guidance of lead organizers, but others who marched made several attempts to exacerbate tensions by taunting police. Some threw bottles.
As the middle line of protestors came through a very dark overpass, one man pulled large, old palm tree leaves into the middle of the street. The Fruit of Islam, male members of the Nation of Islam, pulled the trash out of the street and instructed him to stop. They worked with other activists to quell any violence.
The man took a few more steps, sifted through an empty Corona beer box and kept moving.
Christina Griffin of Reclaiming the Community helped organize the demonstrations. The former volunteer organizer with Black Lives Matter L.A. had just moved back home to San Diego before police killed Mr. Olango.
"Today, we just gave people marching orders, that the brother, Alfred, his life not be forgotten and that it not happen again," Ms. Griffin said.
Mr. Olango's death follows the deaths of Keith Lamont Scott in Charlotte, North Carolina and Terrence Crutcher in Tulsa, Oklahoma.
"Most of what affects our community is the practice of law enforcement, not necessarily policy. And in often cases, it's violating the law," said Student Minister Hugh Muhammad of Muhammad Mosque No. 8 in San Diego.
The issue is not retraining police, because some can be trained and others need to definitely be rooted out, he said. "There's a mindset that's instilled, and the Honorable Minister Louis Farrakhan said that you can't retrain a racist mind," Min. Muhammad said.
Society doesn't want to admit that within law enforcement, there may be darker elements, he said. "You have a secret order that exists, and it appears that that secret order in their communication realizes that the de-facto reality is they're not going to be punished … and when they are charged … they're being exonerated and found innocent," added the Nation of Islam student minister.
Lora Dotson, a child advocate, came out to protest the war on Black men and America's epidemic of systematic racism. "You're snuffing out Black daddies, Black sons, Black brothers. You've got people who comply, and they still die," she said.
"I think Minister Farrakhan has had the right idea all along that you've got to create your own economy. You've got to put money into your own organizations and neighborhood, and employ people who are within your neighborhoods and communities," Ms. Dotson continued.
The community is demanding real accountability, not just a pat on the wrist, said Pastor Russell Bowman of Righteous Living Ministries. The police killings of Black men is a spiritual, demonic epidemic, he said. The shooting in El Cajon came as no surprise, he said.
"I think the people are more shocked and outraged, and I think we're comfortable and lax, so it's to the point now where it's a wake-up call … It has awakened a sleeping giant," the pastor said.