By Gregory Muhammad
Pam Africa is the head of International Concerned Friends and Family of Mumia Abu-Jamal, the Philadelphia-based organization at the center of the international movement seeking Abu-Jamal's release.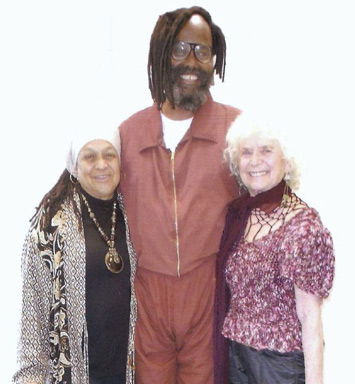 Ms. Africa received a phone call from one of her Move 9 family members, Mike Africa incarcerated at SCIGraterford, located in rural Pennsylvania, to inform her about the unusual smell, taste, and dirty water running through the Graterford Prison plumbing system. Pam Africa stated during a phone conversation with this writer, "The water is poison at Graterford. My brother Mike Africa reported that the water is unsafe to drink. Complaints were sent to prison staff about the water by several inmates. The Graterford staff in turn, permitted Muslim inmates to sell bottled water to the inmate population as an alternative to the poison water."
She continued, "Months later, the prison staff restricted Muslim inmates from selling the water. We have a serious poison water crisis in Flint, Mich. But, what about the water right here in Pennsylvania among the inmate population that is kept silent by the media and Pennsylvania Department of Corrections staff who are responsible for the incarceration and safety of our family members." A 60 Minutes segment titled "Crime and Punishment" April 3, 2016 was reported by Bill Whitaker. Whitaker stated, "Not many issues can unite Democrats and Republicans. But criminal justice reform is one of them. After 30 years of being tough on crime in the U.S., no other nation incarcerates more of its citizens than we do. We have five percent of the world's population, but 25 percent of its prisoners. The cost of housing all those inmates: $80 billion a year. We found that American politicians and prison supervisors are looking for new ideas in Germany. The main objective of German prisons is rehabilitation, not retribution. Germany spends less money on prisons, but gets better results. Their recidivism rate is about half the U.S. rate. We wondered if Germany had found a key to prison reform. So we visited three German prisons, but our trip started in a small resort town about 100 miles north of Berlin." Does prison reform include the health and safety of inmates? How can prison reform be addressed without addressing its living environment, particularly, the prison health system and now the plumbing system?
Whitaker joined U.S. prison and law enforcement officials on a tour in Berlin organized by the Vera Institute of Justice and John Jay College of Criminal Justice. Connecticut Governor Dannel Malloy was part of the group. He said, "I am impressed." Check out this exchange:
Dan Malloy: I can tell you, they have a lower crime rate than we do. They have a lower recidivism rate than we do, and they're spending a lot less money on jails.
Bill Whitaker: In the U.S., we've got much greater access to guns. We've got race as a factor and ethnicity as a factor. Are the things being done here directly transferrable to the United States?
Dan Malloy: I think there are many things that are transferrable. That doesn't mean that it's a perfect fit. But I think we have the same vibe, doesn't feel like the prisons in Germany at all.
John Wetzel: Little bit more intense, maybe.
Bill Whitaker: Little bit more intense.
Whitaker points out, "John Wetzel is Pennsylvania's Secretary of Corrections. Three years ago, he went to Germany looking for ideas to improve his prisons. He showed us around Graterford, outside Philadelphia. It's the largest maximum security prison in Pennsylvania–3,300 prisoners are packed in here. We were walking through an 80-year-old cell block when this inmate approached. He said he was a low level drug offender.
Prisoner: Sometimes, it be leaking on the block, people dying in their cells, the water stinks. Did you smell the water? Water smells like it's coming out of the sewer hole.
John Wetzel: You're preaching to the choir. I've done as much as I could for …
Prisoner: I mean, for real, there ain't nothin' but poor Black and Latino people in the jail. It's bad in here man, it's bad.
John Wetzel: Yeah? I mean look around.
Prisoner: It's bad.
So there's the evidence that the water at SCI-Graterford is unsafe to drink. Just recently, Pam Africa informed this writer that the Pennsylvania Environmental Protection Agency claimed to have tested the water and determined that the water is safe. This crisis is not being taken serious by prison staff or the Pennsylvania EPA. The incarcerated are voiceless. The Honorable Minister Louis Farrakhan stands as the only "uncompromising voice" for the incarcerated. He offers a "True Reform" solution that will effectively address the "mass incarceration" that make it easy to mistreat, abuse, and murder prisoners Minister Farrakhan lays out this solution in his monumental book, "A Torchlight for America."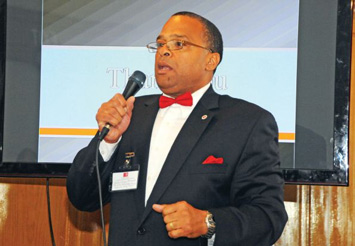 He writes, "Support the Nation of Islam's Prison Reform Ministry. The prison system is not set up to reform. It's a dead end." This dead end includes the actual death of prisoners as a result of "Medical Neglect" which Mumia Abu Jamal continues to be a victim of. He continues to be denied "Hepatitis C treatment" that can cure him from this debilitating disease. Also, the current alleged poisoning of the water at SCI-Graterford. This is clear evidence that prisoners' lives don't matter.
The water issue at SCI-Graterford must be investigated by an independent agency. The NOI Prison Reform Ministry Delaware Valley Region supports the demand for an investigation into the SCI-Graterford water issue. We must expose this action.
Please help keep the pressure on by contacting John Wetzel, Secretary of Corrections, Pa. Dept of Corrections at: [email protected] and/or 717-728-2573, extension: 4109. Keep the pressure on! Demand Mumia get the Hep C cure.
Gregory Muhammad is the Nation of Islam Student Regional Prison Reform Minister for the Delaware Valley.