JABRIL.MUHAMMAD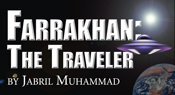 All of what is going on is in the Bible and Holy Qur'an.
"Could you tell us a little bit more about the international recognition of the Nation of Islam under the Honorable Elijah Muhammad, not only from the Muslim nations but from other countries around the globe?"
The Honorable Minister Farrakhan answered this:
"Practically every country of Dark People has read or heard of the accomplishments of the Honorable Elijah Muhammad among us. Practically every Dark Nation on the globe respects the Honorable Elijah Muhammad for his noble efforts among us; they admire his success.
"This is true not only in Africa; this is true not only in the Middle East; you can go into China; you can go into the Isles of the Pacific, wherever you go, Elijah Muhammad is well spoken of. In high government circles he is highly acclaimed and highly respected."
Then he was asked: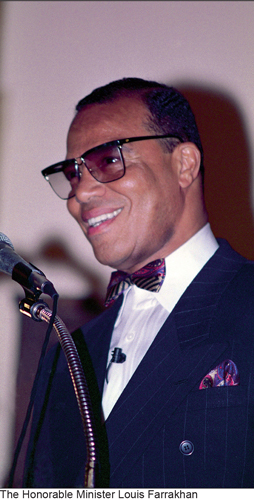 As I wrote last week, Minister Farrakhan was asked in an interview several years ago, "What kind of international trade have you developed?"
And, as I wrote last week, his answer bears directly upon the economic plight of Black people throughout America– at this very moment. Here is the answer:
"The Honorable Elijah Muhammad is a man who wants to see the Black man in a better position economically. The Black man can never get himself up out of the quagmire of poverty and want as long as he has to continue paying very high prices for his food, clothing, and shelter, while being limited in the wages he receives for his labor.
"So, the Honorable Elijah Muhammad desires to lift his people's standard of living. The friendship that the Honorable Elijah Muhammad has gained for the Black man, and for the Muslims in particular, throughout the world enables him to trade with many African and Asian governments. At the present time, he is bringing hundreds of thousands of tons of fish into various ports of America to sell to his people.
"This is fish coming from the clean waters of South America. Japanese fish is being sold to our people at a very reasonable price. It will provide our people with a cleaner fish, at a cheaper price, preserve their good health, save them money which they formerly would have spent on high-priced meats, and it will allow them use of that money to lift their standard of living. We intend to do this with clothing and other articles of necessity.
"We are also engaged, at the present time, in a home-build ing program. The Honorable Elijah Muhammad has started building new homes for the Black man in Chicago and also in Phoenix, Arizona. We have a 100-home unit that we are building in Phoenix, Arizona. And soon, we hope to duplicate these efforts throughout America.
It is our economic ventures; it is the cash flow of the Nation of Islam that will sustain all of these progressive steps that the Honorable Elijah Muhammad is taking for the economic salvation of the Black man." Then Minister Farrakhan was asked:
"Can you tell us about some of the expanding Muslim enterprises that exist here in New York city?" Here is what his answer was:
"Here in New York we are trying diligently to follow the example, the pattern, laid down for us by the Honorable Elijah Muhammad when he said to us: 'Come follow me.'
"We believe that this should be carried into practice, not only in our moral life, but in our everyday life, and in our economic accomplishment. Therefore, we have set up, under the guidance of the Honorable Elijah Muhammad, a thriving university with nearly 1,400 students and a very long waiting list of Muslims.
"They are now awaiting our purchase of new school buildings so that their children may take advantage of this great Islamic education. We support this education effort with our own business ingenuity. We have the beautiful Salaam Restaurant. We have a health food store. We have a men's clothing store. We have a self-service fish, poultry, and meat market. We have our barber salon.
"We have a baking factory that produces our world-famous bean pie. We have bakery outlets. We have a fleet of trucks. We have a warehouse that soon will be stocking everything for the advancement of our people. We have at least 25 businesses in the metropolitan area, and we have another 15 on the drawing board that will be open, by the help of Allah, within the next six months.
"All of these ventures are solvent; all of these ventures are making money. All of these ventures are feasible because of good management. These ventures support the university and the economic advancement of the Honorable Elijah Muhammad and his people in the New York area."
Remember, he gave answers like this before the departure of the Honorable Elijah Muhammad in 1975. What about now?
More next issue, Allah willing.