JABRIL.MUHAMMAD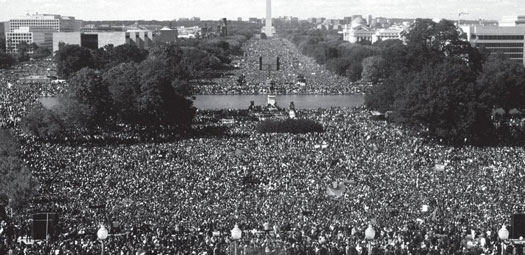 I wrote this many years ago when the Honorable Elijah Muhammad "left" or departed America. This involves the Honorable Minister Louis Farrakhan. He gave him his assignment before he left. It's right there in both books the Bible and Holy Qur'an. Why?
This makes a problem for some. Why?
In 1974 the Honorable Minister Louis Farrakhan was teaching thousands and thousands of people the teachings of the Honorable Elijah Muhammad that came from Allah, Master Fard Muhammad.
There were specific things over a period of years that the Honorable Elijah Muhammad said to Minister Farrakhan about his worth and the future, which is now.
Nineteen Seventy-Four was the greatest year, in many respects, for the Nation of Islam. The teachings of the Honorable Elijah Muhammad were being proclaimed by Minister Louis Farrakhan, as his lead Minister, and by his other Ministers, throughout America and overseas. Black people were attending Muhammad Mosque meetings by the thousands– weekly–all over the country.
Sales of the newspaper, Muhammad Speaks, reached one million per week in sales. Businesses were springing up by Muslims in city after city. The import/export trade was expanding. For instance, millions of pounds of quality fish were imported and sold by "clean-cut" Black men at a reasonable price, in Black communities, which (among other things) helped support the schools set up by the Honorable Elijah Muhammad, which, had become well-respected institutions.
Then there was that testimonial dinner held at the Conrad Hilton Hotel on March 29, 1974. It was sponsored by about 130 Black business and civic leaders. State Senator Partee served as toastmaster. There were a little over 1,900 in attendance.
That day was proclaimed "Honorable Elijah Muhammad Day," throughout the state and city, by both the Governor of the State of Illinois and the Mayor of Chicago.
Mayor, Congressmen/ women, and leaders of civil rights, civic and business organizations around the country paid honor to this very honorable man. This list included Reverend Jesse Jackson, Reverend Ralph David Abernathy, Dick Gregory, Congressman Ralph Metcalfe, Vernon Jordan, Congresswoman Cardiss Collins, John Calhoun (Staff Assistant to the President of the U.S), Maynard Jackson, Floyd McKissack– to name a few.
The words of recognition, admiration, and support of the Honorable Elijah Muhammad reflected–among other things–the power not only of an idea whose time had come, but also the right man to proclaim it.
A few weeks later, in May, in New York City, Minister Louis Farrakhan would speak at a Black Family Day gathering to 70,000 people. This was an unusual event.
Yes, 1974 was a great year for the Nation of Islam. Yet, in the midst of all of this, the Honorable Elijah Muhammad grew increasingly sad. He would say to Minister Farrakhan later that year that people would say that his teachings were "good for those days, but not for now." Minister Farrakhan was puzzled.
There was a sickness in the Nation. And there are the lessons, of the most profound type, for all Black people to learn from this sickness: Its origins, its development, its manifestations, and its cure.
With this article a series begins that is aimed at informing the readers of this paper about a Black man who represents something Black people need to understand.
In the course of presenting the significance of the work of Minister Louis Farrakhan, we will touch on the factors that led him to become a follower of the Honorable Elijah Muhammad, his rise to international fame, his fall upon the departure of the Honorable Elijah Muhammad in 1975, his rise to rebuild the Nation of Islam, and his remarkable progress since that time.
Minister Farrakhan is just about the most sought after Black speaker in America, if not the most. Certainly, he is a most gifted speaker, who entertains (without intending to) as he informs. His appeal is rooted deeper than his very pleasing personality and the decent charm in his manners. All is rooted in the nature of his message, the qualities of his character and because of the type of backing that he has. All of this and more will be presented in this series of articles.
On page 53 of Minister Farrakhan's book, Seven Speeches, that was written several years ago, he was asked: "Could you tell us a little bit more about the international recognition of the Nation of Islam under the Honorable Elijah Muhammad, not only from the Muslim nations but from other countries around the globe?"
He answered: "Practically every country of Dark People has read or heard of the accomplishments of the Honorable Elijah Muhammad among us. Practically every Dark Nation on the globe respects the Honorable Elijah Muhammad for his noble efforts among us; they admire his success. This is true not only in Africa; this is true not only in the Middle East; you can go into China; you can go into the Isles of the Pacific, wherever you go, Elijah Muhammad is well spoken of. In high government circles he is highly acclaimed and highly respected."
Then he was asked: "What kind of international trade have you developed?"
In Minister Farrakhan's book Seven Speeches there is a record of an interview conducted by the then New York Bureau Chief of Muhammad Speaks newspaper in 1974. At one point Minister Farrakhan was asked: "What kind of international trade have you developed?" He answered:
Study the photo with this article and why this photo at this time?
More next issue, Allah willing Jabril Muhammad August 20, 2016