CHARLENEM And Nisa Islam Muhammad -Final Call Staffers-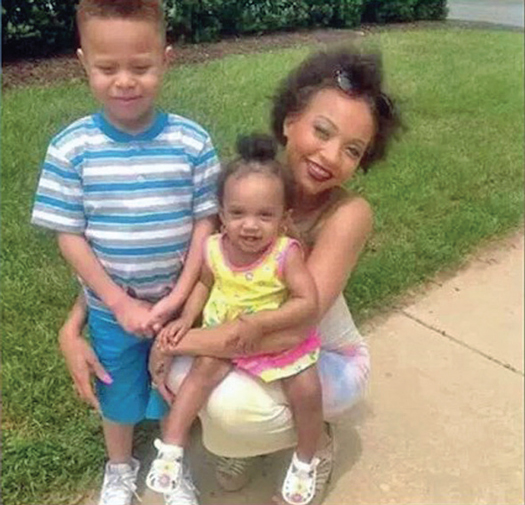 BALTIMORE– What started in early August by Baltimore County Police, as another day serving arrest warrants for failure to appear in court ended in the shooting death of Korryn Gaines, the shooting of her five-year-old son and Kareem Kiean Courtney being arrested on gun and drug charges. Ms. Gaines became the ninth Black woman killed this year by police according to a Washington Post database.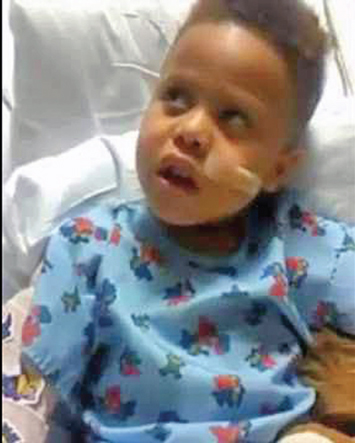 Outrage extending across the country swelled as Kodi, Korryn Gaines' small son, contradicted police accounts of what happened when SWAT officers with Baltimore County Police killed his mother in Randallstown. Conflicting accounts coupled with tension fueled by other police involved shootings of Blacks around the country have residents, analysts and activists closely monitoring this case.
When police arrived at the couple's apartment to serve arrest warrants to Ms. Gaines, 23, for traffic violations and to Mr. Courtney, 39, for a second-degree assault charge stemming from a June domestic violence incident, they knocked for 10 minutes and announced themselves, officials stated. They heard voices and suspected the couple was inside. After no response they went to building management for a key.
When cops tried to open the apartment door it was chained, they said. Through the opening they saw Ms. Gaines sitting on the floor holding her legally obtained Mossberg, 12-gauge shotgun.
According to court documents one officer then, "kicked the door forcing the door open" and another entered the apartment. Confronted with the shotgun and Ms. Gaines telling them to leave, the officer immediately left and called for backup.
Nearly thirty minutes later Mr. Courtney came out with a one year old in his arms but not before he encouraged Korryn to come out too. "I could hear her boyfriend telling her it wasn't worth it, to just come on out," her mother, Rhanda Dormeus told media. She was communicating to her daughter via Facebook according to reports. The police then deactivated Ms. Gaines Facebook and Instagram accounts during the ordeal.
Baltimore County Police Chief Jim Johnson said an officer shot Ms. Gaines after she pointed her gun and threatened him. An officer fired and Ms. Gaines returned fire missing all of the police. Another officer then fired three rounds killing Ms. Gaines and hitting her son.
Beforehand Ms. Gaines' family began gathering outside with the police who had called in tactical reinforcements and crisis negotiators for a standoff that lasted several hours.
"I was there, her father was there, her mother was there but they didn't allow any of us to talk to her. They said that's not going to happen," Marlene McBride, Ms. Gaines grandmother said at a candlelight vigil, August 5. "It could be your child next time."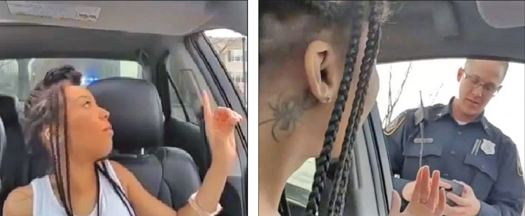 Chief Johnson said he would not release the names of the officers that were involved for safety concerns amid threats against their lives. It is unclear whether the officer was still on active duty.
Remembering Korryn
Hundreds of family, friends, activists and supporters gathered at Ms. Gaines alma mater, Baltimore City College on Aug. 5, for a candlelight vigil to remember her. Her cousin, Creo Jamal Brady spoke.
"They put all of these accounts out trying to dehumanize my cousin Korryn Gaines. This is a real life that has been lost. The shooter tried to talk to me and tried to explain. There's nothing you can say to me. There's nothing you can justify. You try to make my cousin seem like she had a mental illness. You try to make us think she was crazy," said Mr. Brady.
"Well, guess what, we see the truth behind the lies. If she was really crazy, that's even more reason for you to back up," he said.
Ms. Gaines' actions have received mixed reviews. Many believe it was fool hardy to resist the police and that she put her son in danger by keeping him with her.
Her Aunt Joy Harper explained online just who Korryn was. "You people that read the story about my niece don't know the story about my niece. All you read is what you want to believe. There was a bravery in the soul of this child that in her young years you will never find in your lifetime."
"(She) fought for what she believed to be the right thing. For a cause. You haters can't cause my family any pain with your stupidity and callous comments because to us she wasn't a story that you read, to us she is and always will be a SHERO. Full of life and strong presence."
Student Minister Carlos Muhammad of the Nation of Islam's Muhammad Mosque No. 6 in Baltimore said this latest shooting shows police killings are extending to the suburbs of Baltimore County, a more affluent area than Baltimore City.
"This was not her first encounter with police. She was being targeted because of her previous encounters as well. She was also a target because of her involvement with the Black Lives Matter movement," said Mr. Muhammad.
"She was very conscious. Had she been White they would not have fired a shot. This is why our people are angry and upset because we continue to see Black people getting shot by police and getting away with it."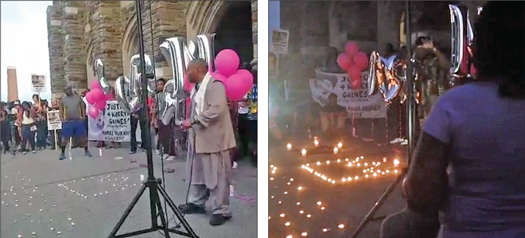 According to reports, Ms. Gaines' first encounter with police happened last March when she was charged with resisting arrest after she refused to leave her car when she was stopped for not having proper tags.Combine that experience with reports that Ms. Gaines may have been a victim of lead poisoning made for a volatile mix.
Ms. Gaines was born in 1992; one year later she tested high in lead levels from April 1993 to November 1994, according to court records. In 2012 she filed a lawsuit that was still pending at the time of her death, against the owner of two Baltimore rental homes she lived in as a child.
Her suit alleged "a sea of lead" paint made her ill. A doctor who examined her found that she continued to display, "signs of neuro cognitive impairment," and "lost significant IQ points as a result of that exposure."
The suit includes a report by a pediatrician that said, "Korryn had a history of problems with anger and impulsive behavior and had several sessions with her school counselor."
A rush to judgment?
Critics cautioned, don't rush to judgment as details about what transpired continue to be investigated. But others argued that is exactly what officers did when they shot and killed the young mother.
"I'm very distressed by the incident. I think there is no explanation or excuse for the way in which the Baltimore County Police Department conducted this 'arrest warrant,' and there's no excuse for their just shooting her," said Atty. Barbara Arnwine, founder of the Transformative Justice Coalition. She argued police knew they had a volatile situation on their hands and could have easily waited the situation out.
"There was no urgency, no danger. In fact, the only danger that was there was their agitating her with that baby in her arms," Atty. Arnwine told The Final Call.
People always want to have all the facts, but at the same time, certain things are common sense, she said. She said there have been hostage situations where police have waited 24 hours and sometimes more than a day when lives were at stake.
Maryland Attorney J. Wyndal Gordon known in Baltimore as the "Warrior Lawyer" believes Ms. Gaines rights were violated when the apartment manager gave the police a key to her apartment.
"The primary person responsible for her death is the apartment management and they are not subject to the immunities that Korryn Continued from page 5 police have by virtue of their police authority. They are just common citizens. They had no business getting involved in this police matter and had no right to give the police this woman's key to enter her home. In fact they were acting as agents of the state by doing so," Atty. Gaines told The Final Call.
Atty. Arnwine was also disturbed by reports that Ms. Gaines clearly felt she was being stopped by police, harassed in her neighborhood, and that police were unduly targeting her in videos where she filmed herself. Her anger about it is very visible in the videos she posted, Atty. Arnwine said.
This ordeal is not just another shooting, but it has occurred in a scenario that Blacks are experiencing over and over again, said Hip Hop journalist Davey D.
He shunned contradictions in what happened to Korryn Gaines. People fret that she had a gun, but it's legal, he said. "People argue she had a gun in front of her child, and cite a whole line of questioning whereas White families that have their kids at the shooting range at six and seven years old don't have that criminalization," he continued.
Ms. Gaines was not disobeying the law, he argued. She had parking tickets, traffic violations, but she wasn't wanted for drunk driving or a hit-and-run, or anything like that, he added.
"These are things that you've got to use discretion about. We've got to have a critical eye. We've got to go, traffic tickets? Really? You sent a SWAT team over to somebody for traffic tickets? Not an illegal gun," he said.
She wasn't doing anything illegal at the time they decided to send a SWAT team in to get her. There was nothing, and we know still from even the police reports that they say they shot first and she shot back! I think we've got to be realistic about this situation. Common sense tells us that this was not handled appropriately," said Atty. Arnwine.
Dr. Boyce Watkins, of the website Your Black World said all the facts are needed before moving forward. On the surface, said Dr. Watkins, what happened to Ms. Gaines sounds very egregious, including that her son was injured. But the credibility of law enforcement when it comes to being forthright and honest is another story, he explained.
"Remember, just a week of ago, the criminal justice system acquitted the officers who killed Freddie Gray, so nobody's going to believe a word that comes out of your mouth. You betrayed the public's trust with your behavior."