By Charlene Muhammad CHARLENEM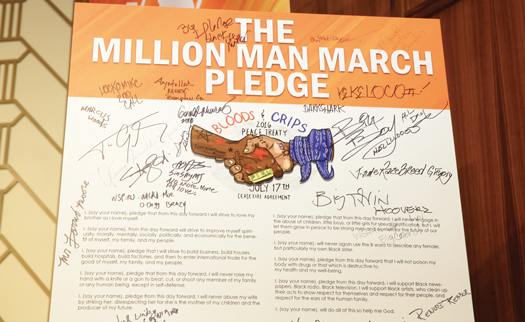 LOS ANGELES–Hope, optimism, and determination permeated the atmosphere during a recent gathering of Bloods and Crips, gang interventionists, community organizers, and peace keepers.
They came after being called by the Honorable Minister Louis Farrakhan through his Western Region Representative, student Minister Tony Muhammad.
The more than 2,000 who descended on Muhammad Mosque No. 27's meeting at the Scientology Vermont Community Center got the call through various channels. Those included multi-platinum rappers The Game, Snoop Dogg, and popular radio personality Big Boy. Reactions to the July 17 gathering were mixed.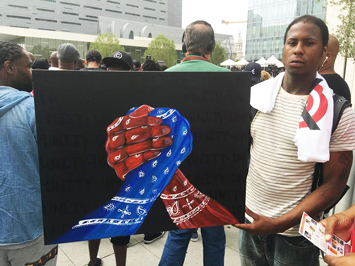 "It's necessary, real important, because everybody talking about peace treaty, and everybody want to have peace, but the only thing that's going to be able to change everything is an influence, because one thing about gangsters in the streets, you telling them a peace treaty, they're not going to listen," said Big Y, a former gang member.
"But if everybody educate them and educate ourselves, and show different things, then certain ones are going to want to be influenced to do different things, and that'll start somewhere to try to solve the problem," he told The Final Call.
Big Y also said the gathering was beautiful. "Right now, you've got a little bit of everybody, from gangs that have been beefing with each other … for generations, all based on the pain they've been through," he said.
Some said they felt many that needed to be at the table were not there but on the other hand many others showed up. Many felt the meeting was a beautiful first step.
Now, the action has the streets talking, there is dialogue on the gang crisis and what needs to be done about it said a former gang member turned peace keeper who did not want to be identified.
There is interaction between rival gangs now, and that is the beauty about the summit, but it is still in infancy, he explained.
"Even those that were skeptical have admitted that at the very least, what came out of it is that rival neighborhoods have met amongst themselves, and that they've opened the dialogue," he told The Final Call.
Neighborhoods came from surrounding cities, including Compton, Watts, and Long Beach. The risk was huge.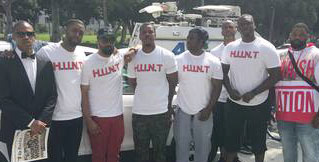 In Los Angeles and any city plagued with gang violence, it could be a death sentence to venture out of one's neighborhood. Some who came were in familiar territory, but others, men and women alike, made the trek to answer the call for peace.
"We out here basically to see what can progress from everything that's been going on. Maybe we can try to make something better go on, probably get a little positive things to try to help the kids before they fall into the same trap we did," said Fish, a member of the PacoimaPirus.
"I'm not expecting everybody to get along right away, but I'm expecting for us to at least cease fire so these kids can have an opportunity to grow up in these streets," said Kboy, who said his neighborhood is 48 Gangster Crip, and that he represents 42, 43, and 48 Gangster Crip.
"That's my main goal, so hopefully everybody comes to an agreement like, look, we don't have to hold hands and get along with each other and kick it with each other and nothing like that, but, let's give the kids an opportunity to grow up, though," Kboy said.
"If that happens, then we will be able to get along. Then we will be able to come into each other's park and play basketball, and hang out with each other like the Black man used to do back in the day," he added.
"It's a beautiful thing to see the Crips and the Bloods, our Black brothers, unifying to find solutions to the problem that has plagued our community for so long. Us as Indigenous people, representing Brown culture, we're here to support and also want to organize ourselves so that we can be a unified force of oppressed people to overcome these challenges," said Ric Vidal of the Indigenous People's Resistance Intervention Prevention Response.
"I came today, because everybody's asking the question, but my question is who does Black lives matter to? All the killings going on, they want to blame this and that. So, if Black lives matter, who does Black lives matter to? I'm here today to find that out," said Melvin Robinson, representing Watts.
"People don't understand, when you've got loved ones that have been killed, that pain is deep, so we just gotta find a way to get them away from the situation by education," Big Y stated. "Their lifestyle will change so they won't be in the areas where people are getting killed, where police are beating them up, because they're able to change their lifestyle because their minds are elevated," he continued.
"Like Tony Muhammad said, our biggest enemy is ignorance, and that's what I'm trying to do. I'm a Blood. I don't denounce my hood. I'm from Crenshaw Mafia, but I've been a big example in a lot of different things, so hopefully, in my efforts to do something right, hopefully I can make an influence," said Big Y.
"I am so excited about this movement! It is beyond exciting, because we need to stop the killings, and bring people together," said Vicky Lindsey, founder of Project Cry No More, a support group for mothers and families whose loved ones have been slain in gun violence. Her son, Lionel, was killed in gun violence in 1995 at 19-years-old.
She said there is desperation in the streets. "We have got to do something, not just sit here and be quiet … It's important, very important, because I'm really concerned about my two grandsons," Ms. Lindsey said.
(Michael X contributed to this report.)