JABRIL.MUHAMMAD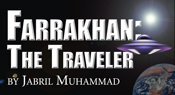 "And when thou seest them, their persons please thee; and if they speak, thou listenest to their speech. They are like pieces of wood, clad with garments. They think every cry to be against them. They are the enemy, so beware of them. May Allah destroy them! How they are turned back! (Holy Qur'an 63:4)
"And whoever keeps his duty to Allah, He ordains a way out for him, and gives him sustenance from whence he imagines not. (Holy Qur'an 65:3)
During a recent segment of the weekly-televised program named Book TV I watched a brilliant Native woman, Mrs. Wilma Mankiller, answer questions as she is on a book tour promoting her book titled: Every Day Is A Good Day.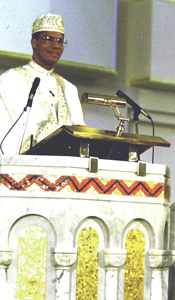 She was sharing her wisdom with the students at Haskell Indian Nations University in Lawrence, Kansas, from her book and her experiences. At one point she was asked: "What do you think is behind the oral traditions? Is there a meaning behind oral tradition of [the] tribes? If so, what do you think that that meaning is?"
Her answer began with: "Most of our history has been, recorded orally. And among Cherokee people–I don't know about other people, but among Cherokee people, there was a time way back in history when there was a person who was designated to listen at meetings. That was his job. It was to listen to what went on and then pass it on."
After sharing more with the students on this subject she ended her answer with: "In the state of Oregon, one group filmed a very sacred ceremony and … you have to be a tribal member in order to view it. So people are looking at innovative and new ways of using technology to capture information that has been passed down orally.

"We would not still have a strong sense of inter-dependence, I don't think, and strong sense of responsibility for one another, if that value hadn't been passed down. And again … I think that in most tribal communities, traditional and tribal communities, value, like the value, for example, of respect–the most respected people in our communities–traditional communities, Cherokee communities and probably other traditional communities, are not people who have acquired great individual wealth, or who are people of great personal accomplishments.
"The people who are mostly respected are people who help one another and people who remember that they were born into a set of reciprocal relationships and are responsible for one another. So I think that the values have been passed down orally. So it's very, very valuable."
A few days ago the Honorable Minister Louis Farrakhan shared with me an interesting experience of his that he recently had in Los Angeles. It was during the ninth anniversary of an event hosted by Stevie Wonder called Toys for Tots. Stevie has been inviting top entertainers and musicians to this annual event, over the last nine years and this was the biggest, with about 10,000 or so in attendance, for this year's event, which was held at the L.A. Forum.
The purpose of this annual charitable event is to raise monies to buy toys for children, who might not otherwise have them, especially during the Christmas Holiday season. Minister Farrakhan was seated in a place where he could hardly be seen. However, at a point near the beginning of the event, Mr. Jamie Foxx announced to the audience that Minister Farrakhan was present.
A roar of welcome and approval went up from the gathering, which became thunderous, when the Minister's image was projected up on three large screens. With this in mind, here was the aspect of Minister Farrakhan's experience there that resonated with me and that's relevant to what Mrs. Mankiller shared (as mentioned above) and more.
Some of the stars wanted to meet him backstage. Minister Farrakhan said to me: "So when I went back stage and there was this singer, Rachelle Ferrell, she's great, in terms of her art and how other sisters of the arts relate to her. As we're shaking hands and I'm telling her how much I enjoyed her presentation, she asked me the question: "Do you know how much you have affected people?" I said, "No. I'm not really aware of that." She said, "You're not?' I said, "No, I'm not." She said, "Well, maybe that's good that you're not."
She responded, "Then you'll never change the way you are." Then she told me of the effect that I have on people. I then told her that, "Each of us have come into this world from God. Since He created nothing without an aim and purpose, there is no human being that He sends into this world that does not have a significant purpose to fulfill with a gift that each can do excellently."
"Whoever of us does what God intends for us to do, we are rendered equal to all others who likewise have gifts and who use their gifts to fulfill the purpose for which they've been sent into the world.
"She just kind of marveled when she told me, 'I am so honored to meet you' and I told her, "I am so very honored to meet you." Her reaction was like wow, how could you be honored to meet me, I'm just a singer of songs and I've done well, but you are so far above me, in so many words. She didn't use those exact words, but that's what she was signifying. That's when I said to her what I did that renders us equal when we use the gifts God has given each of us, etc.
Twenty-two years ago, in November 1982, I wrote these words for The Final Call, which now appears as part seven, in the book, Farrakhan: The Traveler Volume One: One of the major points of this series of articles was to show that even as Minister Farrakhan traveled the length and breadth of modern Babylon, issuing the Final Call, he was traveling inwardly towards his Lord. This inward, forward motion is what was going on in this unusual Brother as he outwardly made his near 300,000-mile journey during a six-month period in 1981.
Of course, this was and still is the case (externally and internally) during the whole of the 60-plus months since he rose up for, took his stand with, and invited 30 or more million Black people to the Honorable Elijah Muhammad. Let us take a very brief but intense look at this inward journey and then take the same kind of look at Who backs Minister Farrakhan and with what.
In Volume 20, No. 14 of The Final Call newspaper I mentioned that: Farrakhan: The Traveler, Volume One is composed of articles that I wrote for The Final Call Newspaper from the summer of 1981 through the end of October 1984.
My aim in those years, and ever since, in all that I've written and spoken about the Honorable Minister Louis Farrakhan was and is to help others see this magnificent Black man more like Allah and His Christ saw and see him. How many physical miles has Minister Farrakhan traveled doing good, to and for other people? God only knows. In his inward travel Minister Farrakhan has been blessed to draw very close to oneness to his Lord.
For more on my aim and purpose for writing these articles, please visit my website, which is under construction at www.writtentestimony.live. I raised a question on my website for the reader to ponder. Is there a relationship between the two Books: The Bible and The Holy Qur'an?
More of his inward travel, in relation to all of the above, Allah willing.