and Janiah X Adams -Final Call Staffers-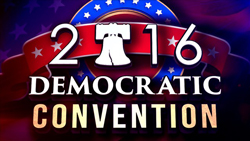 PHILADELPHIA–The Democratic National Convention opened with a shaky start as Bernie Sanders was booed by his own supporters and the DNC's chairwoman resigned. Several hundred Sanders supporters and those who don't want Hillary Clinton in the Oval Office protested in the streets and outside the Wells Fargo Center, where the convention is taking place.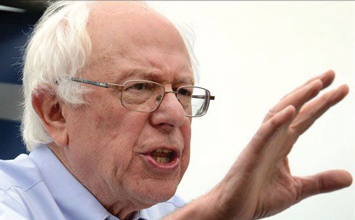 But if the former first lady, former senator and former secretary of state wins the White House, she may have to thank Michelle Obama, the outgoing first lady for the honor. After a contentious day and night, Michelle Obama delivered an endorsement unlike any speakers and one that silenced critics and Sanders loyalists. She was poised and graceful. Speaking as the mother of the nation she wove a narrative of how her children and all America children deserve the right kind of president. Without every speaking the name Donald Trump, she hit him hard and never broke a sweat, nor failed to smile. You don't stoop to the level of a bully, she said. Our words and actions teach our children who are watching us, she said.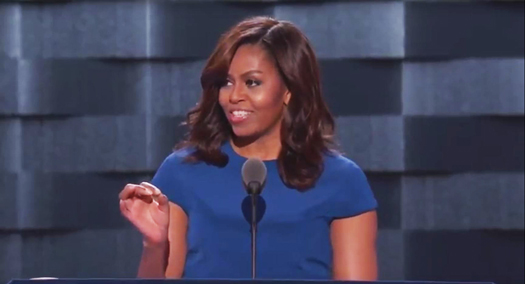 "This election and every electron is about who have the power to shape our children for the next four or eight years of their lives," Mrs. Obama stressed. Only one person is qualified to be president "and that is our friend Hillary Clinton," said the first lady exuding star power. She expressed admiration for Mrs. Clinton's leadership and her service to America's children in tough circumstances. Mrs. Clinton, who selected former Virginia Governor and senator Tim Kaine as her vice president, advocated for disabled children, fought for child care, child health care and as a "true public servant" served as secretary of state traveling the globe to keep American children safe, said Mrs. Obama. Mrs. Clinton could have decided to quit at any time but she never buckled under pressure nor takes the easy way out, added the first lady.Mrs. Obama expressed a desire for someone with proven strength, perseverance and "someone who knows this job and takes it seriously," she said. "When you have the nuclear codes and the military at your command you can't have a thin skin or a tendency to lash out. You need to be measured and need to be informed," said Mrs. Obama.
The president should have a life's work showing a willingness to fight for everyone to succeed, not just a legacy of pursuing personal fame and fortune, she added. And in a crisis Americans should lean on one another because we are always stronger together, said Mrs. Obama. "I know that is the kind of President Hillary Clinton will be and that's why this election, I'm with her," Mrs. Obama said. "Because of Hillary Clinton my daughter and all our sons and daughters take it for granted that a woman can be president of the United States."
We cannot sit back and hope for the best, so between now and November, we need to do what did eight years ago and four years ago, she said. We must knock on every door and get every vote to make Mrs. Clinton president of the United States of America, said Mrs. Obama.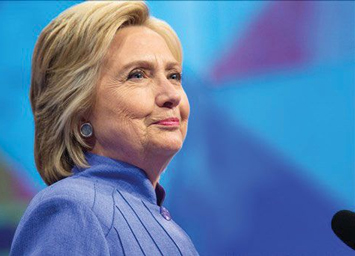 Bernie Sanders closed the night and was interrupted by applause time after time as the leader of a grassroots movement for change inside the Democratic Party. He thanked the crowd and expressed support for former presidential rival Mrs. Clinton. He condemned the obscene wealth gap in America and entrenched poverty that still stalks the country. He praised the Obama administration for bringing the country back from the brink but added more can be done.
We need leadership in this country that will improve the lives of ordinary Americans, bring us together and make us stronger, he said. "Bernie! Bernie! Bernie!" the crowd shouted in response. Hillary Clinton must become the next president of the United States, he declared. The crowd roared with applause extensively at her name for perhaps the first time.
Mrs. Clinton understands the minimum wage must be raised to a living wage and understands the need to rebuild crumbling American infrastructure, unlike Mr. Trump who opposes raising the federal miminium wage and approves of tax breaks for billionaires, said Mr. Trump. This election is about overturning Citizens United, the Supreme Court decision that allows the wealthy to spend hundreds of millions of dollars to buy elections and undermine democracy, he said. Justices appointed to the Supreme Court by Mrs. Clinton will be ready to overturn Citizens United and "end the move toward oligarchy we are seeing in this country," he said.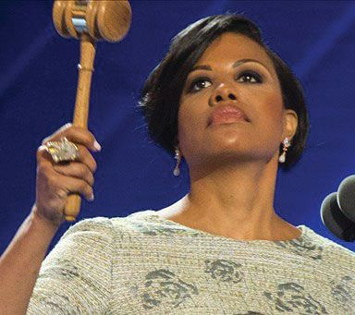 High court Clinton appointees will defend abortion rights, protect the environment, and protect the rights of minorities and gay rights, he promised. Think about what Trump high court nominees would mean for civil liberties, he added.
Young people are leaving college in deep debt and others can't afford college, but Mrs. Clinton and I have come together on a proposal that will revolutionize education in America and guarantee any family making $125,000 a year or less will be able to go to a public college or university tuition free, he said. That would cover 85 percent of the population and the proposal substantially reduces student debt, he said. Sen. Sanders' support-Hillary-laundry-list included promises to work for universal healthcare, low cost prescription drugs, health community centers, Medicaid reforms, comprehensive immigration reform, quality education and jobs instead of incarceration.
In these stressful times the focus must be on bringing people together and Mrs. Clinton understands diversity is one of our biggest strengths, he said. This is the most progressive platform ever for Democrats, which includes breaking up huge companies, regulating Wall St., and ending bad trade agreements, he added.
DNC chairwoman Debbie Wasserman Shultz was pulled as a major speaker at the convention after nearly 20,000 e-mails were leaked on WikiLeaks exposing plots against the Sander's campaign and its backing of Mrs. Clinton. During her speech July 25, in her home state of Florida, she met a crowd mixed with boos and cheers. She was set to gavel the convention to order the same day, but was replaced by Baltimore Mayor Stephanie Rawlings-Blake. She also resigned.
In a statement, Mrs. Clinton said, "There's simply no one better at taking the fight to the Republicans than Debbie–which is why I am glad that she has agreed to serve as honorary chair of my campaign's 50-state program to gain ground and elect Democrats in every part of the country, and will continue to serve as a surrogate for my campaign nationally, in Florida, and in other key states. I look forward to campaigning with Debbie in Florida and helping her in her re-election bid—because as President, I will need fighters like Debbie in Congress who are ready on day one to get to work for the American people."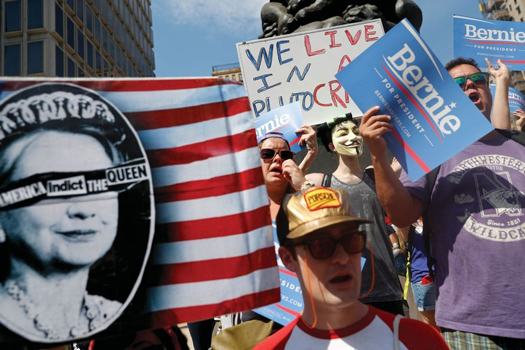 Many Sanders supporters were upset with his endorsement of Hillary Clinton early in the day and some remained upset that night. Some felt Sen. Sanders was cheated out of the election and that the whole democratic process was compromised. Many feel that they have few alternatives–but others were leaning toward the Green Party.
"The frightening part is the choice between two evils," said De Lacey Davis speaking on behalf of Black Cops Against Police Brutality and the newly formed National Coalition of Law Enforcement Officers for Justice, Reform and Accountability, which is comprised of current, former and retired law enforcement officers across the country.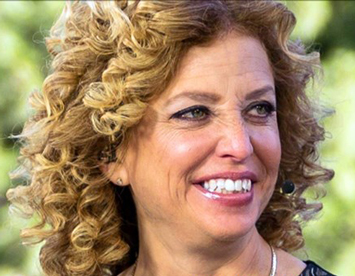 "Whether it's going to be Trump or Hillary, I'm not so convinced she's the answer either. And with the breaking news of Wasserman Shultz resigning, with the WikiLeaks email expose, essentially what we are looking at is a duopoly. Whether it's a Democratic faction or Republican faction we still have an interest of Black people and poor people. And we have to now get to a place where we are voting our interests, to a place where they don't get to take our vote for granted. We have to be in a space or place where it is not sufficient for them to make us feel good at a feel good session and a photo-op. They have to meet some demands for our vote. We have to have an R.O.I–a return on our investment. Our vote is investable. What are we investing in? What are we getting other than a happy Negro? Because, that's just not going to work any longer."
Vath Gillis, a Black man from Baltimore who was protesting at the DNC during the day, said, "I am protesting today because we're going to elect the devil or the devil's wife as president. We are learning new facts about the DNC and the manipulation of the election towards Hillary. I still think we need to work within the system, but without the dirty tricks. We can't allow Trump, a Klansman to be president."
"Our democracy is fading fast," said Lahamma Buckley, a Black man from Michigan, who also endured the high heat in the streets of Philadelphia. "Although I was a long term Democrat, I am no longer such. I feel cheated out of a wonderful candidate, Bernie Sanders, and we are not going to put up with this. They are acting like nothing happened. We have to find an alternative but it will not be found voting for Hillary. The party no longer stands for working people, clean air and healthy foods. I am ashamed of the party."
The Democratic National Committee released a statement that expressed its apologies to Sen. Sanders, who represents Vermont.
"On behalf of everyone at the DNC, we want to offer a deep and sincere apology to Senator Sanders, his supporters, and the entire Democratic party for inexcusable remarks made over email," the statement reads. "The DNC does not–and will not–tolerate disrespectful language exhibited toward our candidates."