ERICTOUREM -Contributing Writer-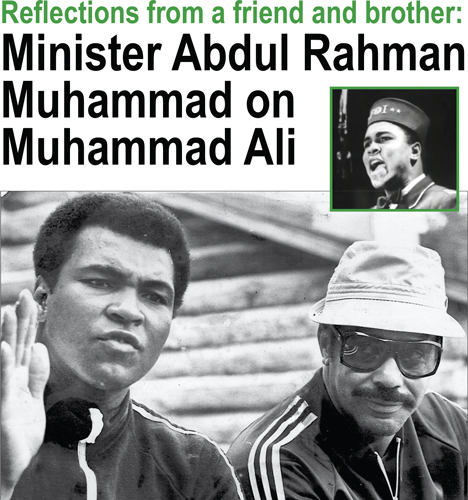 ATLANTA–As news spread far and wide of the passing of boxing legend and humanitarian Muhammad Ali, The Final Call sat with a longtime friend and comrade to Mr. Ali during his boxing career and one-time reportedly his director of Security, Minister Abdul Rahman Muhammad at the Nation of Islam's Southern Regional Headquarters.
Min. Rahman Muhammad heard the teachings of the Most Honorable Elijah Muhammad in the summer of 1955, but did not join the NOI until 1956. However, in March of 1961, he went to Miami, Fla., to assist the Messenger's minister there, Lucius Bey.
"I was selling the newspaper on streets of Miami–at that time it was called Muhammad Speaks. He (Ali–then Cassius Clay) saw me selling the papers and he hollered across the street to me and said, "Hey brother. Why are we called Negroes? Why are we blind, deaf and dumb? Why is it that everybody else is making progress and we are lacking so far behind?" said Min. Rahman Muhammad. Those words spoken by the young boxer came from a recording released by then Brother Louis X–Minister Louis Farrakhan–entitled A White Man's Heaven Is A Black Man's Hell. "He was quoting that to me," continued Min. Rahman Muhammad. "So, when he said that, I said, 'hey brother, you're hip to the teachings.' He said, 'yeah, I am Cassius Clay and I'm going to be the next heavyweight champion of the world.' From that day on, he and I were friends and I began to mentor him and teach him. That same day he took me down to his room and showed me his scrapbook and showed me press clippings of Ingemar Johansson. He was the heavyweight champion at that time. He had a rematch with Floyd Patterson. Well, Ali was boxing with Johansson at that time as a sparring partner in Miami, but Ali was beating up on the champ. So they wrote in the paper, 'this brash kid from Louisville, is about to mess up a four million dollar gate because he's beating up on the champ.' I saw and read that and saw how cocky Ali was," Min. Abdul Rahman said chuckling. "I said to myself then, that if I look out for this brother, he probably would be champ. So, from that day on I took him under what some might say, 'my wing.' I showed him what was in the streets, sat with him in hotel lobbies and showed him pimps, boosters, prostitutes and hustlers. I just showed him the way of life that goes on in America amongst Black people. Then I began to teach him the ways and deceitfulness of White people which we know the Honorable Elijah Muhammad taught us that they are arch-deceivers. So, I conveyed these teachings to Cassius Clay. And I began to lay it on him and he got stronger and stronger in teachings of the Honorable Elijah Muhammad."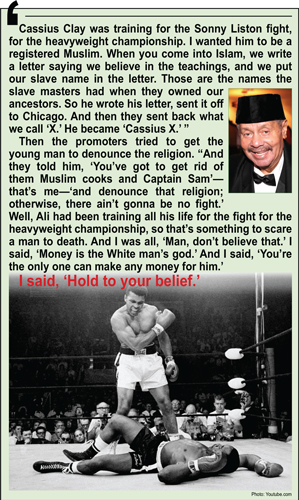 Min. Rahman Muhammad told The Final Call, he witnessed the strength, courage and conviction grow in the then teenaged Clay. "I started teaching him Islam every day and advising him on boxing. I went to training camp. I protected him and nursed him on Islam right up to his championship fight with Sonny Liston."
According to a clip from the recently released documentary, "The Trial of Muhammad Ali," Min. Rahman Muhammad recalled how promoters were trying to keep the fighter from joining the Nation of Islam.
"Cassius Clay was training for the Sonny Liston fight, for the heavyweight championship. I wanted him to be a registered Muslim. When you come into Islam, we write a letter saying we believe in the teachings, and we put our slave name in the letter. Those are the names the slave masters had when they owned our ancestors. So he wrote his letter, sent it off to Chicago. And then they sent back what we call 'X.' He became 'Cassius X.' "
Then the promoters tried to get the young man to denounce the religion. "And they told him, 'You've got to get rid of them Muslim cooks and Captain Sam'–that's me–'and denounce that religion; otherwise, there ain't gonna be no fight.' Well, Ali had been training all his life for the fight for the heavyweight championship, so that's something to scare a man to death. And I was all, 'Man, don't believe that.' I said, 'Money is the White man's god.' And I said, 'You're the only one can make any money for him.' I said, 'Hold to your belief,' " recalled Min. Rahman Muhammad for the documentary. When he joined the Nation of Islam he was known as Brother Captain Sam X Saxton.
"I think Ali was a great man in his convictions and at the time he was a Believer in the teachings of the Honorable Elijah Muhammad, and stood by those principles. By standing behind those principles that the Honorable Elijah Muhammad taught him, he was able to be accepted and respected throughout the earth.
"And with my relationship with Muhammad Ali; I was like a big brother toward him. Allah put me in the position to be we might say, a personal guide coming from the Honorable Elijah Muhammad from me to him. So, with that he had a great love for me and I had a great love for him," he said.
"But what appalls me," said the Nation of Islam pioneer, listening to media reports concerning Muhammad Ali's champ's passing, "is that the world is giving credit to the pupil and never to the teacher. The Honorable Elijah Muhammad, who was the teacher of Malcom (X), was also the teacher of Warith Deen Muhammad and the teacher of Minister Louis Farrakhan. And of all those men, everybody is made to worship the pupil. But the Minister Louis Farrakhan, he refuses to allow you to worship him because, he keeps the Honorable Elijah Muhammad out front, letting you know where he got his teaching from and where he got his spirit from. So in the case of Muhammad Ali, the world is trying to make you believe that he was courageous and that he did all this on his own. But his character, his morals were built through the teachings of the Honorable Elijah Muhammad. Muhammad Ali knew that. But the world make you want to believe that he was some freak of nature that jumped up and had enough nerve to buck the whole system called the United States of America," he said.
Soon to be 85-years-old in October, Min. Rahman Muhammad said he could not exactly pinpoint the very day Mr. Ali, met the Honorable Elijah Muhammad, "but I do know one time, Floyd Patterson was talking about him after he became champ and we came from New York to Chicago, and we went by the Messenger's house that night. And he told Muhammad Ali, that, he (Mr. Patterson) gets paid to be an enemy against us, and that he wanted Ali to beat him for 12 rounds." Laughing, Min. Rahman Muhammad said, "And Ali did exactly that. He beat Floyd Patterson for 12 rounds."
"The Honorable Elijah Muhammad. He was the most important thing in his (Ali's) life. And if you look back in his history the author (Thomas) Hauser wrote a story about Ali and Ali told him in that story, his life changed the day he met me on the streets of Miami selling the paper. His life began to change, that day. All Praise is due to Allah. The Nation of Islam made Muhammad Ali and I want the world to know that nobody else has anything to do with it but the Nation of Islam. Elijah Muhammad's spirit and power made Muhammad Ali into who he was.
"So, yes sir. That is what made Ali strong. It was the courage of the Honorable Elijah Muhammad. Allah used me to bring spirit and guidance to him and be the strong man that the world knows today as a man, who stood up for his convictions."
That groundwork enabled Mr. Ali, to take a stand against his draft notice received from the United States Army.
"They were waving a flag and trying to get him to join the army. Why you won't go in? You won't have nothing to do, they told Ali. 'You'll just be in special service entertaining the troops,' they said. So, he told me that they were trying to get him to go for that. And I said yeah brother, you would be aiding and abetting. Then he asked me, well what would you do? I said I'd do like the Honorable Elijah Muhammad done. He said, well what did he do? I said he went to jail. I would go to jail too. So, that gave him the courage to stand up because of what the Honorable Elijah Muhammad had previously done. I do know that he got all his inspiration from the Honorable Elijah Muhammad. He was the most important thing in his life."