By Charlene Muhammad CHARLENEM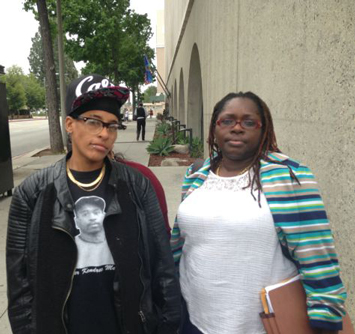 PASADENA, Calif.–Day two of the trial on an attempted felony lynching charge for a Black Lives Matter Los Angeles (BLM-LA) member began May 24 in Pasadena, a suburb located about 11 miles northeast of L.A.
The case stems from the September 2, 2015 arrest of Jasmine Richards on felony charges for allegedly attempting to take a suspect from police custody by inciting a riot, resisting or obstructing police.
On August 29, 2015, Ms. Richards was among demonstrators holding a peace walk in La Pintoresca Park. According to police, as officers attempted to arrest a woman in an incident unrelated to the demonstration, Ms. Richards and several youth at the peace walk allegedly tried to pull her away from officers. Police reportedly did not make any arrests until a week later. The youth, including teens ranging from ages 13 to 16 plus an 11-yearold child were released with citations. Ms. Richards was charged with the attempted felony lynching charge.
"Initially, that was related to actually lynching with lynch mobs. Black people in particular would be charged with crimes and they would be arrested by the police but before police could get them to jail or from jail to court, the lynch mob would show up, grab the Black person, take them out, and lynch them," said Ms. Richards attorney Nana Gyamfi .
As of late that charge has been used more toward protestors, she told The Final Call. "The idea is that you incite a crowd to take someone away from the police, so in this case, the lynch mob is supposed to be the children, who are a part of the after school program in the park," she said.
Ms. Richards rejected prosecutors' off er of a plea deal that in exchange for accepting a felony attempted lynching charge, she agree to three years' probation, 180 days in county jail, a year of anger management courses at $25 per week, and to stay away from the park in the city's Black community.
"In any other circumstance at most this would be looked at as interference, delaying or obstructing a cop … but that's a misdemeanor," Atty. Gyamfi said. "They're focus is behavior control, which is to control Jasmine's behavior, control the behavior of people in Pasadena who are expressing dissent about what the government is doing, and they've all talked about it," she said.
Ms. Richards' prosecution comes on the heels of Los Angeles Police Department arrests of Dr. Melina Abdullah, a BLM-LA organizer and California State University professor, and Nia-Amina Minor, BLM-LA member, during the May 10 Los Angeles Police Commission meeting.
According to Atty. Gyamfi that sends a harmful message that if Los Angeles citizens speak up about anti- Blackness, LAPD killings, or police abuses they will be arrested.
"Here we have at least five people who have been falsely arrested, who have been arrested for crimes that never occurred, who have been arrested as in the case of Dr. Melina Abdullah for crimes that were fabricated," she argued.
Police also arrested 81-year-old Ted Hayes, an activist and longtime critic of the LAPD and city, for merely voicing his dislike of how the women were being treated, Dr. Abdullah stated during a press conference in front of LAPD headquarters on May 17.
"We know that the system is hugely flawed," said Dr. Abdullah to the Final Call about the events occurring under the helm of Jackie Lacey, the city's first Black female district attorney, who is running unopposed for a second term.
"We know that she's refused to prosecute police who kill people. I think the juxtaposition between her refusal to prosecute police who kill people and the hyper prosecution of the folks who protest those killer cops is hugely problematic," Dr. Abdullah continued.
The activists are demanding an end to what they call forcible removals from police commission meetings and false arrests of protestors.
Black Lives Matter–Los Angeles claimed a victory for six other members when prosecutors dismissed all charges of "willfully and maliciously obstructing a street and refusing the order of a peace officer" on May 12.
Rosa Clemente, Haewon Asfaw, Povi-Tamu Bryant, Todd Harris, Damon Turner, Jas Wade of BLMLA, and Sha Dixon, another accused activist, were among more than 300 peaceful demonstrators arrested when they shut down the 101 Hollywood Freeway on November 26, 2014. They were protesting the non-indictment of then police officer Darren Wilson in the fatal shooting of Michael Brown, Jr. In Ferguson, Missouri.
Ms. Clemente, veteran hip hop activist and 2008 Green Party vice presidential candidate, was found not guilty on both charges, and ultimately, the three-week trial ended March 25 with a hung jury.