By Charlene Muhammad CHARLENEM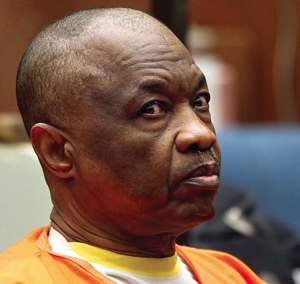 LOS ANGELES–After three grueling months, a seven woman five man jury found Lonnie Franklin, Jr. guilty of killing 10 young, Black women and girls over a 22-year period.
Mr. Franklin, dubbed the Grim Sleeper for the serial murders that occurred between August 1985 and January 2007, disposed of their partially clothed or naked bodies like trash in alleys and dumpsters around South Los Angeles, according to the Los Angeles County District Attorney's Office.
The jury deliberated just one and a half days before convicting the 63-year-old former sanitation worker on all 10 counts of first degree murder with the special circumstance of multiple murders.
He was also convicted of one count of willful, deliberate and premeditated murder of the sole surviving victim, Enietra Washington. She was 30 when she was shot and thrown from Franklin's car after accepting a ride on Nov. 19, 1988.
He returns to court on May 12 to begin the penalty phase of his trial, when testimony will come from some out-of-state witnesses, as well as victims' families. The latter wept and rocked as a clerk read the verdicts on May 5."He took her. He took my baby," said Porter Alexander, Jr. as he blew out a loud sigh. His daughter, 18-year-old Alicia Alexander, suffered a fatal gunshot wound to the chest. Her naked body was found under a blue foam mattress in an alley on Sept. 11, 1988.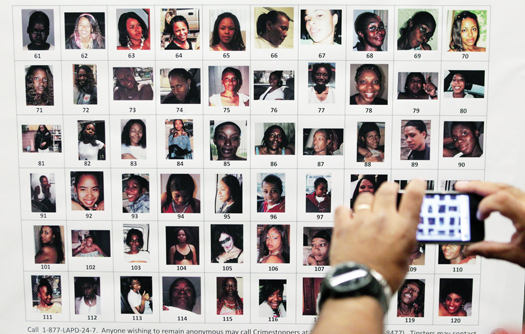 "When you lose something like that, from day one, she was with me, until he took her, from a baby, I cared for her. It's unbelievable … he took a limb from me, something I'll never get back," Mr. Alexander continued.
Mr. Alexander attended trial every day, so Mr. Franklin would have to see him when he turned around, but he never did.
He never looked back, and most of the time, he just stared straight ahead.
Likewise he did not move much during the May 5 verdict proceedings, except to lift his head a little when one of his attorneys helped to affix his straight necktie.
Before then, the filled to capacity courtroom was very loud. When deputies brought Mr. Franklin in, nearly everyone stopped talking and looked his way. The only sounds at that point were the clicks of keys on reporters' laptops.
The suspense was too much to bear. Many family members just held their heads down, and wiped their faces with tissue periodically. One alternate juror rocked her chair back and forth as her eyes canvassed the family seating area. Other jurors, expressionless, watched the clerk, and some Mr. Franklin.
Mr. Alexander said the murder immobilized his family and crippled him, but it did not stop him. He and other victims' family members expressed joy during a press conference inside the courthouse. Their loved ones finally had their day in court, and now, they can attempt to move on, they said, through tears.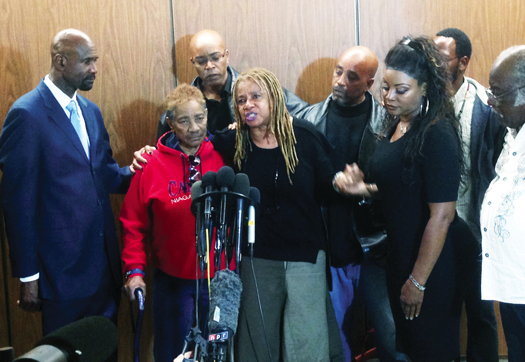 Mr. Franklin was also convicted of murdering Debra Jackson, 29, found in an alley with three gunshot wounds to the chest on Aug. 10, 1985; Barbara Ware, 23, shot once in the chest and found under a pile of debris and garbage in an alley on Jan. 10, 1987; Bernita Sparks, 26, shot once in the chest and found in a trash bin with her shirt and pants unbuttoned on April 15, 1987; Mary Lowe, 26, shot in the chest and found in an alley with her pants unzipped behind a large shrub on Nov. 1, 1987; Lachrica Jefferson, 22, found dead from two gunshot wounds to the chest–with a napkin over her face with the word "AIDS" handwritten on it–in an alley on Jan. 30, 1988; Valerie McCorvey, 35, strangled with a ligature and found dead with her clothes pulled down at the entrance to a locked alley on July 11, 2003; and Janecia Peters, 25, shot in the back and found naked inside a sealed plastic trash bag in a trash bin in an alley on Jan. 1, 2007.Samara Herard cried as she spoke to reporters about her 15-year-old sister, Princess Berthomieux, who was strangled in March 2002.
Ms. Herard said having to hold on so long for the verdict was like childbirth, and to hear the violence against her sister was painful and surreal, but she was completely elated.
Princess was a wonderful girl, a sweetheart, Ms. Herard recalled. "She was targeted. Unfortunately she was a bad part of what the system did, and she had a heart of gold, and she deserved to live a full life."
"I'm here for her. It's all about her," Ms. Herard continued. "I'm glad he was found guilty. He deserved to be found guilty."
"It was closure for me. I'm happy that this part of it's over, but there are other family members that have a trial to go next, and I'll be there to support them as well," said Irene Ephriam, who came to court on behalf of her aunt, Henrietta Wright.
The 34-year-old was shot twice in the chest and also found in an alley on April 12, 1986. Her mouth was stuffed with a gag cloth. Ms. Ephriam told The Final Call she will pray for Mr. Franklin.
"May God be with you," she said, sending a message to other families seeking justice. "It was hard, and it was long, and it was very emotional to see and hear the things that he did to women. We'll never understand it."
To Mr. Franklin, she said, "God is good, and what you did, you hurt a community of people … but try to get your life right, because you didn't allow them to do that. You took that right from them, so make peace. They didn't have that chance."
Ms. Ephriam echoed sentiments about how insensitive Mr. Franklin appeared throughout the entire trial. "Apparently, something's wrong with Lonnie. He needs help, but at the end of the day, we have to forgive him, too," Ms. Ephriam said. "He was just a cold-blooded person. A cold-blooded person."
Mr. Ephriam said the families always wondered what really happened, and now that they know, they can move on now, although things have been difficult to cope with. Her mother and aunt never went to court, she said.
The work of the Black Coalition Fighting Back Serial Murders helped them to endure tremendously, she told The Final Call. "We communicated. We did a lot of things to honor and show respect to those women that were lost, and she helped us a lot," Ms. Ephriam said, referring to Margaret Prescod, its founder.
Coalition members made it clear they would not tolerate attorneys for either side making denigrating, disparaging remarks about the victims. The coalition complained in a press release about Deputy D.A. Silverman's opening statement.
"She said the victims were ready to sell their bodies and souls for a hit and we (Black Coalition Fighting Back Serial Murders) complained in a press release about that. Note the sharp difference in her closing remarks. We congratulate her on learning from that initial mistake in tone," the coalition said on its Facebook page.
The coalition was instrumental in getting police to move on the case more expediently and to change the name of the case from "Prostitute Killer" to "Southside Slayer" because of the outrage over how the women were characterized.
In 2009, when Ms. Prescod and about four other Black women went to the Los Angeles Police Department for more information and to hold the authorities accountable, she said they were told do not worry or fear if they were not hookers, because "he's only killing prostitutes," Ms. Prescod said police told her.
The women were not prostitutes. One was a night duty nurse and another a PBX operator for a local newspaper, and several were mothers, the coalition said of the victims. Coalition members rejected characterizations of the women, who were victimized during a height of the 1980s crack cocaine epidemic in South L.A.
"We know very well that a lot of the conditions that drove some of these victims to become victims still exist in our community and we're determined to address those, so when we're talking about one suspect, and a verdict being made on one suspect, that's some respite, but we know the conditions that are still out there," Ms. Prescod stated.
"The 35 women found in the photos, the 200 Black women that are still missing in South L.A., not to mention across this nation, and there's not a national outcry, it's not on national news every night, so we're getting the message that our lives don't count," Ms. Prescod said.
On their way to the press conference, Ms. Prescod and other victims' family members wondered if Mr. Franklin's survivor, Enietra Washington, was okay. She attended court during closing arguments, but not the verdict.
They shared how she texted a "prayer of the day" every day, and they figured and prayed that if she had on May 5, she was okay. None had received that anticipated text.