ERICTOUREM -Contributing Writer-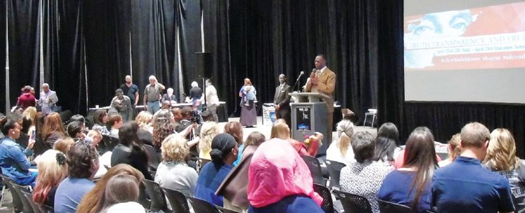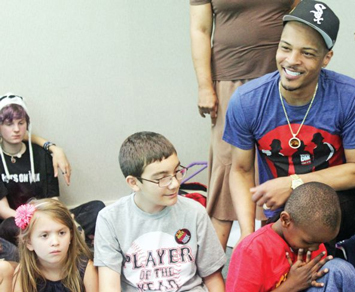 ATLANTA–Protestors and activists recently gathered here again to charge the Centers for Disease Control with hiding the truth about the dangers inherent in contaminated vaccines and the impact of such vaccines on children.
An April 20-23 summit featured demonstrations, film screenings, meetings, and discussions as part of an effort by CDC critics to force the government agency to reveal what they call secrets about the link between vaccines and childhood autism.
Dr. William Thompson, a CDC whistleblower, has charged the agency that employed him with dumping studies that show how vaccines containing mercury have had a disproportionate negative impact on Black males and increased cases of autism. Some vaccine safety activists fear that by 2032 even more children will suffer from autism, which more often strikes boys, and other vaccine injuries.

The CDC Vaccine Justice Or Else! Committee of the Nation of Islam and the California-based Vaccine Injury Awareness League (V-IAL) since October 2015 has worked to increase awareness of hazards in contaminated vaccines. The Honorable Minister Louis Farrakhan raised the issue of vaccine safety at the Justice Or Else! Gathering for the 20th anniversary of the Million Man March in Washington, D.C. The Minister's expressions of concern and words of warning followed a meeting nearly a year ago with Robert F. Kennedy, Jr., son of slain U.S. Attorney General Robert "Bobby" Kennedy and nephew of assassinated U.S. President John Fitzgerald Kennedy. He is also the bestselling author of Thimerosal– Let The Science Speak, which argues that the chemical mercury is dangerous and must be immediately removed from vaccines. This meeting was requested by Mr. Kennedy and facilitated by Western Regional Student Minister Tony Muhammad of the Nation of Islam. Mr. Muhammad has since been commissioned by Min. Farrakhan to pursue justice in the matter of vaccine safety and government accountability. There are dozens of coalitions around the country, scores of scientists and advocates demanding reclassifying vaccines as a drug and making sure that vaccines are safe. Activists say a different classification would require greater scrutiny by the U.S. Food and Drug Administration.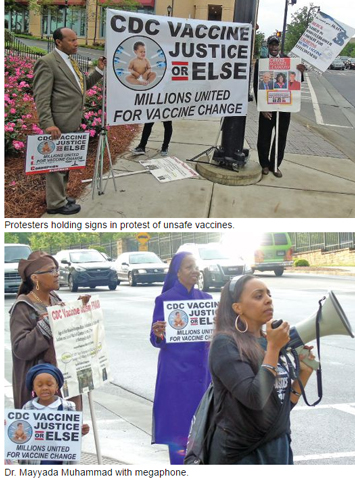 "Vaxxed: From Cover-Up to Catastrophe," a film detailing the findings of whistleblower Thompson, was shown two nights over three days of activism. The first showing was held April 22 as part of a sold out private fundraiser by organizers for the weekend summit. It was shown again the next night.
According to the movie creators' description of the film, "Interviews with pharmaceutical insiders, doctors, politicians, and parents of vaccine-injured children reveal an alarming deception that has contributed to the skyrocketing increase of autism and potentially the most catastrophic epidemic of our lifetime."
The movie includes a debate in Congress led by former Indiana Rep. Dan Burton, who for three years held hearings on vaccine safety more than a decade ago. According to the movie, the congressman had believed the CDC had given his committee everything it had about vaccine safety. It says he later learned that was not true and was angered by the thought that there might have been an attempt to use him in a cover-up. He demanded further inquiry into CDC activity and worried that rising rates of autism in the U.S. would leave people aimlessly wandering the streets of America, the film says.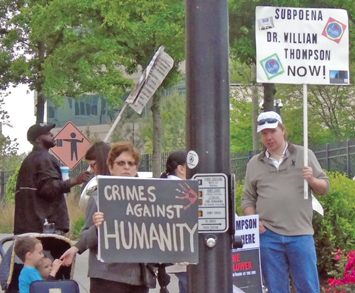 "It was exactly one year ago, that I flew myself down to Austin, Texas and sat in the basement with Andy Wakefield," commented Del Bigtree, the film's producer, at a screening. "He told me he was working on a documentary on the CDC whistleblower. I met him in Los Angeles at a private event and I said I want to see what you have. When I sat in that basement and watched the movie he was working on, I saw this." He was referring to the weekend activity and growing awareness about vaccine safety. Dr. Wakefield is a former gastroenterologist and the film's director. Dr. Wakefield wrote a research paper in 1998, claiming a link between the MMR vaccines and the appearance of autism and bowel disease. His study was later retracted in 2010, and Britain's General Medical Council, citing ethical violations, revoked his medical license.
"I saw you, I saw the news and I saw the media and I saw our opportunity to change this thing. So many parents have been telling their stories, warning those of us who have children to look out and you've been ignored. You've been threatened. You are so alone and going through such a difficult situation. I sat with many of you, I interviewed with you and I watched how your life is. Making a movie is easy compared to what you do every day," he said."And so, my hat's off to you and I'm honored by what you do every day. You smile every day; you live every day and you bring those beautiful children the love that they deserve. I want us to thank Brother Tony for bringing the Nation of Islam and for bringing the people together. This is what the work is all about."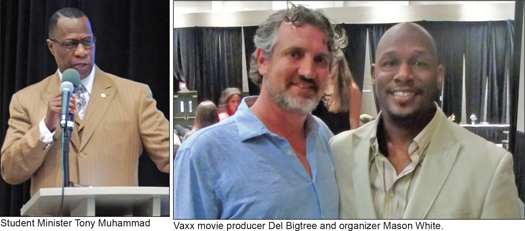 The movie shown in Atlanta was scheduled to premiere at this year's Tribeca Film Festival, one of the world's most prestigious film screening events. It was cancelled at the last minute as those opposed to its message mounted a campaign to derail its showing. Tribeca festival founder Robert DeNiro, who has a child with autism, pulled the plug on the screening. He issued the following statement: "My intent in screening this film was to provide an opportunity for conversation around an issue that is deeply personal to me and my family. But after reviewing it over the past few days with the Tribeca Film Festival team and others from the scientific community, we do not believe it contributes to or furthers the discussion I had hoped for," he said. "The Festival doesn't seek to avoid or shy away from controversy. However, we have concerns with certain things in the film that we feel prevent us from presenting it in the Festival program. We have decided to remove it from our schedule."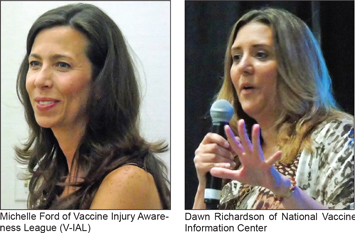 At the successful screening was actor and rapper T.I. and his family. The Atlanta-based artist told The Final Call he came "to get educated on the matter."
According to Mr. Muhammad, after seeing the movie the multi-platinum CD selling artist expressed a desire to convene a meeting of Atlanta hip hop artists to share what he learned and have the influential artists use social media to get the word out.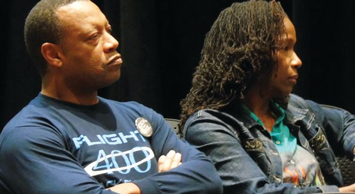 Before leaving the summit T.I. participated in a fundraising auction and visited and played with the children in the summit's childcare area.
Student Minister Muhammad shared words from Minister Farrakhan during a Saturday, April 23, day-long conference at Life University in Marietta, Ga. "Tell them the American people and the world are vibrating. Pain is being felt in Africa, in Asia, in Europe and in Central and South America," said Min. Muhammad. "You tell them that I am going to make the CDC cover-up one of my main goals leading up to October." He was referring to the 21st anniversary of the Million Man March and the Holy Day of Atonement to be held next October 16 in Atlanta.
"The pharmaceutical industry, Min. Farrakhan says is the dragon of the Book of Revelations," he said. The dragon stood before the woman who was pregnant with child; an army of 10,000 rose to slay the dragon that spewed out a flood of propaganda (false media) that the earth swallowed up, he said. "The people didn't believe the media. This is why they (the pharmaceutical industry) are trying to pump us up with drugs, because the dragon knows he is about to fall. Min. Farrakhan says stay the journey. Don't get weak. Don't get weary. Because now this information is getting to the Black community, getting to the Native Americans."
"Look how God is setting the stage in America. Who would have ever thought that the Nation of Islam would be running around with some warrior White people," said Min. Muhammad as the audience laughed and applauded. "But, the Minister told me, 'Brother one day, God will establish a universal government wherein all people can live in peace.' "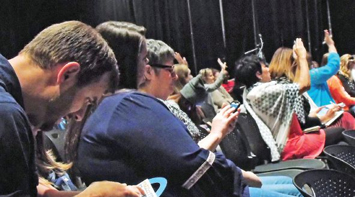 "We have seen an exponential growth in the forward movement of the movement," said Michelle Ford of V-IAL, in comments to The Final Call. "I mean you guys heard Dr. Barbara Lowe-Fisher (for example) last October. She has been doing this for 30 years, which is why we have so much information. But now that we got Minister Farrakhan on our side and we have the Atlanta team of committed volunteers–which by the way, which we could have made it happen, but it just wouldn't have been as good if we didn't have the help of the Atlanta team. So, it's an exponential growth. I don't think it's an accident that Minister Farrakhan jumped on board. Minister Tony and the Nation embraced the information and then boom.
"We have the passage of SB 277 in the state of California; then we have Vaxxed-The Movie coming out. I mean it's just popping like popcorn. I just feel like it was a divine timeline. And Minister Farrakhan was a key piece in the accelerated momentum of this," said Ms. Ford.
Last June, California lawmakers passed SB 277. The law, which takes effect July 1, 2016, removes the "personal belief vaccine exemption" for children attending daycare and public and private schools.
"Despite some of the most articulate, accurate, passionate and vocal opposition, the legislature has seen from citizens spanning all political, socioeconomic, ethnic, religious, and medical backgrounds, a pro-mandatory vaccination lobby backed by the pharmaceutical, medical trade and public health industries prevailed," said Dawn Richardson director of advocacy for the National Vaccine Information Center.
"Education for California public and private school children and day care attendees is now dependent upon receipt of multiple doses of 10 federally recommended and state mandated vaccines regardless of a parent's personal belief or religious belief objections," said Ms. Richardson.
To date 17 bills within 11 states, have been filed to enforce similar requirements, activists said.
Events started April 21 with a rally at Atlanta Area Technical College, hosted by the CDC Vaccine Justice Or Else! Committee of Atlanta, alerting students and the community to the dangers posed by contaminated vaccinations. Information was distributed and the upcoming Nation of Islam Holy Day of Atonement was promoted. Rally participants included the drill team from Muhammad Mosque No. 15 in Atlanta, rapper T.I. and R&B singer and producer Tony Terry. The drill team also performed at the Life University summit.
On Friday, April 22, the main thoroughfare leading to CDC headquarters had motorists greeted with chants, slogans and signs demanding that Congress subpoena Dr. Thompson and demand that he testify before Congress and have the agency open its files.
"Where do I see this going?" asked Ms. Ford. "I am going to get to shut down my non-profit, because no one is going to need to know about vaccine injuries any more. Because there's not going to be vaccine injuries anymore. Because, parents aren't going to be vaccinating their kids so blindly anymore. And I would love to see that happen in less than five years. What else do I see happening? I see an enlightened world. I see this movement being one that unites people of all races, all colors, all creeds, all languages," she said.
A similar townhall meeting is scheduled to convene May 7 in Chicago hosted by Chicago's Justice Or Else! Local Organizing Committee for the 10,000 Fearless. (See Page 31 for more information.)