By Tariqah Shakir-Muhammad -Final Call Staffer-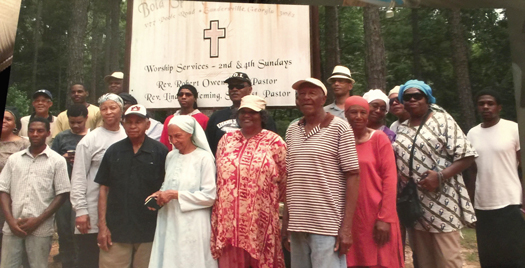 To celebrate the coming of the Great Mahdi, Master Fard Muhammad who came to North America to find and save the Lost Sheep, which are the 40 million Black people of North America, and set them on the path of righteousness and independence, Muhammad Farms is hosting its 12th annual fundraiser and Founders Day, July 1-3.
The fundraiser is scheduled to take place in Bronwood, Georgia, the same, favored location as last year. Sister Ella Muhammad, who served as a hostess for last year's fundraiser was very expressive in her gratitude and excitement from last year's celebration.
"My spirit was so enlightened by the wealth of knowledge shared by diff erent Believers. On Friday we were given a tour of Muhammad's Farm by Dr. Ridgely Mu'min Muhammad who explained the crops as we moved along–the watermelon, corn, and peanuts. The vast amount of land that I viewed was unbelievable; I never imagined that we had that much land …"
Sister Judith Muhammad is proud to be hostess of the upcoming fundraiser and encourages participants to join the experience of this year's festivities. "I really wanted to get as many Believers down here as possible. It's just a wonderful experience! "I think about the sacrifice that the Most Honorable Elijah Muhammad made to get us this and it is absolutely beautiful! It is our farm," she said.
The 1,556 acres, of Muhammad Farm's is a part of the larger 4,500 acres purchased by the Most Honorable Elijah Muhammad and is a proud product of hard work and dedication through the hands of our own people and by the guidance of the Honorable Minister Louis Farrakhan. "Many of us who pursue a profession in life never give a second thought to the fact that farming and agriculture is the fi rst profession that Allah (God) introduced to man, the Minister stated in his 52-week lecture series, "The Time and What Must Be Done."
The farm has been successful in providing for our communities our own grown foods such as organic navy beans, lentils, honey, flour, and much more. The fundraiser, also known as Founders Day, will include tours of the farm, places where the Most Honorable Elijah Muhammad worked and lived in Georgia, and other sites.
Participants will be traveling via luxury Coach Bus from Chicago and are encouraged to sponsor others to attend. For additional information and details, contact Sis. Judith Muhammad at (773) 653-0252 or [email protected].