By Charlene Muhammad CHARLENEM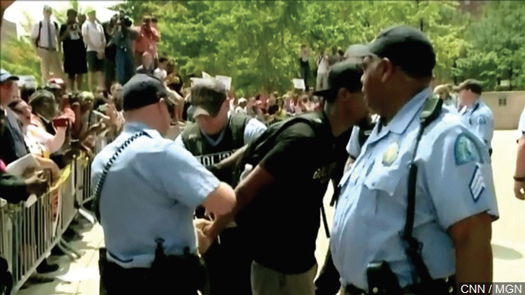 LOS ANGELES– The Black Lives Matter (BLM) network is calling on Los Angeles City Attorney Mike Feuer to drop all charges against six members prosecuted on misdemeanor charges of "willfully and maliciously obstructing a street and refusing the order of a peace officer."
BLM-LA's three-week trial ended March 25 with a hung jury. The city attorney is deciding whether to retry the case.
Rosa Clemente, Haewon Asfaw, Povi-Tamu Bryant, Todd Harris, Damon Turner, Jas Wade of BLM-LA, and Sha Dixon, another accused activist, were among more than 300 peaceful demonstrators arrested when they shut down the 101 Hollywood Freeway on November 26, 2014.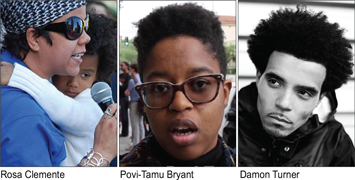 The demonstration was part of the national call to action over the non-indictment of former police officer Darren Wilson, who killed Michael Brown, Jr. In Ferguson, Missouri.
Ms. Clemente, veteran hip hop activist and 2008 Green Party vice presidential candidate, was found not guilty on both charges. There was a hung jury on the charges for all defendants, except three others, who received not guilty verdicts on the latter count.
"Drop these charges," demanded human rights attorney Nana Gyamfi . "Not even the prosecutors of the segregationist South put peaceful, nonviolent demonstrators on trial," she told The Final Call.
"Misdemeanor charges are still charges that go on a record, and these are folks who have no criminal history, who are being criminalized based upon their efforts to stand up for the lives of Black people," Atty. Gyamfi said.
She called out further contradictions in L.A. city leaders' progressive, social, and racial justice stance. Mayor Eric Garcetti, she said, has labeled himself as a friend to the Black community, and often cites his work with the Peace Corps in Africa and walking with President Barack Obama during his campaign.
City Attorney Feuer pegs himself as a progressive, who would work with the Black community to address its concerns, and LAPD Chief Charlie Beck is hailed locally and nationally as a great reformer of police and police conduct, yet somehow these progressives and this progressive city are dealing with Black, nonviolent, peaceful protesters with an 'iron fist', Atty. Gyamfi said.
"Shutting down streets, shutting down freeways is a part of the legacy of the Civil Rights movement … This was not a sidewalk movement. This is not a movement where people were up in the air, avoiding any contact with people on the ground. This was a movement where streets were filled and cars were stopped," Atty. Gyamfi stated.
Throughout the country, members of the Black Lives Matter movement are being arrested for various charges associated with their acts of free speech, but only in L. A. have that many been arrested, and have any been brought to trial, according to Atty. Gyamfi .
She said city attorneys only prosecuted nine percent of those more than 300 arrested, and those amounted to all the BLM members who were arrested. They also were people associated with organizations who spoke up for Black lives.
People demonstrated nonviolently and peacefully, yet were charged, while others who threw bottles at police officers were not, Atty. Gyamfi argued.
In another BLM-LA case in Feb. 2016, a jury found Black Lives Matter members Luz Maria Flores and Evan Bunch guilty of simple battery on an officer and resisting and delaying an officer in their duties.
There was a hung jury on a trespassing count. The activists said they were attempting to speak with Mayor Garcetti at an event in South L.A. last June. City attorneys said the activists tried to disrupt a private meeting, which included Mayor Garcetti and L. A. Police Chief Charlie Beck. But BLM-LA refuted claims the meeting was private. The meeting actually happened at a public recreation center, Atty. Gyamfi told The Final Call.