JABRIL.MUHAMMAD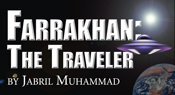 It was a divine blessing to be in Detroit, Michigan at the Joe Louis Arena to hear the Honorable Minister Louis Farrakhan's Saviours' Day address titled Divine Instructions and Commands For 2016 and to receive The Final Call newspaper headlined "Divine Instructions and Commands In The Pursuit of Justice." Do you have a copy of the Special Edition of The Final Call newspaper? If not, get it and study it.
Why was this very important address held in the city of Detroit? It would require more pages than an article to respond to this question. But I'm starting now.
*********
Four years after Minister Farrakhan received his more than a vision experience; he fully came to see that he had yet to hold that press conference which the Honorable Elijah Muhammad wanted him to hold in Washington, D.C. This realization was stimulated by four events, which over a four-month period, in 1989, crystallized for him his decision.
Two of these events were the death of Congressman Mickey Leland (of Texas) and the other involved the traumatic events at Tiananmen Square in China.
What was referred to in America's press, as the Beijing Massacre at Tiananmen Square, began on June 4, 1989. Representative Mickey Leland died in an airplane crash, in Gambela, Ethiopia, on August 7, 1989.
Minister Farrakhan was in Phoenix, in 1989, when these two events occurred. I noticed that both of these events seemed to have momentarily aged him as he wrestled with their meanings.
He told me he knew both had something to do with him. He was in a strained state of mind as he pondered the significance of these events. The latter event, he said, had more to do with our people–especially Black youth–and yet in some way with him. But he did not know how.
After returning to Chicago, a phone call from Minister Don Muhammad of Boston, would take him further into a growing, or heightened awareness that something was going on that was big, in the biggest sense of that word. Minister Don Muhammad informed him of a gang problem in which they sought his help.
He was told that the gang members were being pressured to give up their weapons. They said they would, but only if Minister Farrakhan would tell them to do so. His response was that he had not ordered them to pick them up in the first place. However, he later gave them wise and righteous advice, based on the teachings of the Honorable Elijah Muhammad, whose policies are known the world over.
Not long after he hung up the phone he was struck by what it all meant. Out of Minister Farrakhan's understanding of the significance of these events, he made a series of extraordinary speeches. They were titled Stop The Killing. Among the most powerful of these talks he would make was a stupendous one, which enlightened and warned Black youth as to what the slave-master's children were up to and were planning against them and us.
If you get and listen to those speeches you will see why I'm describing them as I am. One of them was delivered in Chicago, at Mosque Maryam. Lastly in September, came the fourth event, which would lead to a most profound event, fulfilling a major part of what he was ordered to do, by the Honorable Elijah Muhammad, in his vision like experience.
A Sister telephoned him to congratulate him on his anniversary. He thought her congratulations referred to the 35th anniversary of his marriage to his wife, Mother Khadijah, which was earlier that month on September the 12th. In the course of the conversation he came to see that she had the anniversary of his vision like experience in mind. The call caused him to reflect over that experience and the course of events since that time.
It then crystallized! Minister Farrakhan decided to hold a press conference in the next month; on the day following the Saviours' Day conference in October (1989). He returned to Phoenix. Part of his preparation for this momentous event involved the preparation of his press statement. Minister Farrakhan decided to dictate the entire text, in my home, on the Friday prior to the Tuesday when he would deliver it at the press conference.
About an hour after the text was typed and proofed he and I headed for the airport to catch a plane for the East Coast. We went to New York City. On the next afternoon, as we neared the capital, through a circuitous route, these words from his vision like experience came forcibly to my mind: "With great speed it brought me back to earth and dropped me off near Washington where I then proceeded into this city to make the Announcement."
I then thought back to the trip we had made a little better than three years earlier the day before he made his statement to the press on February 4, 1986. We had also landed at that time just outside of the capital due to fog. I thought to myself, "That experience pointed to this one. This Saviours' Day is a cover for this press conference."
I voiced this thought to Minister Farrakhan. The fact was that we were about to go to a place (arranged for by Minister Akbar Muhammad) "nearby or close to Washington, D.C." We were about to "land," so to speak, just as he did in his vision like experience," near Washington."
It was quite a feeling. I had a copy of the text of the statement that he dictated just the day before. I was with him, continuously, from that time until he delivered it to the public; before the media on that Tuesday. The point of this is that I am a witness to the fact that he did not change one word of the text he dictated, from the previous Friday, when he dictated it, to the following Tuesday when he delivered it.
This is related to the profound correspondence between something he dictated in his statement for the press and an event, which was a definite confirmation of the announcement that he had made to the press. It involved what many call "UFOs." Minister Farrakhan did not know how God would confirm his statement, in the ordinary way we obtain information.
As we'll see in a moment, from his prepared statement to the press, Minister Farrakhan declared: "Before you will be able to establish your mockery of me (if that is what you wish to do) for what was revealed to me in the Wheel, you will see these wheels … ."
The next day a "little" wheel appeared over the White House. It was repeatedly highlighted on T.V. for three straight days. It shook up a lot of people. It was obviously and clearly a so-called "UFO" or one of the baby planes of which the Honorable Elijah Muhammad taught us.
(The photograph that appears with this article, I took many years ago that involves my seeing him in the scriptures then and now.)
More next issue, Allah willing.