JABRIL.MUHAMMAD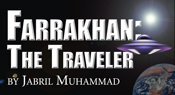 Study the meaning of the word "must" using dictionaries and thesauruses. How do you react to his words "What must we be doing?"
Now, the word "must" means "be obliged to; should (expressing necessity), expressing insistence, something that should not be overlooked or missed."
In any case, many years ago, I had a conversation with the Honorable Elijah Muhammad. It was a heavy set. I was shocked at learning that some people had lied to the Honorable Elijah Muhammad. He told me this. I cannot go into that 100 percent now. Some of the people involved are dead now and some are alive and others have repented.
This involves what the Honorable Elijah Muhammad wrote The History of Jesus' Birth and Death and What it Means to You and Me–July 20, 1957. He made this public.
This is what he said in part:
"I won't be able to give a complete knowledge in one article. It will take a series of articles to tell of all the Prophets of God who are recorded in the Bible and Holy Qur'an Sharrieff. None is more controversial than the history of Jesus and none is more misunderstood."
*********
"I do believe that if my poor blind, deaf and dumb people could be taught the true knowledge of the true history of Jesus, they would awaken at once. Some of the so-called Negroes' leaders (preachers) are dumb to the knowledge of Jesus' birth, life and death meaning than those who are following him, and for the sake of being called a leader (preacher). They are proud against the truth, and they will oppose it fearing the loss of their office.

"I will teach you the truth as I have received it from Him–Who is the Author of Truth–regardless to whom or what, for I speak not of myself–for I, too, was once blind, deaf and dumb, but I speak and write that which I have received of Him (Allah), and on Him do I rely.
*********
"There is no mentioning of Jesus in the History of Moses (Deut. 18:15-18). This cannot refer to the Jesus of 2,000 years ago, nor (Isaiah 9:6), nor even the 53rd chapter of Isaiah. For you disbelievers and blind guides who want me to prove what I teach, take a look at his history as recorded in the Holy Qur'an Sharrieff (3:41, 42, 46), and try comparing it with the Bible's birth of Jesus."
*********
This involves Paul in the Bible. Paul is a sign of the Honorable Minister Louis Farrakhan. I did not know that the Honorable Elijah Muhammad was referring to Minister Farrakhan, when he first saw him, in February 1955. This is written of in both books, the Bible and the Holy Qur'an and also his work he has to do.
*********
"Is It Possible That The Honorable Elijah Muhammad Is Still Physically Alive???" This book involves Minister Farrakhan's work from that time to now.
"The 16th chapter of the book of Matthew, contains the famous passage, called Peter's Confession. From the current Catholic translation of the Bible we read in Matthew 16:13-16:
"When Jesus went into the region of Caesarea Philippi he asked his disciples, 'Who do people say that the Son of Man is?' They replied, 'Some say John the Baptist, others Elijah, still others Jeremiah or one of the other prophets.' He said to them, 'But who do you say that I am?' Simon Peter said in reply, 'You are the Messiah, the Son of the living God."
This event did not take place 2,000 years ago. But even if it did, it was prophetic (a type or sign) of an event that did take place in the 1970s, in the United States of America.
It took place between the man of whom Peter was a sign–the Honorable Minister Louis Farrakhan–and his teacher–the Honorable Elijah Muhammad.
As Peter's work, in its essence, from his teacher, according to the Bible, was to make his teacher's great commission known, so did the Honorable Elijah Muhammad give this assignment to his Minister, the Honorable Minister Louis Farrakhan.
In my humble view, Minister Farrakhan has magnificently carried out, this and all phases of his assignment, given to him in 1955 and from the time he arose, in September 1977, right through to today. I fully expect that he will continue to do all that is written of him 100 percent.
My objective is only to show that there is something to the idea held by many that the Honorable Elijah Muhammad is not dead.
That area of knowledge is described in the Bible and the Holy Qur'an. It concerns the death or fate of Jesus (Isa). I hope to show that Jesus' fate as described in the scriptures is really teaching us (and the world) about what happened just before and after February 25, 1975.
Before we plunge into the body of this writing, consider its limitations. I won't cover all that I know or think that could or should be written on this vast, vital and explosive subject. That would require a book, and a lot of money and time.
A good book on this subject would include, or deal with, the views of many wise people, both living and dead. There is no way to convince people, or even raise the idea of this letter to the level of a high probability, without getting into that which influences those same people.
Such a book would have to cover many areas of the Bible and the Holy Qur'an that cannot be touched in a short piece like this. In addition, there are the hard facts of the views of those who were there in Chicago when it was announced that the Messenger was dead. And, don't forget, there are those who saw a body, which they state was beyond doubt that of the Honorable Elijah Muhammad.
*********
Finally there is that which the Honorable Elijah Muhammad has said and written on this subject. There is no way to take up that without facing the fact that many understand his words differently than they did before the 25th of February 1975.
*********
In the Bible Paul is a sign of Minister Farrakhan who is trying to help all of us see nonstop the work of the Honorable Elijah Muhammad and his work that comes out of the work of Honorable Elijah Muhammad.
More next issue, Allah willing.