JABRIL.MUHAMMAD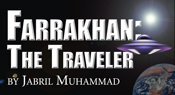 The Honorable Minister Louis Farrakhan stated that he met me " … in September 1977 in Los Angeles, California, Brother Jabril gave me a book to read that he had written. When I read that book, I was so inspired that I decided, at that moment, to rebuild the work of the Honorable Elijah Muhammad."
Now, although the Minister covered a lot of ground in this interview, he did not go into every point as deeply as he could have and has, on other occasions. Among the details he did not touch was one that I covered earlier; to a limited extent, and which I've covered more extensively in talks and in other writings over the years.
It was the fact that either in the latter part of 1976 or early in 1977, the idea began to rise in his heart to lift the name and rebuild on the foundation left by his teacher, before we met in September 1977.
I strongly suggest that you who want to go deeper, into this area of his experience, at that time, ought to search through all of the addresses Minister Farrakhan has made, time consuming as that will be. Start with the early 1980s.
When I walked into the restaurant, in a hotel in Hollywood, California, and saw my Brother, Minister Farrakhan, I immediately thought back to the time when I recall first meeting or seeing him. It was in a restaurant of the Nation of Islam through the local Temple, as it was called then, in New York City leased. Anyway, I think we were leasing the property, but it felt like we owned it.
I was working there when I first saw that beautiful countenance and smile of Minister Farrakhan. He is the type of Brother who is very easy to love.
Now twenty-two years have passed. I smiled too as I was happy to see him. The last time I saw him in person was in December 1974. I wanted to talk to him, but could not, like I wanted to. For one reason, others were always present. My time was limited.
Allah would not allow it. I next spoke to him the next year, in February 1975. That was a closer call, but such a meeting was yet to come.
Now was the time; And in a restaurant on the other coast too. In Hollywood, as far West–as far as I was concerned–as we could meet.
We left his table and went to the counter where we waited for the waiter to give him his change after he paid his bill. There I had a chance to gain a brief sum-up of his thinking on key subjects. He spoke on vital points.
As I listened, I thought to myself, "He is such a beautiful Brother, who is just below a thin sheet of ice. This is going to be easier than I thought."
We then went up to his room to put both brown shopping bags up on a shelf in the closet of his room. Then we went for a long three-hour walk.
During that time he brought me up to date on the last thirty months. It was like watching a fantastic movie!
We went back to his room where after some good conversation I left and he began the process of reading most of what was in the larger brown paper bag.
Now, at the right time, and in fulfillment of His own holy word, given through the prophets, and in response to a specific prayer of the Honorable Elijah Muhammad for Minister Farrakhan, and at the precise time, Allah Himself brought about that, which was needed to trigger in Minister Farrakhan that which was already in him–for His own perfect purposes; for His own glory.
I am using the word "trigger" as defined in dictionaries as "anything, such as an act or event that initiates or precipitates a reaction, or a series of actions and reactions."
The next question put to Minister Farrakhan, by the interviewer of Emerge Magazine was a very natural and routine question, given the context and flow of the interview.
It was: "What was the name of the book?"
Minister Farrakhan responded: "I don't think Brother Jabril … had even named it at that time. It's a book that has not been printed. It chronicles the life of Jesus and compares it to the life of the Honorable Elijah Muhammad, and the rise and fall of the Nation to the rise and fall of the early church when Jesus went to the cross."
The interview went on successfully and covered many other important areas. The public was well served in that effort by both Minister Farrakhan and Emerge Magazine.
So somebody wrote a book and couldn't figure out what to call it. Besides, it was never published. So what difference does it make? Ordinarily, I might say that. But because of what I've been blessed to see into the mission of the Honorable Minister Louis Farrakhan, I think my answer is relevant to the purpose of this book.
So, what follows is my answer to Emerge Magazine question, in the light of what I've been blessed to see of Minister Farrakhan's identity and his overall mission.
It is not the book I wrote that I wish to focus on as it was not the realities to which it pointed and described. A book is a reality in itself.
It is a thing that exists, unless or until it is destroyed in some manner. But, some books, as we know, describe–with varying degrees of accuracy–very important people and events.
Let's look at the people. Let's look at the events.
What Minister Farrakhan did not cover, in his answer to the question of the book's title, was that which he was not necessarily thinking about at that time. However, it forms an essential part of my answer. It's about himself–as best I can see–from the viewpoint of God–The Supreme Being.
More next issue, Allah willing