JABRIL.MUHAMMAD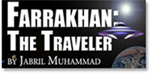 At the end of the previous article I wrote:
"Why don't you know this? Don't assume. This is a very short article and not a book. Study that photograph of him. This is part of this article.
"Study Minister Farrakhan's words, when he taught in San Diego for two days."
The word "assume" means: "suppose to be the case, without proof, take or begin to have (power or responsibility, seize (power or control, take on) a specified quality, appearance, or extent." It also means more.
You can read these three paragraphs, in my previous article.
"The Honorable Elijah Muhammad repeated that which he said on an earlier occasion that Minister Farrakhan was the answer to his prayer for a helper from his family.
"Not long afterward he used the same words that you can find in Chapter 7, verse 142, of the Holy Qur'an, that Moses used in speaking to Aaron before he left the physical presence of the people.
"The words that the Honorable Elijah Muhammad used were that Minister Farrakhan could 'Take my place among my people.' This is exactly what Moses told Aaron before he went to his Lord."
You can read this in the English Translation and Commentary of Maulana Muhammad Ali of The Holy Qur'an 7:142:
"And We appointed for Moses thirty nights, and completed them with ten, so the appointed time of his Lord was complete forty nights. And Moses said to his brother Aaron: Take my place among my people, and act well and follow not the way of the mischief-makers."
One Sister, who was an official from Chicago, had business in New York City. She and I saw each other downstairs outside of Muhammad's Temple No. 7, as she was going into one Muslim business and I was going into another.
We stopped and exchanged the greetings. She told me of Minister Farrakhan's health condition. Minister Farrakhan had the flu during a few days in December of 1969.
And then, in commenting on the Minister's health, she told me that the Honorable Elijah Muhammad had said a few days earlier that he should be careful of his health, for Aaron was given a hard time by the people after Moses left.
Obviously, the Honorable Elijah Muhammad was, again, putting on Minister Farrakhan's mind that which was soon to come.
Then there was another time when the Honorable Elijah Muhammad told Minister Farrakhan the following, "I am going away to study. I will be gone for approximately three years.
"What I have given you is just a wake-up message. Don't change the teachings while I'm gone. If you are faithful, I will reveal the new teachings through you on my return."
"Yes, and you can sit over the Nation of Islam, as The Father, when I'm gone."
Now, in response to the insights of the Honorable Elijah Muhammad that came from God, Himself, Minister Farrakhan was put in that position over the Nation of Islam. This is related to the forty million plus, Black people, in America, and to others in this country and the world.
Why I'm writing this as of right now? The best answer to this question involves this situation, which is called the 'end of time.'
We must understand the truth of the word "context." How do you see this?
I first saw Muhammad Ali in 1962 on TV when he was fighting. Then I saw him in person in Oakland, California. I saw him with other FOI Brothers as I watched his reaction concerning UFOs.
I took him to dinner. I was living with a Muslim family at that time and we ate dinner. I took him back to the hotel he was staying.
I'm skipping most of that history.
In 1977 I went to Chicago to see Minister Farrakhan. I also saw Muhammad Ali. I told him I had enough money to stay for 2 to 3 days. He reacted and told me to come to his house. That event gave me some time to be in Chicago for 3 weeks to talk to Minister Farrakhan.
Why I'm mentioning this? This event was connected to the events that happened in 1974.
In 1974 some people were planning on murdering me. I did not know that. I was teaching Islam and spreading the truth that came from the Honorable Elijah Muhammad that came from God, Himself, that helps all of us.
After six weeks of teaching, I told the Brother and Sister who I was living with, that I would be back in two days.
As I was driving, leaving the city, I made a decision and went to Muhammad Ali's training camp to see him. I did not know what was about to happen the next day.
I have to stop here, but I intend to finish it next article, Allah willing.
In my last article I wrote this: "Brother Elijah Muhammad, Jr, the then Captain Lawson (Brother Bin-Asad), and the 60 Brothers–I do not have their names. But I must mention this–and Muhammad Ali, who everyone knows all over the world (on some level), and a Brother and his wife, helped me, in very big way, in that situation that involved those who tried to murder me.
"A good Brother came to see that he was tricked at that time."
Remember that event happen in 1974. Two months later I came to see I must see–in person–Minister Farrakhan.
Among the events that happened, I was put in jail for that which I did not do.
More next issue, Allah willing.