By Charlene Muhammad CHARLENEM
Questions linger following police chief's firing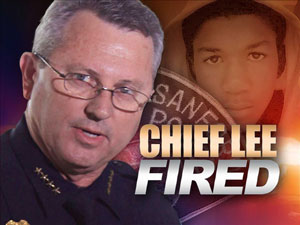 (FinalCall.com) – Some Sanford, Florida residents have been calling for the dismissal of Sanford Police Chief Bill Lee ever since he botched the investigation into the fatal shooting of Trayvon Martin by first failing to arrest George Zimmerman. The day has come and political scientists are weighing just what impact his firing will have on the case.
Norton Bonaparte, Sanford City Manager, announced June 20 that Chief Lee had been relieved immediately. Mr. Bonaparte cited escalating divisiveness in the city and implied Mr. Lee's handling of the Trayvon Martin shooting also factored in.
During the same week news broke of the firing, Mr. Zimmerman's lawyers released evidence, which included his reenactment of events leading up to the shooting.
Dr. Adolphus Belk, Jr., Associate Professor of Political Science and African American Studies at Winthrop University in South Carolina, views the string of simultaneous events like this.
"First you see Mr. Zimmerman's defense team trying to introduce a level of doubt about the events that happened that night while also building a case around the series of events happening as they have been described by Zimmerman himself," Dr. Belk said.
He said their first task is to introduce some doubt into the jury pool's mind. Because the burden of proof in a criminal case is very high, and one can only be convicted beyond a reasonable doubt, they're trying to raise questions about Trayvon Martin himself and his actions on the evening he was shot.
Dr. Belk said Mr. Zimmerman's defense team is doing its job. But also, he sees the state trying to raise questions about Zimmerman's accounting of events, while also holding people accountable for their statements and actions.
That included prosecutors having Shelly Zimmerman arrested on perjury charges and Mr. Zimmerman's bond revoked, saying both lied during his bond hearing about how much money they actually had.
Mr. Lee's firing is about the Sanford Police Department trying to maintain its legitimacy as an institution, Dr. Belk continued. "There were questions about why Zimmerman was not arrested that night. There were questions about why he was not given a toxicology test or a drug test; why his vehicle was not impounded; why they didn't take the gun. So there are a lot of questions about the handling of the evidence early on, evidence that can now never be reacquired," he said.
According to Professor Marcella Washington of the National Conference of Black Political Scientists, Mr. Lee's firing means the city acted to appease the people in light of the fact Mr. Bonaparte had tried to get rid of Mr. Lee before. Mr. Zimmerman shot Mr. Martin, who was unarmed, on February 26. On April 23, Mr. Bonaparte raised the chief's resignation with the City Commission but they rejected it in a 3-2 vote.
"He's a walking statement of injustice and in some ways this is related to Trayvon Martin but this is local, too," said Prof. Washington of Mr. Lee.
Now a few months later, he's gone, but what's the real motive, Prof. Washington said. She noted that a group called the Concerned Citizens of Sanford had planned to picket on June 21 but called it off after learning the chief had been fired.
"That's exactly what people shouldn't do. They should continue to picket, rally and protest because he's gone but the story continues," Prof. Washington told The Final Call.
She argued that the chief's firing and Mr. Zimmerman's counsel's release of evidence work in tandem as nothing more than a ploy. She said by showing the footage of a bandaged Zimmerman, they are working to paint an interesting picture but one unfavorable to Trayvon Martin.
"They're not treating this like a criminal matter. It's like he's (Zimmerman) part of the investigative team but this is just done to or against Black men and women. Didn't Trayvon have a right to stand his ground against being followed and attacked by Zimmerman," Prof. Washington said, referring to the state law Stand Your Ground, which is at the center of the case.
The cases of Marissa Alexander, a Black mother from Tampa who was sentenced to 20 years under Florida's "10-20-Life Law" and Trevor Dooley, an elderly Black man in Florida indicate application of the laws were not intended for Blacks, she continued.
Ms. Alexander fired a warning shot to stop an attack from her abusive husband but was denied immunity under Stand Your Ground and sentenced to prison in early May. Her case is being appealed. Meanwhile, her family and supporters designated June 24 a Global Day of Rallies in her support and in support of all victims of domestic violence.
Planned events include The Committee To Free Marissa Alexander's Freedom Rally and Motorcycle Fundraiser in Jacksonville.
Meanwhile, Mr. Dooley will stand trial since he was denied immunity under the law after killing his neighbor David James in 2010. Jury selection in the Dooley manslaughter trial is set for Sept. 4. A pre-trial conference in the case is set for Aug. 22.
Dr. Belk said one issue to consider with Stand Your Ground or any law is the lawmaker's intended consequences. What did they design the policy to address? And what are the intended or unintended consequences as a result, he said.
"One of the things that African American lawmakers in Florida are trying to determine is whether or not there's any evidence of an African American successfully using Stand Your Ground as a means of evading prosecution for homicide. I don't think they've found any examples to date," Dr. Belk noted.
He feels Ms. Alexander's case raises that point but in addition, it extends the Castle Doctrine from the home into public space where a person has a right to be.
The Castle Doctrine provides a man's home is his castle and he has a right to defend it against intruders.
"In the Martin case, one question could be did he have a right to stand his ground, having tried to evade his pursuer and then having been confronted by Zimmerman. Similar question comes up in the case of this young woman. Did she have a right to stand her ground in the face of abuse," Dr. Belk said.
Related news:
Black legal experts weigh in on Zimmerman case (FCN, 04-19-2012)
Zimmerman Charged: Second Degree Murder in Trayvon Martin case (FCN, 04-17-2012)
Killing of Black teen, Trayvon Martin sparks outcry, national mobilization (FCN, 03-20-2012)