FCNNEWSSOURCE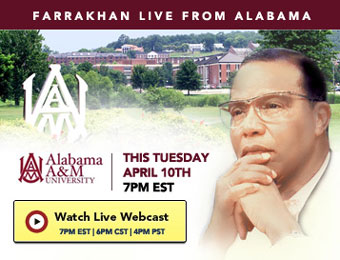 (FinalCall.com) – Despite efforts by opposition seeking to slow the momentum leading up to the Honorable Minister Louis Farrakhan's April 10 visit to Alabama A & M University supporters refuse to be bullied into dis-inviting the Muslim leader.
Minister Farrakhan is scheduled to visit the historically Black college established in 1875 by a former slave, to motivate and inspire the hearts and minds of young, aspiring students and will address the subject, "The True Meaning of Education" at the nearly 5,000 seat Elmore Gymnasium on campus.
When publicized that Min. Farrakhan was confirmed to speak, almost immediately, elements bent on interfering in the affairs of Black people, reminiscent of the typical but manufactured controversy surrounding his recent lecture at University of California Berkeley began surfacing.
Not to be outworked or bow down to pressure from outside malcontents and mischief makers, organizers are anticipating a capacity crowd and are planning logistics for a possible overflow room or outside screen.
Demonstrating a united front, local religious leaders representing diverse ideologies, local politicians and representatives from several student groups are expected to attend despite attempts to thwart their efforts.
"I knew the Minister had the desire to speak to the students so we just kept pushing, kept applying pressure," said Phillip Muhammad Student Minister for the Nation of Islam in Huntsville, Ala. told The Final Call.
The event is free and open to the public at Alabama A&M University and is scheduled to be webcast live to the world. Continue reading the full story.
Be a part of history and watch this event live!
Date: Tuesday April 10, 2012
Time: 7pm EST | 6pm CST | 4pm PST
International: Re-Broadcast Will Be Available for Our World Viewers
Live Stream: http://www.NOI.org/Webcast