HOUSTON (FinalCall.com) – Lack of rainfall and baking temperatures has Texas in the midst of its hottest consecutive ten months in the last century according to a recent report by the U.S. Drought Monitor.
"Texas will continue to be "high and dry," with little drought relief in sight over the next week. Texas continues to suffer from unprecedented drought. Climate data show that the Lone Star State is in its driest ten-month period ever on record, in over a century of data. This is unprecedented territory, as the precipitation deficits mount, and triple digit temperatures continue to increase water demand," the reported stated.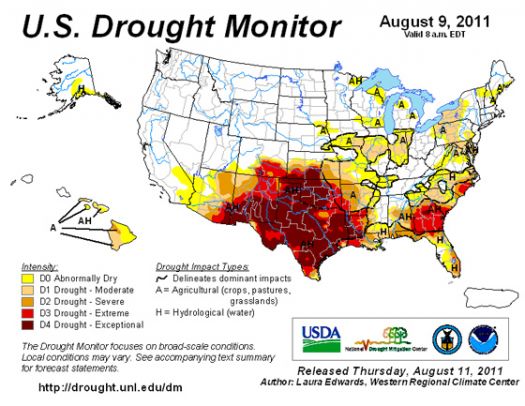 They further warned that significant, ongoing impacts related to agriculture, water supply and natural vegetation conditions have been reported across Texas and "Widespread Exceptional Drought (D4)" is maintained in large part across the region.
Texas' most severe overall drought on record occurred from 1950-1957. Since January, Texas has only seen approximately six inches of rain, which is seven inches less than the norm. Less than an inch of rain fell statewide in July alone.
Residents in Dallas experienced 40 consecutive days of 100 plus degree temperatures, two days shy of tying a record set in 1980. Waco held the same record until it surpassed it with 43 straight days of triple-digit temperatures. The town of Tyler has had 45 straight days, shattering its previous record of 20 set in 1998.
With water conservation becoming a major concern, Houston Mayor Annise Parker is set to enforce mandatory water restrictions on residents. Those restrictions will include water leaks must be repaired within 72 hours, limited outdoor irrigation during daylight hours and lawn watering no more than two days a week.
This year, Texas Governor and potential 2012 Presidential candidate Rick Perry has led the state in a Day of Prayer twice, including on August 6. He hoped that God would bless the state with much needed rainfall but to no avail the drought has continued.
The Honorable Minister Louis Farrakhan, national representative of the Most Honorable Elijah Muhammad, has continued to warn that the present weather patterns is not by accident–but Divine Judgment from God that is on pace to only get worse. Min. Farrakhan has continuously told the world to "watch the weather." Everyday weather reports are confirming what he has said is being fulfilled and is impacting America's agriculture, ecosystem, animals, and economy.
According to an online report by the Delta Farm Press, millions of acres will be abandoned in the coming months and the irrigation of crops such as cotton is in a state of emergency.
"It looks like Texas is turning into a desert state. At this time, I'd estimate that three million of the 7.1 million acres planted this season will be abandoned – the largest abandonment since 1981," said Carl Anderson, a Texas A&M University extension professor emeritus.
"The situation is serious for all crops, including forage and hay. There is no situation in recent times comparable to what we're seeing this year," said Mr. Davis.
Texas is definitely not alone. In early August, the National Weather Service issued heat advisories for 15 states stretching from North Carolina to Southern California.
The Drought Monitor reported also that the western edge of the D4 area in the Oklahoma and Texas Panhandles continued to erode thanks to "monsoon rainfall amounts" of nearly an inch in some areas. Much of the Exceptional Drought is due to shortages of two to three feet of rainfall over the last 18 months.
Elsewhere, Extreme Drought (D3) warnings were expanded eastward across the remainder of southeastern Oklahoma, over the Red River and into western Arkansas "due to a combination of short-term dryness with excessive heat, residual effects of moderate drought from the preceding year, and local impact reports," the Drought Monitor observed.
The Oklahoma Biological Survey even reported that streams in southeastern Oklahoma were going dry, threatening up to three endangered species. Drought conditions are continuing to spread through Mississippi, Alabama and Louisiana.