JABRIL.MUHAMMAD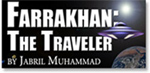 "And Moses said to his brother Aaron: 'Take my place among my people … .' " Holy Qur'an 7:142
I wrote this in the previous article:
"I'm aware a few have read this article some years ago that contained one paragraph that is not here. Now, I hope you read this paragraph. I'll explain next article, Allah willing.
"We know, or should know, the truth of this next paragraph.
"Now, I asked a question of the Honorable Minister Louis Farrakhan. He said this, 'An unanswered lie resembles the truth.' "
The above contains the paragraph, I'd put in place of that one. Now, this is that paragraph I wrote some years ago.
"To correct my article Vol. 24; No. 12, the number in attendance at Stevie Wonder's 'Toys for Tots' event, held at the L.A. Forum, was approximately 13,000, which Minister Farrakhan attended."
The above paragraph would not fit today in this series and more. This is why I made the changes. This is that explanation.
I ended that article with this:
"And say not of anything: 'I shall do that tomorrow, unless Allah should will.' (Holy Qur'an 18:23, 24) And, let's not add foolishness to this."
Now, we can read in Proverbs 3:5-6, as we are the worse off of those in Isaiah, 9:2 which reads: "The people that walked in darkness have seen a great light … ."
"Trust in the LORD with all thine heart; and lean not unto thine own understanding. In all thy ways acknowledge him, and he shall direct thy paths." (Proverbs 3:5-6)
We all know, or should know, that the Bible has many translations and was done in different situations, different times and in different places.
The Bible has been made in different versions and in other languages expressed in different languages for different people and for different purposes.
Now, how do you see this? Then can you prove your view to be 100% the truth?
These words are found in The King James Version chapter 17 of Numbers verses one to eleven.
"And the LORD spake unto Moses, saying, Speak unto the children of Israel, and take of every one of them a rod according to the house of their fathers, of all their princes according to the house of their fathers twelve rods: write thou every man's name upon his rod.
"And thou shalt write Aaron's name upon the rod of Levi: for one rod shall be for the head of the house of their fathers. And thou shalt lay them up in the tabernacle of the congregation before the testimony, where I will meet with you.
"And it shall come to pass, that the man's rod, whom I shall choose, shall blossom: and I will make to cease from me the murmurings of the children of Israel, whereby they murmur against you.
"And Moses spake unto the children of Israel, and every one of their princes gave him a rod apiece, for each prince one, according to their fathers' houses, even twelve rods: and the rod of Aaron was among their rods.
"And Moses laid up the rods before the LORD in the tabernacle of witness.
"And it came to pass, that on the morrow Moses went into the tabernacle of witness; and, behold, the rod of Aaron for the house of Levi was budded, and brought forth buds, and bloomed blossoms, and yielded almonds.
"And Moses brought out all the rods from before the LORD unto all the children of Israel: and they looked, and took every man his rod.
"And the LORD said unto Moses, Bring Aaron's rod again before the testimony, to be kept for a token against the rebels; and thou shalt quite take away their murmurings from me, that they die not.
"And Moses did so: as the LORD commanded him, so did he."
What was the issue that the Lord settled? My view of these words refers to the Honorable Elijah Muhammad and Minister Farrakhan and what is going on in America.
What does the word, "issue" mean? Issue means "an important topic or problem for debate or discussion."
I've read books and heard many people get their views out in the public about the "issue" that involves the Black men and women in America.
I'm involved in this "issue," or a better word is "problem" ever since I heard and learned of it and how to solve it. That involves the word "history."
This is a very short article and not a book. I'm going as deep as I can, in a very few words, which involves a different view than most people view history. That view comes from the teachings of the Honorable Elijah Muhammad, which Minister Farrakhan has spread over this planet.
Now, these words came from Minister Farrakhan when he said: "An unanswered lie resembles the truth." I know I'm repeating myself. How many of us have been tricked?
Trick means "a cunning or skillful act or scheme intended to deceive or outwit someone."
Minister Farrakhan said these words in an interview on CSPAN regarding the Katrina Levees in 2007. He said: "If it is a rumor, the Holy Qur'an says to us, whenever there's a rumor that is believed and is being spread, then those in authority who can search out the truth of that, should go to work and either dispel the rumor as fiction or prove it to be fact."
I've made his words very public.
Now, what does the word "rumor" means? Where does it come from? Is it important to know 100% where this word "rumor" come from and what it produces?
Has God allowed misunderstanding and/or out-right lies? When did He first allow it? How, why and from whom?
I intend to go into this deeper, and why. But I must write first when I heard the word "envy" in 1956. I heard that word from the Honorable Elijah Muhammad on a tape recorder. That was the first time I ever heard that word, in my life.
I did not study envy at that time. I did not even look the word up in a dictionary. It was not until some years later, it took an event, or a series of events, when I really "saw" envy and then how to help others get out of it.
That was before the Honorable Elijah Muhammad "departed" for his next "assignment." For now, does this reality–envy–produce unity among the people, 100%? Why not? How does it differ from Jealousy?
Some people say and/or claim they want unity among Black people. But their words and actions prove lies? Have you ever seen a one-year old baby envious?
Why was Minister Farrakhan chosen to help the Honorable Elijah Muhammad? What is the reality? History shows us that we are and will be tested to the max!!!!
This article I started on the 19th of July 2011. I thought I was ending it here.
P.S. This is a few days later. I've just finished reading a book about debate and how and when America should have a "real" debate involving the problems and the condition of Black people in America.
But this problem involves much more than "debate" to resolve this problem. It's all about the truth that must be proven and it must "deal" with it without argument. If you say argument then what kind of argument?
The Holy Qur'an says this about "argument." It reads like this: "Call to the way of thy Lord with wisdom and goodly exhortation, and argue with them in the best manner. Surely thy Lord knows best him who strays from His path, and He knows best those who go aright." (Maulana Muhammad Ali translation 16:125)
Minister Farrakhan responded and/or reacted to this problem, with the power of what he was taught, when he sent letters to invite the knowledgeable Jews (and others) to enter a deep discussion. He represents the Honorable Elijah Muhammad.
He was and is handling it beautifully. They have some power to solve it, up to a point.
Then do it!
More next issue, Allah willing.