CHICAGO (FinalCall.com) – The unique beauty and creativity of artistic talent inspired and based on the teachings of the Most Honorable Elijah Muhammad and influenced through the example of the Honorable Minister Louis Farrakhan was on display here during the first national conference of the Ministry of Arts and Culture of the Nation of Islam.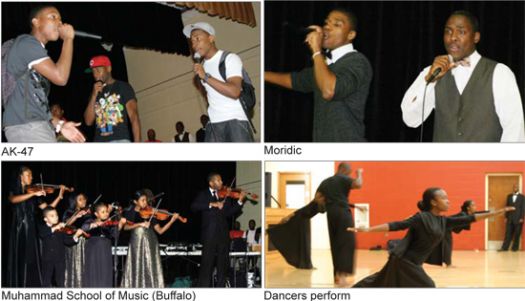 Muhammad University of Islam (M.U.I) situated on the grounds of the National Center, headquarters of the Nation of Islam, was transformed into a performing arts mecca as dozens of brothers and sisters of all ages showcased and shared their talents June 24-26.
Muslims traveled from far and near to convene at this year's gathering themed, "Current and NEW Artistic Trends" to participate in a three-day, nonstop artistic and cultural display of music, visual and culinary art, dance and more.
The conference kick-off began Friday, June 24, as students of all grade levels at M.U.I flexed their creative muscle with an abundance of activities exposing them to different mediums of artistic expression during several workshops. The gymnasium, café and classrooms became concert halls, art galleries and dance studios as spoken word artists, singers and musicians performed for students.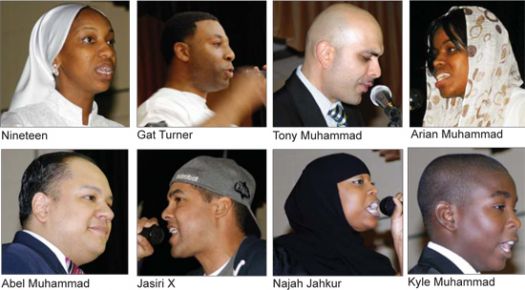 Shaheerah Farrakhan, graduate of the University of Memphis with a bachelor's degree in fine arts says getting children involved in the arts gives them an opportunity to truly create something on their own.Sister Shaheerah, facilitated a session with 5th and 6th grade sisters, "Development of character through masking," where students made their own masks from paper, pipe cleaner and other materials. Wearing their masks, the sisters then created characters and scenarios through body movement.
"Giving children an opportunity to think outside the box, to act, sing or dance through something is good for their energy," she explained.
"Our students need to see the depth and breadth of the talent that is in the Nation of Islam. We don't need to look outside for anything. We have everything we need right here," said Sister Nisa Islam Muhammad of Washington, D.C., who spoke with the high school students about communication, prayer and Ramadan, the holy month of fasting for Muslims.
The next day brought another full schedule of activities including the highly anticipated "survival" cooking competition between the brothers and sisters. The Fruit of Islam, men in the Nation, and M.G.T., Muslim women, took center stage as each team worked with precision, putting their culinary skills to the test using basic canned ingredients that could be stored in a survival kit for emergency situations.
The cooking competition was good natured but facilitators said the purpose was two-fold. We always were taught how to make elaborate or gourmet dishes but this competition showcases how to prepare a meal in an emergency, using basic canned ingredients, explained Leah Muhammad, one of the facilitators of the competition. Each team made creative dishes from black beans, carrots, salmon, green beans and a variety of spices.
"How would we prepare food with the simplest ingredients, not only prepare our food but how would we keep our families healthy, using the different spices?" asked Sis. Leah. The audience was just as animated as the competitors as each team was cheered and encouraged. The epic battle was close but in the end, the M.G.T team was victorious.
That evening culminated in a dinner banquet in which attendees were serenaded by the smooth sounds of R & B duo Kindred The Family Soul. The last day's grand finale and conclusion included a moving demonstration of the waltz by the M.U.I. performing arts class from Miami, Fla. at the conclusion of service at Mosque Maryam and a talent showcase in a salute to Black Music month.
Surayyah Muhammad, 14, danced and said she had a wonderful time. She also said performing helped her overcome shyness. "It's really beautiful to perform and be elegant and graceful…it's a great feeling," she said.
The spirit was warm and for those that traveled from out of town, the weekend was well worth it they said. Brother Jamal Muhammad of Phoenix said he felt compelled to attend.
"It is very important that we the Nation of Islam and our cultural influence has to be so strong that wherever we go, wherever we host an event, our energy and our space is so strong that it dominates and effects all those who enter its circumference," he told The Final Call.
The conference was the culmination of a nationwide effort of a dedicated committee including Arian Muhammad of Flint, Mich., Farrad Muhammad and Khayriyah Muhammad of Chicago, Shernett Muhammad and Tony Muhammad of Miami, Fla., with help from Billy Muhammad, Jahleel Muhammad, Jamale Muhammad, Lisa R. Muhammad, Toure Muhammad and Bercola C. X.
The ability to showcase the beauty of Islam in its various forms pleased conference organizers. "While some people might be more suitable to do a lecture or to minister, we have an opportunity to do that through artistic expression without one word being said which shows forth a universal message to all cultures and everybody," said Brother Farrad.
The committee thanked Minister Farrakhan, the Executive Council of the Nation of Islam, Student Minister Ishmael Muhammad and the F.O.I. and M.G.T. in making the conference a success.
Other performers and facilitators included Niambi Muhammad, Muhammad's School of Music, Ray of Hope Center of the Arts, Spirit Wing Dance, Kyle Muhammad, JustFlo & Uneqka, Azizah-Lisa, Laurie Goux, Luewella X Barnett, Duane Muhammad, Arian Muhammad, Gat Turner, Jasiri X, Nineteen, The Ranks61, Ozara Muhammad, AK-47, Moridic, Brandon Muhammad, Randy 3X, Najah Jahkur, M.U.I Chicago dance ensemble, DJ Mekah, David Muhammad, Tadarah Muhammad, Shari Muhammad, Shaunte Muhammad, Frank Muhammad, Michael Muhammad, Parrish X, Kasima Farrakhan, Shahid Muhammad, Reggie Reg, United School of Survival, Carolyn Muhammad, Fontaine Muhammad and Abel Muhammad.