JABRIL.MUHAMMAD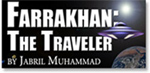 Both Muslims and Christians in America and elsewhere on the planet believe that Jesus, who lived 2,000 years ago, is still alive. Is he? What does this mean for real?
For example, many people in America and all over the planet have seen the record breaking severe weather pattern and more that cause them to "feel" that we are in the "end of time."
Feel in this context means what? What does is "this context" mean?
You can read in the newspaper, watch on televisions, and listen on the radio different events that signify the end of the world. What exactly does feel mean? Many are talking "the end of the world." Are we in it, now?
Are we living both the Bible and the Holy Qur'an that teach about the end of time? On Sunday, February 27, 2011, I was blessed, among thousands of others to hear and see the Honorable Minister Louis Farrakhan deliver the most powerful address in his 56 years of being in the Nation of Islam. I intend to make clearer why I used the words "most powerful," Allah willing, next issue. I'll also, Allah willing, mention why "56 years."
When Minister Farrakhan came to Phoenix in early January 2011, I was blessed to hear him go over his first draft of his Saviours' Day address. I fell to the ground like one would do in prostration. If you read my next article you will see fully why I reacted.
One of the main things I saw immediately was that my Brother had come to a certain critical point that was written of him years ago, just before he goes to be with his Father–the Honorable Elijah Muhammad.
In the letter that Minister Farrakhan wrote to Abraham Foxman, head of the Anti- Defamation League, and cc'ed many others, that he made public, he was calling for a dialogue, to come together and sit down and try to solve the most critical problems in America that involves Blacks and Jews.
The way Minister Farrakhan handled this critical situation, there's no way to avoid it without avoiding the truth that you said about yourself.
The following may open a door for dialogue. Be very careful how you understand this article and the next few.
The article below is an open letter from Sister Bev Smith. This is her reaction to the Jewish Chronicle's articles. The following appeared on her website; www.bevsmithtalks.com/Queen-of-late-night.
"(This is in response to the Jewish Chronicle's recent article entitled, "Purpose of town hall defeated with Farrakhan appearance.")
"For years I've talked openly about having a series of town hall meetings aimed at the African American community across the country.
"The goal is to reunite the African American community, create an interest in volunteering inside the African American community and strengthen the African American family both biological and communal.
"Last November 12th at the beautiful August Wilson Center, that dream was realized with the first in a four part series of conversations entitled 'The Disappearing Black Community, and How Can We Get it Back.'
"At that meeting, an illustrious panel headlined by outspoken civil rights activist, and comedian Dick Gregory, looked at the problems in the African American community and outlined how we got to where we are today.
"On March 11th, in Pittsburgh, Pennsylvania, we will go inside the black community, to look at our responsibilities for some of those social problems, like an increasingly escalating high school dropout rate coupled with a high teenage pregnancy rate.
"To undertake this challenging responsibility I've invited leaders and experts in the fi elds of community development, and political achievement. I asked the founder of the Million Man March, The Honorable Minister Louis Farrakhan, along with Assistant Minority Leader in the U.S. House of Representatives Congressman James Clyburn (D-SC), and Melanie Campbell, President and CEO of the National Coalition on Black Civic Participation to participate in this event.
"All agree that this conversation about our community is long overdue and they are excited to be a part of the discussion and would like to help fi nd solutions to the problems plaguing our community. Simply, the discussion is aimed at Black People only.
"This is why I was somewhat perplexed and later outraged at the suggestion from the Jewish Chronicle that our efforts to talk to people we feel are relevant to our community, is an offense against the Jewish community.
"For years I have enjoyed a relationship with the Jewish community and cannot understand why a community who has suffered discrimination as my community has would suggest that we should not have the ability to meet and discuss with anyone we want to regarding the black community.
"This town hall meeting, is not about the Jewish community, Egypt, the current problems in Afghanistan or anything else, except, its sole purpose is to discuss the state of the black community in 2011.
"I resent those outside forces that are trying to highjack this town hall meeting by making their concerns the center of our discussion. This is not a meeting to discuss anti- Semitism. Their suggestion for us to not have Minister Farrakhan at the table for this important discussion, reminds me of what white slave owners use to do to their black slaves, and that is to tell the slaves how to meet, what to talk about and who to talk to.
"I am offended by those outside forces contacting me to suggest I cancel my guest, notably, the Honorable Minister Farrakhan because of issues they may have with him. "At no time during the planning of the first town hall meeting did the Jewish Chronicle or any other Christian organization contact me to talk about the importance of these meetings within our community.
"I am willing to sit down with members of the Jewish Chronicle, the Christian Association of Southwestern Pennsylvania or any other group interested in making our community better and I welcome the opportunity to do so after the town hall meeting on March 11th.
"Again I am setting the record straight, Minister Farrakhan is coming to town along with some of our other distinguished guests to focus solely on how we can rebuild and unite the African American community.
"I feel strongly that no one can dictate to the African American community who they can have as a guest around my black family table.
"The Bev Smith Show.
"Sincerely,
"Bev Smith -Syndicated Talk Show Host, The Queen of Late Night Talk, American Urban Radio Networks
" 'The town hall meeting will take place in The Center's 486-seat theater and will broadcast live on Ms. Smith's nearly 30 affi liate stations nationwide including, WWRL, New York, WVON, Chicago, WOL, Washington DC, WURD in Philadelphia, WAOK, Atlanta and WGBN, Pittsburgh.)' "
I started this article with these words:
"Both Muslims and Christians in America and elsewhere on the planet believe that Jesus, who lived 2,000 years ago, is still alive. Is he? What does this mean for real?"
These two photos are part of this article.
More next issue, Allah willing.