(FinalCall.com/Blogs) – It's only been a few days since the Honorable Minister Louis Farrakhan delivered his annual Saviours' Day keynote address on Feb. 27th at the Allstate Arena. As expected, the Anti-Defamation League (ADL) released its rebuttal of the Minister's phenomenal four hour message and the pundits have weighed in on what he said regarding Muammar Gaddafi.

Surprisingly, the largest "controversy" has involved music artist Rihanna, who posted two Twitter updates on her account responding to what she obviously interpreted as a "personal attack" from Minister Farrakhan during his speech. I went to read them for myself and took a screen shot of them. See below: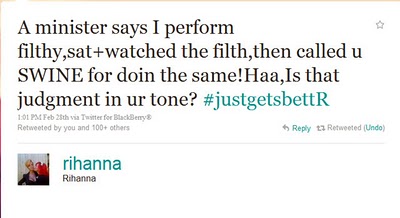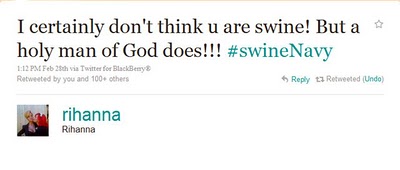 From there, myself and others tweeted at Rihanna, gossip bloggers, and Hip-Hop sites, inviting them to watch the full message by Minister Farrakhan because the enemy has taken advantage of this "controversy" for a bigger reason that most people cannot see. Minister Farrakhan has a history of ending beefs within Hip-Hop and is supremely loved by music artists across all generations. AllHipHop.com, headed by Chuck Creekmur and Grouchy Gregg, is a site that has always supported Minister Farrakhan and they stepped to the plate on March 2 to get an official response from Minister Farrakhan. We appreciate them!

Here is the story by Grandmaster Grouchy Greg Watkins and Nolan Strong titled: "Exclusive: Min. Farrakhan Responds To Rihanna Tweets About Grammy Outfit"


(AllHipHop News) Minister Louis Farrakhan has been instrumental in resolving a variety of Hip-Hop beefs over the years, between rappers like 50 Cent, Ja Rule Beanie Sigel, Jadakiss, Common and Ice Cube.
Now, Minister Farrakhan is squashing a growing divide between himself and R&B singer Rihanna, over comments he made about her Grammy outfits during his annual Savior's Day speech from Rosemont, Illinois on Sunday (February 27th), that was webcast around the world.
"I saw my beautiful sister the other night at the Grammy awards. Rihanna. My poor sister, she's dressed almost like -with a pair of draws. And she got her legs wide open and just grinding away," Minister Farrakhan said during a portion of his annual speech.
In response, Rihanna tweeted to over 3 million followers: "A minister says I perform filthy, sat + watched the filth, then called u SWINE for doin the same! Haa, Is that judgment in ur tone? I certainly don't think u are swine! But a holy man of God does!!!"
A representative for Minister Farrakhan and longstanding member of the Nation of Islam told AllHipHop.com that Minister Louis Farrakhan would never disrespect Rihanna.
"He would never say such about Rihanna herself, the person," a direct representative for Minister Louis Farrakhan told AllHipHop.com. "It was not the person, it was the general act and what it represents."
To prove his point Minister Farrakhan provided a transcript and video of his comments about Rihanna's outfit, which was fodder for numerous media outlets, including Billboard, The Huffington Post, The Guardian and others.
"The full text is offered, here, so that any evil or any ill- intended misrepresentation of his words regarding our Sister, Rihanna, would not incite our Sister or those who love her to respond negatively to the continuous effort to bring respect and the uplifting of our people," the rep told AllHipHop.com.
Text and video is below:
"…When the Mahdi (Reformer) comes, he kills the swine. It doesn't mean he just goes around killing pigs, but the demon in you is akin to the behavior of a swine. Now listen. Just see if it fits. Try it on. If it don't fit, it aint you (colloquial language for humor).


Swine love filth. How about you?"



"I saw my beautiful sister the other night at the Grammy awards. Rihanna. My poor sister, she's dressed almost like -with a pair of draws. And she got her legs wide open and just grinding away.


"Ahhh, look at Rihanna, Go on, girl"


If that didn't revolt you, you're beginning to be a swine. When you can sit down and listen to somebody and every 3rd word is you "m-f" this. And they start talking about the act that is done in private and they bring it out in the public and make (it) so low down and filthy ; and you're sitting there laughing at a filthy damn joke and then the next day you go to church and sing in the choir, you're a swine.. Swine love filth. How about you?"