FCNNEWSSOURCE
(FinalCall.com) –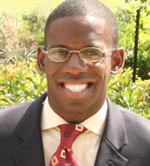 Jesse Muhammad, Houston-based staff writer for The Final Call Newspaper, was recently recognized for his extraordinary works in writing, speaking and community service.
Brother Jesse has been selected to be the newest member of The League ofEXTRAordinaryBlack Men. The league was founded by Brandon Frame of Boston under the umbrella of his group The Black Man Can. Mr. Frame founded this national organization with the thought in mind that young Black males need to have positive images in their lives.
"The Black Man Can selected Jesse Muhammad to be featured in The League ofEXTRAordinaryBlack Men because Brother Jesse is actively promoting a positive Black male image daily. Brother Jesse provides inspirational and motivational messages through writing, speaking and social media. Jesse Muhammad is making remarkable contributions to society and we at The Black Man Can wanted to acknowledge him for providing the positive contradiction to the prevailing Black male image of today. It is our civic responsibility at The Black Man Can to spotlight Black Men and connect the islands of success across the globe," said Mr. Frame.
"All praise is due to Allah (God). I am definitely humbled by this distinguished honor from Mr. Frame and his staff. My prayer is that this serves as motivation to keep my motives sincere as I'm blessed to do more purposeful work across the country," said Brother Jesse.
Brother Jesse capped off 2010 with a 20-plus city speaking tour throughout the United States and Canada. He is also presently working on his first soon to be released book "In Search of My Father: You Can Do It Too," a memoir about how he was able to miraculously find his biological father and his relatives.
(Read Brother Jesse's League ofEXTRAordinaryBlack Men profile at:http://theblackmancan.org. You can also visit his blog at http://jessemuhammad.blogs.finalcall.com.