JABRIL.MUHAMMAD
I assume people who are reading this paper have read Mother Tynnetta's words. They should. How much is a test for and why??????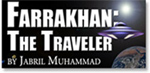 Now, I will, Allah willing get into my experience with the Honorable Minister Louis Farrakhan when he came from Mexico to Phoenix. But please read this interview carefully. This is from part of an experience I had.
As of right now, I'm asking the reader to read these words. It starts with these words:
"If Allah can't save me He cannot save you."–The Honorable Elijah Muhammad.
(To several of us over several years.)
"If Allah had not shown me how I was going to escape, I would have no hope."–The Honorable Elijah Muhammad (To Jabril Muhammad, in October 1967)
"Elijah Muhammad is dead."–Chicago Sun-Times.
"Muslim ruler Elijah Muhammad dies."–The Chicago Tribune,
"Elijah Muhammad Dead; Black Muslim Leader, 77"–The New York Times,
"Elijah Muhammad, Muslim Chief, Dies."–The Washington Post.
"Message sent Muslims: City in tribute to Muhammad."–The Chicago Defender.
This is what you would have read or seen and heard over television or radio on the morning of February 26, 1975.
These reports appeared in the Wednesday, February 26, 1975 issue of each of these newspapers and others throughout America and the world.
The news story about the death of the Honorable Elijah Muhammad appeared on the third page of the Chicago Sun–Times. It was positioned as second in importance only to the lead news story that the then Mayor Mr. Richard Daley had won re-nomination for an unprecedented sixth time, as he defeated three Democratic challengers.
The article began: "Elijah Muhammad, founder and leader of the Black Muslims, died Tuesday at Mercy Hospital. He was 77."
It continued: "Mr. Muhammad, who started the organization more than 40 years ago, entered the hospital for a routine check on Jan. 29. A week later he suffered congestive heart failure and remained in critical condition until his death Tuesday morning."
The Chicago Tribune's headline about his death appeared at the top and in the center of its front page along with his picture.
The first paragraph of the article under the above read:
"Elijah Muhammad, who rose from a day laborer to become the millionaire leader of the Nation of Islam, also known as the Black Muslims, died Tuesday in Mercy Hospital. He was 77."
Now, revolving more than around the Honorable Elijah Muhammad, were two forces, one good and the other evil against him–both secretly at work–not long before, during the night while he was in Mercy Hospital and right after it was announced that he was dead.
But if we go into this deeper, generally speaking, it was more than two forces. There were stages involved, but he did not die. I will not get into that now.
I'm aware that people think they have the total truth. I'll get into that later, Allah willing. I know my Brother thought that he was dead, but that was a cover to save his life. Many people think they know prophecy, but they don't. If they really understand Minister Farrakhan, they would see that he was put in that position to save his life. Therefore it allowed him to do what he has done, is doing and would do in the future.
Can you out think Master Fard Muhammad and the Honorable Elijah Muhammad?
Let us again go back to 1975; to the hospital in which it was said that the Honorable Elijah Muhammad had passed away. Let's do so, first, through the eyes of one of the sons of the Honorable Minister Louis Farrakhan, namely Joshua Farrakhan, who was interviewed for this book in the spring of 1994.
Here is part of that chapter; the full text of that interview to follow.
BROTHER JABRIL MUHAMMAD: Brother Joshua, three years ago, in 1991, you told your father and I, right after your father's Who Is God? speech, something so fascinating to, that we just sat on the staircase for about thirty minutes, as you went into what you told us, was the first time you detailed the experience you and two other Brothers–had nineteen years and two months ago–when it was an-nounced that the Honorable Elijah Muhammad died, in Mercy Hospital.
One of the main things you said was that you and the other two brothers were in the hospital that night and through the next morning when he was pronounced dead. Will you run down that whole ex-perience in the order in which you experienced it?
BROTHER JOSHUA FARRAKHAN: Well, as I recall it, about nineteen and a half years ago, as you call it, I was coming in from New York for Saviors' Day with my family, and I was staying with Alif Muhammad, who is the son of Herbert Muhammad. We were up playing games, or whatever, and it was rather late at night. We were very tired. Bro. Kamal was visiting and there were some other young brothers–
JM: Is that Bro. Kamal (Muhammad) who is the National Secre-tary?
JF: No sir. This is Bro. Kamal Karriem, whose father was the manager of Your Supermarket. We all were spending the evening there–
JM: What was the third brother's name?
JF: There was Bro. Kamal, there was myself, Hussein was there, and Alif. And Wallace (Mustafa Farrakhan) was there, my younger brother. And my older brother Louis (Farrakhan, Jr.) was there.
So we all were bunking in one room, so to speak, and we were very tired. So we had started to go to sleep, but for some reason, we were up talking late, but in and out of sleepiness, and con-sciousness. Then Alif had come into the room. It must have been 1:00 A.M. in the morning, or 1:30. It could have been a little later. He said that he needed two brothers to go with him on a detail. I said, what is the detail that we have to go on? He said, "I'll let you know, when I get you there, so get dressed." We hurried and got dressed. He had a very concerned look on his face so we knew he was seri-ous.
JM: It was you and who else?
JF: Me and Brother Kamal. I, at that time, must have been, maybe 17.
JM: How old was he?
JF: Alif, himself, must have been about 19.
JM: The same Alif you're–
JF: Alif, right, who is my brother-in-law and Brother Kamal Kar-riem, was approximately the same age as me, or maybe one year older–18. We got dressed and we drove down to Mercy Hospital, which is off, I believe, King Drive, 35th Street, somewhere in that area.
Alif told me that there was no one to stand post for the Most Honorable Elijah Muhammad, outside of his room. So, I said, what? I couldn't believe it! I said here we are in Chicago, at head-quarters, where there's thousands of Muslims gathering for the Saviors' Day convention, and the top brass so to speak was in town. Not only that, Elijah (Muhammad) Junior and Wali Baha–and there were Fruit here. So I said what would they be doing with just kids?
So instead of really questioning it, or having any disagreement to stand the post, I felt honored that I was chosen to stand this post. So we got up to the top floor. I believe it was the ninth or the tenth floor, maybe the tenth, and there was no brother up there. So shortly afterwards a brother come up off the elevator, a little old brother, maybe in his sixties. That puzzled me too. From an old man to a young man. In other words, people who weren't capable of doing the job, in case anyone came up to try to assassinate the Mes-senger, were there in the hospital guarding him. This is what I was thinking.
So, I looked at the old brother and he said he was–I asked him why wasn't he on post when we came up? He said he was down-stairs looking for the relief. So, we properly relieved him, and Alif had given us our instructions; he told us not to go into the room where his grandfather was, and just to every now and then walk down the corridor, and look in the room. You know, go by the room, and see if you see anything suspicious.
More next issue, Allah willing.