ERICTOUREM -Staff Writer-
Hip hop artist may have major impact on Haiti politics, but can he pull the country together?
(FinalCall.com) – On the streets of Port-au-Prince, Wyclef Jean, the popular musician and founder of the Yele Haiti foundation, formally announced his run for president of the country.
His music career and humanitarian work, have made him well known to Haitians and around the world, but can he bring enough to pull off a victory in the crowded, more experienced political field?
Does he represent a new political force that can redirect an impoverished nation decimated by earthquake, economic instability, political and possible civil unrest? Or does his candidacy, as claimed by some critics, serve as a front for Western interests seeking to further exploit the poorest nation in the Americas?
"I feel like I am being drafted by the population right now to give them a different face, a different voice," said Wyclef during a televised Aug. 5 interview with CNN, the night of his announcement. "Despite what you are hearing with regards to the tent cities, there is a crowd behind me right now with so much excitement because they feel that hope is on the way," he said.
A potential frontrunner in Haiti's upcoming Nov. 28 election, Wyclef was surrounded by crowds and placards bearing his name and resemblance as he awaits Aug. 14 clearance from the country's election committee that will officially allow his placement on the ballot. His proof of residency and nationality must be verified.
The Haitian-born and Brooklyn, N.Y.-raised entertainer is attempting a difficult transition–from Grammy-award winning, multimillionaire international recording artist to leader of a nation.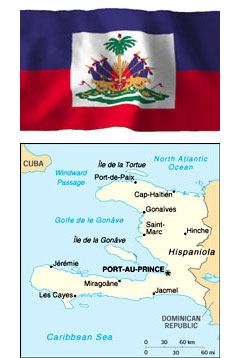 Whoever wins the seat analysts and pundits agree could have the toughest political job in the Western hemisphere–it could also serve as a test for Haiti.
Calherbe Monel, a Haitian American pastor, said discussions in the country reveal three levels of concern about a Wyclef Jean run: One, he has never been a politician. Two, he has no proven political leadership track record in Haiti and lastly, Wyclef is a high school dropout. This places, the highly philosophical, French speaking intellectuals at odds with him, said the pastor. Wyclef speaks English and Creole–not French, the language of her former colonial master.
"Haiti has so many qualified children overseas that can overnight, change the face of Haiti. However, the challenge for him and anyone coming from the Haitian Diaspora is winning over the spirit of a lot of people in Haiti, especially the rich, the bourgeois," Mr. Monel said.
"They are very arrogant. They think that we in the Haitian Diaspora think we are so empowered, with so much access to resources to really come and change things and they are right. The bourgeois are very afraid of anyone that can come in and balance this power with a connection to the population. Wyclef just happens to be the one used for this. How well will Haiti receive one from her own belly?"
"Mr. Wyclef Jean, hype or not, qualified to run a country or not, that is beside the point," Elizi Danto, director for Haitian Lawyers Leadership Network told The Final Call. "If the law applies, he simply does not meet the technical requirements to run for president of Haiti. To run he must, according to Article 135 of the Haiti Constitution, have lived in Haiti for a minimum of five years. Wyclef is a legal resident of New Jersey, USA.
"Even if by some stretch, Mr. Jean points to his 2007 appointment as ambassador-at-large by President Preval his 'residency in Haiti' still falls short. We await the Haiti Electoral Board decision," said Ms. Danto, who is a supporter of former President Jean Bertrand Aristide.
"Wyclef Jean will join a long list of artists–from Ruben Blades to Vaclav Havel to Fela Anikulapo-Kuti–who intimately understand the importance of culture to political change," commented Jeff Chang, author of the forthcoming book, "Who We Be: The Colorization of America."
"As a member of the hip hop generation, he has seen the power of art to move minds and bodies to elect the U.S.'s first Black president. The key question for our generation now is whether we are prepared to govern and ready to lead?" he said.
"Yo, are you serious?" chimed in Public Enemy front man and television personality Flava Flav, when learning of the news through The Final Call. "This is deep. He might be their Obama. His impact on the youth segment will be key though, to any success he could have in bringing the country together. Whoever does it (becomes president) has to bring the country together," he said.
Haiti's politics and challenges
The country's most popular political party, Fanmi Lavalas, representing president-in-exile Aristide, is barred from participation in the upcoming election to choose a new president, 10 senators and 99 members of parliament.
There are also campaigns in Haiti calling for a return of another president-in-exile, Jean Claude "Baby Doc" Duvalier, the infamous dictator of the 1980s in Haiti living in France. Mr. Aristide resides in South Africa.
Ravaged Jan. 12 by a deadly 7.0-magnitude earthquake that killed more than 250,000 people and left as many as 1.2 million homeless, Haiti has to rebuild its entire governmental infrastructure–not to mention its inhabitants who have not received aid promised by the international community.
Huge numbers of the capital's inhabitants remain in poor housing, live in tent cities or are homeless, and many are without clean water or security.
Quake survivors say poor governance, corruption and shoddy construction magnified the impact of January's quake.
"The rebuilding efforts are going very slow for many reasons," said Mr. Monel, founder and president of Christians United for Haiti, Inc., a non-profit and missionary organization focused on leadership development.
Just back from Haiti, Mr. Monel said before the quake the country was in a leadership and financial crisis. "So, when the earthquake took place, 28 of the 29 government buildings had collapsed including the (presidential) palace. That caused major handicaps in response time. It took the president (Réne Préval) three to four days after the earthquake for him to make a statement. So the first job was for the government to get back on its feet.
"All of the Supreme Court judges died, several key government people died from the Congress in Haiti, the department of finance, vaccinations, you name it–have lost their lives," he said.
Billions of dollars in pledges have been earmarked for country, by the global community and donors such as the Red Cross and others.
"However, on the ground," said Mr. Monel, "you cannot tell where the monies are going. When it comes to shelter, millions of people are still living in tents. There are quiet medical outbreaks such as malaria; skin diseases like rashes and eczema, ringworms amongst the children. The living conditions are not clean," he said.
Another crisis with very little attention he lamented is the rape and molestation of women and girls by criminals within tent cities and the psychological damage suffered as a result of the quake.
"There are no coordinated efforts to address the issues of shelter, health and safety issues of the survivors," Mr. Monel said.
Vision versus experience in election?
"Win or lose, Clef's participation in this election has the potential to change the landscape of Haitian politics," said his brother, Sam Jean, in an interview with the Christian Science Monitor. "It's going to bring an incredible amount of scrutiny, and that's good for the Haitian people."
"There are some advantages to this media coverage of Haiti, through this Wyclef Jean candidacy," Ms. Danto said. "It won't help Mr. Jean. But it is an opportunity for those of us who care to bring the real Haiti narrative to the fore on this media frenzy leverage."
At least 58 parties and 20 candidates are registered for the presidential race to succeed President Réne Préval, who is barred by constitution from seeking re-election. Voters will also select legislators and local officials as well. Among Mr. Jean's opposition is his uncle, Raymond Joseph, who until Aug. 1, was Haiti's ambassador to the United States. Mr. Joseph resigned to pursue his presidential aspirations, but insists he and his nephew are not running against each other. "We are family. And we won't allow politics to divide," he said in published reports.
Another candidate is Michel "Sweet Micky" Martelly, a musician and entertainer whose lyrics have poked fun at the Haitian presidency. Nowhere near the celebrity Wyclef, yet popular on the Caribbean island, Mr. Martelly earned the endorsement of Pras Michel, co-founding member of the Fugees with Wyclef, and his cousin.
"I just think that there are candidates that are more qualified than Wyclef at this point right now," Pras said in an AP interview. "I saw him the other day, but I didn't get a sense of what is the real plan for Haiti. Haiti needs what I call a short term plan and a long term plan. You got 1.2 million people living in tent city right now. What are the plans to get these people out of tent city and into regular civilization?"
"Anybody has a right to run of course, if the elections were open–and they are not at this point," said Dr. Akinyele Umoja, of the Department of African American Studies at Georgia State University. Wyclef Jean is aligned with reactionary elements in Haiti that vocally supported U.S. and CIA death squads that murdered thousands of Haitians, charged Dr. Uomja.
These death squads played a role in the Bush administration's 2004 coup of the popularly elected government of Mr. Aristide and Wyclef called these people "freedom fighters," he added.
His uncle, Raymond Joseph, is also a major player in representing the Haitian elite's continued oppression of 90 percent of the Haitian population, Dr. Umoja continued. This is why the current Haitian U.S.-backed government is preventing Lavalas from participating in elections, he said.
In February of 2004, during an interview with MTV music news, Wyclef Jean voiced his support for embattled Haitian President Jean-Bertrand Aristide to step down and asked his fans to remain hopeful of a better Haiti. Those comments, detractors say, showed support for the U.S. ouster of the president, but not everyone agrees with that view.
"The country's in an uproar; it's not safe. But for the safety of the country and to stop the violence, it has to be a situation where he steps down. If the president steps down, there will be some form of negotiation with the opposition force," said Wyclef as Haiti was locked in a political stalemate that had deadly repercussions. The Aristide regime had also received little, if no support from the U.S., as the crisis and violence wore on.
"I don't consider those people rebels," Wyclef told MTV news. "It's people standing up for their rights. It's not like these people just appeared out of nowhere and said, 'Let's cause some trouble.' I think it's just built up frustration, anger, hunger, depression."
Wyclef also asked his fans to understand that the uprising was not simply senseless violence. "What I want people to be clear about is it's not just people chopping up people for no reason. It's on the level of a civil war. People want the president that is currently the state to step down. And him stepping down will let the people make any kind of negotiation to come up with some form of peace," he said in the midst of the 2004 crisis.
Those comments will likely be thoroughly discussed, dissected and deciphered as Wyclef's campaign goes forward.
"The fact that he is a celebrity, the fact that he has been found on the ground working and has established a connection with the people, does not necessarily mean he will be a good president," said Dr. Ron Daniels, president of the Institute of the Black World 21st Century and founder of the Haiti Support Project.
"We have to see what his vision is, what he is articulating and what his platform is. This is a serious moment in the history of the country. What his plan is and how he intends to move forward has to be understood."
Regarding the Wyclef's comments of 2004, Dr. Daniels responded, "I won't say he (Wyclef) is the most politically astute and there is no question that the American government was absolutely wrong in ousting President Aristide, but that is not the whole story," Dr. Daniels said. "All of us should always be aware of the origins of history. Here, Wyclef was someone on the ground, who saw a situation that needed to be corrected. He did not have the answer, all he saw was his home in crisis."
In Dr. Daniels opinion, Wyclef made an emotional response minus the politics and wanted a change in his people's existence. And, though he might have been found on the wrong side of the U.S. action, Dr. Daniels continued, "I think Wyclef and Ambassador Joseph through their actions since the earthquake have acquitted themselves well. I am sure they will have to address that time period. I would not have worked with them five years ago, but this is the way history moves."
"As for Wyclef in particular, when you are building a country you have to work with a broad sector of people even as you build your own political core. Who does he see as assembling around him to make the team that will make up for his lack of political experience? I've never seen experience in and of itself as the sole qualification for office nor celebrity. The vision and platform are the most important things," Dr. Daniels said.
Possible making of a youth movement
Wyclef believes his presidential run can impact youth and it appears his desire to impact Haiti's youth served as a major reason why he decided to run for office.
"I had to take a position in office so that the youth population in Haiti, which is over 50 percent of the population, we can start to provide a way to get them out of the mess that they are in," he said, on the Fas a Fas Movement Web site. He is a founder of the Fas a Fas Movement.
"The media will forget Haiti," the movement's mission statement reads. "They probably already have done. We will not! Activists around the world, young Haitians, and this movement will report what happens, without censorship, without servility. Through this movement the young Haitians, abandoned by the media, will become the media, establishing a permanent observatory of the territory, exposing corruption, other anomalies and injustices, so they will not remain unpunished any more."
Haitian elections historically have been volatile and the country has a long history of dictatorships, supported by the U.S., followed by years of political turmoil and civil unrest. The November vote is viewed as a key step towards rebuilding the country and its political institutions.
The United Nations has pledged observers and security for the vote and other international bodies have promised a strong monitoring presence.
On Aug. 6, the Organization of American States and the regional umbrella group for Caribbean nations also promised a thorough observer mission to monitor the electoral process, from candidate registration through the proclamation of results.
The estimated cost of holding the election is $44 million, a tab paid primarily through international donors. OAS and CARICOM diplomats have said that this is the most expensive mission ever undertaken by both groups.
Related news:
A Voice For Haiti, A Voice For All Our Rise (FCN, Minister Farrakhan)
Wycleff Jean and Haiti's uphill road (FinalCall.com Editorial, 08-10-2010)
Analyzing Haiti's history of hardship (Web Video, 01-14-2010)
Disaster hits Haiti: Magnitude 7.0 Earthquake (FCN, 01-13-2010)
Naomi Klein issues warning on "Disaster Capitalism" in Haiti (FCN, 01-14-2010)
How the U.S. impoverished Haiti (FCN, 09-10-2003)