-Staff Writer-
'We have to do something'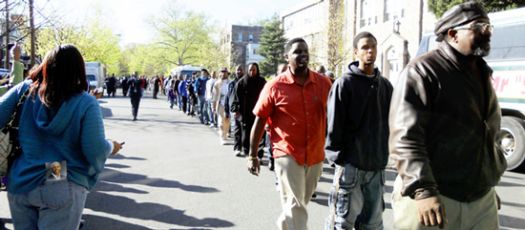 TRENTON, N.J. (FinalCall.com) – What was promoted as a "Stop the Violence" rally at the First Baptist Church of Pennington to respond to the alleged rape of a seven-year-old girl in a housing complex quickly became the largest recruitment of community men to join the Peace Keepers, a neighborhood watch program to protect women and children.
"The reason we have the Peace Keepers is because there is a problem across America with crime and violence. But crime and violence is not everywhere. There's no crime and violence in Crown Heights (a section of New York City). You won't hear about a drive by or police coming to beat up Jews in Crown Heights," Peace Keepers founder Dennis Muhammad told the standing room only crowd of several hundred people. "You can't go into a community that loves itself and brutalize it. You can only do it in a community that doesn't love itself."
After his rousing words, he quickly organized dozens of men from Trenton and surrounding areas to march out of the church and into the neighborhood where the alleged rape occurred.
"I think it's a good beginning," Trenton Mayor Douglas Palmer told reporters as he and hip hop legend and businessman Russell Simmons marched alongside the men–which included a contingent of the Nation of Islam's Fruit of Islam. Thrilled residents watched and waved from their homes.
"The proof will be if we can get more men together in this and other sustaining activities," said the mayor, regarding follow up efforts.
The mayor was initially reluctant to come to the rally but changed his mind when the Peace Keepers got involved.
"I'm sick and tired of marches and didn't want to participate in another one. I prayed on it this week. I believe that this time it will be different. The whole world is watching. I've gotten calls from all over the world from people saying 'how can I help,'" said Mayor Palmer, when he spoke at the rally.
"Folks, I believe it will be different because people are working together. The blame game is over. We're going to work together. I've been in constant contact with this family on a daily basis. This is a family crisis. They are going through hell. Pray for this seven-year-old. She's a baby."
It was a rally reminiscent of a summer church revival full of spirit, rousing songs from a choir and speakers that had the crowd stomping and standing on their feet.
New York radio legend Bob Law said, "We can't deny the conditions that contribute to the violence in our communities but how can the government declare a war on violence and they don't declare war against the conditions of poverty that produce the violence?" he asked.
Connie Watson, wife of community activist, rally organizer and mayoral candidate Shahid Watson, said it was important to teach women and girls how to dress themselves and respect themselves. "We have to march our children out of the foolishness they're into today," she said.
According to police, a 15-year-old girl took her 7-year-old stepsister to a party and had sex with men for money. For more money she allowed the men to touch her sister. That touching led to gang rape, police said.
The Rowan Towers high-rise community just blocks from the church is all too familiar with crime and violence associated with inner city life–but the alleged gang rape, which took place in a vacant apartment, has motivated residents to demand change.
The rally and demand for action was "way overdue for this community. The Peace Keepers give order and structure to our community. Their coming out of New York was very uplifting and inspiring. It gives us hope that if it can happen in New York it can happen here. We are happy to have them," said Rev. Melvin Brown, president of the Trenton Youth Crusade.
Organizers say the Peace Keepers have had success records in New Orleans, New York, Houston and Wilmington, Del. Mr. Simmons was instrumental in bringing the group to Queens, New York.
"We sit back sometimes and allow just a few bad eggs in our community to scare us off our own corners," Mr. Simmons said. He told the audience some of his history. "I stood on the corner. I sold drugs. But I went back and saw what it felt like when we launched our Queens Peace Keepers movement.
"We must show that we love our community. The eyes of the world are on Trenton and how this movement progresses. We can inspire other communities around the world," he said. "Trenton's going to make a huge statement. It's a shame we had such a terrible event to bring us together."
The Peace Keepers come into communities with a rally, recruitment, training and then a street corner Hour of Power, which started last February in New Orleans.
"A four year old had just been murdered by his dad because he didn't want to pay child support," said Willie Muhammad, who runs the program in New Orleans. "That crime motivated us to do something. We brought the Peace Keepers and began patrolling. Things have changed since then."
"We started with one Hour of Power but our goal is to keep increasing it. We offer more than just neighborhood patrols. We connect residents to GED programs and let them know about jobs. The program is beneficial to the residents but it also helps the men who walk. They have a better sense about the neighborhood."
Change for Trenton begins April 24 with an orientation session followed by six weeks of training.
"We were in negotiations to bring the Peace Keepers to Trenton before the rape. This crime just escalated the process. Russell was the financial supporter that got New York started. He's committed to half of the money for Trenton and the mayor has committed to the other half," Dennis Muhammad told The Final Call.
After the training, which includes teaching the proper handling of people, first aid and self-defense a community in need is targeted with weekly patrols.
"If we are consistent, it's like taking an antibiotic. We will eventually change the community. This program is about long-term sustainability. We'll be back in two weeks for our first training. If most of these men come back it will be our largest group in America."
"They can see making this happen. We want to duplicate the success of the program in New Orleans where they've received proclamations from the city for reducing crime. My goal is to make Trenton the best in the country because of the worst tragedy that happened here," Dennis Muhammad explained.
Shahid Watson organized the rally and suspended his campaign in response to the tragedy. "I was molested at seven," he told the shocked crowd. "For years I wanted to take the life of my molester. It's one thing to be violated as a girl, it's a whole other thing to be violated as a boy. It's not only our daughters but our boys are being molested too.
"The pain and hurt looking at what happened to her and my personal experience motivated me. We have to do something about this. The Trenton community has responded positively," he said.
Rowan Towers housing management, Interstate Realty, met with residents April 7 and promised greater security. The alleged gang rape, which police say involved some seven men and boys, was reported on March 28. Four minors, including the seven-year-old's step sister, and two adults had been charged in the case at Final Call presstime.