JABRIL.MUHAMMAD
"O you who believe, take not My enemy and your enemy for friends."
(Holy Qur'an 60:1)
"Allah has not made for any man two hearts within him."
(Holy Qur'an 33:4)
***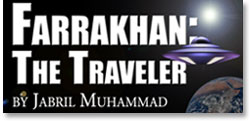 The Honorable Minister Louis Farrakhan made a very special "statement" of "guidance" to the Nation of Islam and to the world on November 28, 2009.
I'm in the process of deepening an aspect of my witness of Minister Farrakhan's work.
We are living at the end of this world and beginning the next one. The next one is referred to in the scripture as eternal. This (the present one) is passing out forever.
This witness involves the above date when Minister Farrakhan made his very special statement that is filled with guidance to the Nation of Islam and to the world.
His words must be studied.
Now, I'll put the words of Sister Latonja Muhammad and I intend to put some of the words of Cedric Muhammad, next article, Allah willing.
Sister Latonja Muhammad, former Editorial Assistant for The Final Call, wrote on the back page that book "Is It Possible That The Honorable Elijah Muhammad Is Still Physically Alive???"
"The Honorable Minister Louis Farrakhan is both loved and hated, his message is both soothing and unsetting, and he is far considered the most controversial Black man in America.
"Many will agree, of every thing that he teaches, the most explosive, deals with the title of this book, Is It Possible That The Honorable Elijah Muhammad Is Still Physically Alive???
"This book is a must read for anyone seeking to understand Minister Farrakhan and his mission.
"It comes from the pen of an eyewitness and helper to the person and the works of both men–the Honorable Elijah Muhammad and the Honorable Minister Louis Farrakhan.
"'Muhammad explores this most compelling question; Is It Possible That the Honorable Elijah Muhammad is Still Physically Alive??? by taking the reader on an intimate journey from the time Minister Farrakhan stood up to rebuild the work of the Honorable Elijah Muhammad to the time when he became convinced that his teacher was/is still alive in 1980, to the time when he had a direct encounter of this truth during his 'More Than A Vision' experience with the Honorable Elijah Muhammad, in September, 1985.
"Who is Minister Farrakhan that he should represent this man, as alive, to America and to the world? How does the above relate to what is written of both Jesus and the Prophet Muhammad of 1,400 years ago? Jabril Muhammad explores these questions and more in language that both the scholar and the layman can comprehend.
"If you had any doubts, or are still in doubt, about the evidence supporting the possibility that this man, Elijah Muhammad, is alive, this book is a must have. It will make a Believer out of you, or at least raise the reasonableness of the question in your mind: 'Is It Possible That the Honorable Elijah Muhammad is Still Physically Alive??? ' "
Now, on page 100 you can read these words:
"June 5, 2006 I interviewed the Honorable Minister Louis Farrakhan on a number of topics. One of them was what he thought about my idea of placing the letter that the Honorable Elijah Muhammad sent to me back in November 1966, in this book. Here was his response.
"There is no witness stronger than his own witness of what he knew would come to him, except Allah. He told you in the letter that he would escape a death plot. He gave several instances of scripture that confirmed that.
"So our saying he's alive is strengthened by his words and he confirms what we've been saying that he is alive in the face of those who say: 'Well the Honorable Elijah Muhammad never said nothing like that' or 'I never heard nothing like that' or 'I don't believe the Honorable Elijah Muhammad is alive.'
"Well here's a letter that he wrote at such and such a time in a certain context. And he bears witness that he would be taken on the heel of a death plot. Then, in connection with this death plot, the Honorable Elijah Muhammad told you that, 'If Allah had not shown me how I was going to escape, I would have no hope.' "
Now, on page 332 of Closing The Gap we can read the words of Minister Farrakhan:
"Going back to my first hearing that God had raised a man for us. And knowing that I had searched for a man like this all my life, then I surrendered myself to him completely, so he was able to put himself in me. And when he left us in 1975, he knew that what he desired to do had been done, it only needed time; watering; circumstances; events for him to grow again in me.
"Now with your experience I realized that when he told me, 'Brother you may sit in my seat as the father over the house when I am gone.' At another time he said, 'Brother, Allah made me to take His place among the people and I am making you to take mine.'
"In reality, he's growing me up to sit in his seat, as the father over the house, to fulfill the work of Elijah and the work of Elisha, and the work of many that are written in the book.
"This also caused me to reflect on the Jesus figure, when one of the disciples wanted to see the father that the Jesus was always talking about. And he said to that person, 'I have been among you this long and you have not seen him?' Then he went on to say, 'When you see me, you see the father for I'm in the father, and the father is in me. Me, and my father are one.'
"Coming back to your experience, when you heard his voice saying, 'They are coming for me in him.' That suggests to me that oneness with him has been accomplished and he now has my mind. And my mind is now lined up with his in more ways than I probably at this juncture fully understand, but will grow to manifest it more and more.
"It also signifies a great, great deal of power. It also signifies the fear of the enemy who put in Esquire magazine a cartoon with the former late president of France, Charles de Gaulle who said, speaking of white people, that it was Charles de Gaulle, Moshe Dayan and others from Israel and other places, 'Were it not for this man, we would have a glorious future.'
"If they're coming for him in me then my presence ends their presence and destroys their future. So they have come to the decision; to the determination that I and we must be destroyed for them to have a future. The feet that you heard represents many troops; the many minds; the many forces that are lock-stepped now in agreement to get him in me and to get us out of the way.
"We knew that such a time as this would come. And we knew that this is the only way that God can prove His presence; His choice of a people; His power. In those footsteps of the many conspirators; hypocrites; devils, under the direction of Satan himself, they will be defeated totally and completely and then the Kingdom of God will be established."
More next issue, Allah Willing.