JABRIL.MUHAMMAD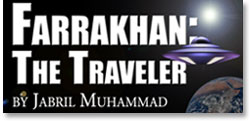 I was just blessed to see the Honorable Minister Louis Farrakhan teach his people, the original people, and the United States of America, and the world. We saw and heard "The Time and What Must Be Done." Part one. I love it! I want to share it in any way I can. Get a copy of this speech/talk and really study it.
In my last article I wrote: "I'm in the process of ending my articles containing the words 'He's Alive.' I'm referring to the Honorable Elijah Muhammad and the fact that he is very much alive. I was referring to the fact that in the series, I'm showing that the Honorable Minister Louis Farrakhan is not insane nor is he taking advantage of the people's ignorance, when he states that his teacher is very much alive."
Minister Farrakhan, referring to his teacher, the Honorable Elijah Muhammad, escaped a death plot, by the power of Allah, in the person of Master Fard Muhammad.
That fact points to this: Minister Farrakhan was designed perfectly to do what he does, by the Lord of the Worlds–God Himself, to do what he does in the manner that he does–teaching by the millions.
When you read this, think over what makes Minister Farrakhan's lecture series, that began on November 15th so pivotal.
In the introduction of the book "The Art of Seeing" is a discussion on seeing, about how natural, easy and even simple seeing seems to be. However, as, Mr. Derek Doefilnger points out, "behind that simple act, lies a profound process that affects how we eat, think, learn, and how we photograph."
He continues, "We learn seeing early in life. And the seeing we learned was one that would help us survive. One that would spot mother's face, charging sisters, and unlick(ed) bowls of frosting. One that would help us avoid speeding cars and guide us down stairs. Not one that would help us photograph.
"At first we paid attention to everything we saw because everything we saw was new and interesting. Cupboard knobs, pebbles, leaves were all given their due. But eventually they became old hat and boring. So we learned to ignore. After the first few years of life, we ignored more than we say, and our seeing became casual and uneventful. Our ways of seeing were set.
"Sometimes later in life we put a camera to eye and began photographing. What did we photograph? We photographed things we thought were supposed to be photographed because we had seen similar photographs in magazines and books. And our results were not works of art but snapshots caught by an eye not yet trained aesthetically, an eye not yet in tune with the camera.
"When dissatisfied with our results, we often sought solutions in new lenses and filters or in special techniques like panning. We avoided the real solution ourselves. Seldom does a photographer succeed because of unusual technique or exotic equipment. It succeeds for one reason. Because the photograph was well seen. This book will help you see to photograph." Then, a few lines down he continued, "It will help you overcome habits of ordinary ways of seeing. It will help you understand the ways of your seeing and how those ways can be altered."
Then a few more lines down he wrote, "It will make you reexamine preconceptions and prejudices."
He concludes with "But most of all it will help you see the things only you can see." Of course, the principles he writes of about photographic seeing pertains to our success in all aspects of our lives and the unique contribution to the world each of us are to make.
The next section is titled: Preconceptions. In it he emphasized that preconceptions inhibit one's ability to produce photography on the level we might be capable of performing. Yes and there is no area of life that is not affected by prejudices, one-sidedness, bias, that leads to close-mindedness and intoleranceÑespecially towards that which we don't understand or about which we really know little.
At one point the author wrote: "Coming to grips with your preconceptions is the first step towards better seeing." The term "coming to grips" means "to face and cope with." Among the meanings of the word "grip" is a "mental or intellectual hold," like in having a good grip on a problem. It means "competence or firmness in dealing with things."
He then quotes from John Szarkoski's book titled, "Looking at Photographs": "Before grappling with preconceptions, you should know more about them. How do they form? Why do they form?"
Mr. Szarkoski used his (and his wife's) experiences with their daughter from her birth onwards. He gave a brief outline of some of the principles they used to teach her how to "see." He stated, at one point, that "Her future ways of seeing would, in part, depend on what she was taught to appreciate." This has to do with the ordering of her values; her priorities.
He took into account that different people in different parts of the earth see a different world, depending on the culture or the society in which they were raised. He also observed the fact that there are differences within the same society, that affect how different people see.
After illustrating the above he reminded the prospective photographer that they too came to his book with their own set of preconceptions, which they must discover and work through and get rid of, in order to be the best photographer they could be.
Now, how do we see in the following? In Luke 4:18, 19 are these words of Jesus, so we've been told.
"The Spirit of the Lord is upon me, because he hath anointed me to preach the gospel to the poor; he hath sent me to heal the brokenhearted, to preach deliverance to the captives, and recovering of sight to the blind, to set at liberty them that are bruised, to preach the acceptable year of the Lord."
Then in verse 20: "And he closed the book, and he gave it again to the minister, and sat down. And the eyes of all them that were in the synagogue were fastened on him."
Compare this to Isaiah 61:1, 2: "The spirit of the Lord GOD is upon me; because the LORD hath anointed me to preach good tidings unto the meek; he hath sent me to bind up the brokenhearted, to proclaim liberty to the captives, and the opening of the prison to them that are bound; to proclaim the acceptable year of the LORD, and the day of vengeance of our God; to comfort all that mourn … ."
If Luke's passage is intended to say that Isaiah's words, from God, were fulfilled 2,000 years ago in that synagogue, why was the comma removed?
The writer removed the rest of the words: "and the day of vengeance of our God; to comfort all that mourn … ." Why?
Do these words in the Book of Revelation apply to what was done above? "For I testify unto every man that heareth the words of the prophecy of this book, If any man shall add unto these things, God shall add unto him the plagues that are written in this book: And if any man shall take away from the words of the book of this prophecy, God shall take away his part out of the book of life, and out of the holy city, and from the things which are written in this book." (Revelation 22:18, 19)
In the Holy Qur'an we find the same warnings.
Many the world over believe that Jesus also said these words and that his return is imminent: "I come quickly; and my reward is with me, to give every man according as his work shall be." (Revelation 22:1 2)
If these words were uttered by Jesus 2,000 years ago, how are we to understand the word "quickly?" He is also said to have said that there were those who would not die before the kingdom was set up in their life times. How are we to see this?
In the course of that lecture, the Honorable Elijah Muhammad indicated, for those who were listening carefully, that Minister Farrakhan would be a divinely generated bridge, to enable millions to get across "the river," from the state of damnation to the state of blessedness. What kind of watery substance was it that Moses and Aaron got the people over or across? Why was it called the "Red Sea?"
More next issue, Allah Willing.