CHARLENEM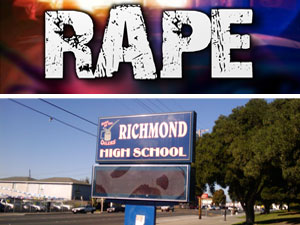 RICHMOND, Calif. (FinalCall.com) – The family, friends, and community of a 15-year-old White girl who was allegedly gang-raped outside her homecoming dance at Richmond High School, were still grappling with how such a heinous act could occur and how to ensure that it doesn't happen again.
They convened a town hall meeting in the school's auditorium on October 31 and made a plea for peace and safety.
"Please do not respond to this tragic event by promoting hatred or by causing more pain. We have had enough violence already in this place," said Pastor Jim Wheeler of First Presbyterian Church of Richmond. He read the family's prepared statement to approximately 200 students, parents, school officials, and residents.
Since the incident on October 24, police have arrested five suspects, between the ages of 15 and 19. Four are being held without bail, and one on $1.3 million bail. A 21-year-old initially picked up in connection with the incident was recently released citing insufficient evidence.
According to police, about 10 men and boys raped and beat the young girl on a table in a courtyard behind the school for about two and one half hours while 20 more stood by, laughed, watched, and even took photographs.
"I'm saddened that something this horrific would happen or befall this young woman, and that people would commit such a heinous act against her. My heart goes out to her and her family and my focus right now and my colleagues is to do what we can to assist her and her family and help the community, which is also impacted by this, find some healing," said Tony Thurman, member of the West Contra Costa Unified School District.
The district is implementing programming to ensure that similar incidents do not happen, including more lighting around school campuses, additional fencing, and increased roving patrols whenever students are present on campus–whether school is in session or not.
They are also developing a curriculum to educate young people on empathy, civility, respect for each other, and community violence solutions around rape and violence prevention, Mr. Thurman said.
While teenage years are supposed to be filled with excitement of proms, graduation, planning for college or other post-graduate adventures, and the promise of independence, this promise of youth has been snatched away from the victim of this attack.
The recent town hall meeting was an attempt to create a space for the youth, their parents and the community to open up and freely express about the incident and its impact.
"People are coming together as a community, but there's a better way for us to do this. This shouldn't have had to happen for us to finally come together," said 17-year-old Nicole Brice, who will be graduating from Richmond High this year.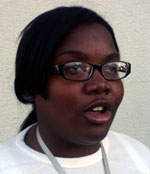 "No one deserves to be raped. I already knew that before they put us in counseling groups," Nicole said. She is upset that the rape occurred, and also upset because she believes the media has blown the incident out of proportion.
"I knew they would make it seem like Richmond High is the problem. Richmond High is all bad, and this is what comes out of Richmond High, but that's not the case … there are some positives," she told The Final Call.
Some of those positives are rising test scores, rising attendance, and more youth involvement with education.
According to Kathleen Sullivan, a community activist, whose son scored the winning touchdown during the school's recent homecoming game, there was basically no media exposure for what culminated in the students, alumni and community coming together on the evening of Oct. 30 to dedicate Richmond High School's new stadium and honor about 40 alumni, but the next night was a whole other story that catapulted them into mainstream, national news.
Her daughter, Michelle Williams, a 15-year-old student at Vista High School, said she was shocked when she heard that a girl her own age had been raped, and even after seeing news reports, she still couldn't believe what had happened. "I didn't think it would be nationwide news but people started calling us," she said.
The girls told The Final Call that some of their peers want more discussion around protecting themselves from risky behavior, but that isn't taking place.
"They're telling us not to say, like, her background … that she was loose … They said it period, point blank, we can't talk about the victim, because nobody deserves that, and that would be blaming the victim, but there are certain things that you have to say," Nicole said.
"Mainstream media has not brought the issue of risky behavior, and the proper context for discussing risky behavior is not to say that if you engage in risky behavior, you deserve what happens to you, it's just to say that if you engage in risky behavior, you have increased the chances for something bad to happen to you," expressed Barbara Becnel, executive director of Neighborhood House, a grassroots social service agency in North Richmond,
"Maybe our society has become so uncaring or so afraid to help, to be that good Samaritan, that 20-something males could have watched a girl be beaten severely, but I don't know? Would you have felt like it was the manly thing to stop the beating, but yet it was voyeuristic to watch sex?" said Ms. Becnel, also the co-author of nine gang prevention books for youth by reformed gang leader Stanley "Tookie" Williams
Nadeen Elshorafa, Site Organizer for Youth Together, an after school program that fosters leadership development at Richmond High and several other Bay area schools, said that the youth frustration stems from standing in solidarity with their classmate who has been sexually assaulted and needing to highlight the conditions and environment that fuels certain things.
"They're very frustrated when they hear people from the media starting to call people from Richmond animals, and saying, 'you're breeding savages at the school,'" Ms. Elshorafa said. To isolate the situation is both disingenuous to the young girl who was violated and to the entire community, she added.
For instance, 'girl gets raped' headlines are disingenuous because they slant the story as if she went out to get raped, but language also becomes a problem when news reports that Richmond is mostly populated by people of color, because they insinuate that this is what people of color do.
"No, this not what people of color do. You need to put everything into context," Ms. Elshorafa said. The responsibility for violence against women rests with the nation, and not just Richmond and California, she said.
Approximately a week before the assault, youth organized a college united basketball tournament, held a Unity Day, put on a talent show, and a graffiti battle, she said. "In addition, we had a youth summit against violence prevention where hundreds of youth came out on October 17, but where was the media then?"
Yusuf Muhammad, student coordinator for the Nation of Islam's Richmond Study Group, concurred. "We don't want this case to be used as an excuse for our youth to be slaughtered outright. There is an undertone by the national media that can't be overlooked. It's a tragedy on both ends. This was wrong, wrong, wrong," he said.
"Since they're able to bring into custody the alleged perpetrators, what about the other crimes? It also exposes the great void of attention that is paid to our youth and the need for more resources to cultivate our youth," Mr. Muhammad added.
Ultimately, Ms. Becnel said, the problem is a larger culture, including music, videos, dramatic series, reality shows, and even commercials, that portrays women in various stages of undress, displaying some form of sexuality.
"I wonder if those kids were sort of frozen in a way because this was just another scene that you passively watch?" she asked.
Related links:
Sexual Assault (WomensHealth.gov)