-Staff Writer-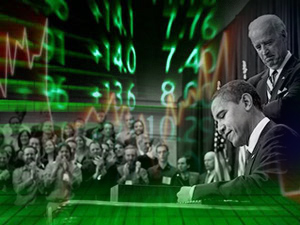 WASHINGTON (FinalCall.com) – On a sunny afternoon at Union Station having commuters, tourists and students share their thoughts on the president's recovery program revealed some answers, but there were also plenty of questions.
"I think the president is trying to repair the mess he inherited from George Bush. It's not going to happen overnight but my cousin's boyfriend got in a training program and now he's fixing roads. Sounds like a recovery to me because he was unemployed for a long time before that," Rosalind McArthur told The Final Call.
"I commute from Fredericks-burg, Va. everyday to come to work. I haven't seen any of the tax credits in my paycheck yet but as long as it doesn't go down I'm happy. I'm also glad the president is trying to get health care for the people. Too many people don't have health care and that's a shame."
A new poll by New America Media found people of color had a far more positive feeling about the $787 billion stimulus package than their White counterparts, with 84 percent of Blacks saying it was "a good thing" for the country, while only 45 percent of White adults agreed with that statement.
The poll conducted by Bendixen & Associates found that more than two-thirds of Hispanics, Blacks, Asian Americans and Native Americans said the legislation was a "good thing" for their families and communities.
"The poll findings are disturbing but not uncommon. For those firefighters and teachers that were looking down the barrel of a gun, the stimulus has provided a one, two maybe three year stay of execution for those individuals about to fall off a cliff," said Chris Keely of Common Cause.
As a member of the Congressional Black Caucus explained, stimulus money has been divided into thirds for distribution. "One third went to tax cuts for everyone working who makes under $150,000. People are seeing more on their paychecks. It may not be much but people are forgetting about that aspect. Another third went to states to stabilize employment. Unemployment benefits have been extended. Black people have gotten those dollars," explained Rep. Elijah Cummings (D-Md).
"Another third has gone to contracts to repair the infrastructure and create jobs. Minority contractors have gotten some of this money. They are employing people and doing good in their community."
The president's message of reform and recovery seems to have hit the masses but details of actual benefits are sketchy. In interviews with 20 people at Union Station, The Final Call listened as people said they heard of the stimulus plan but only two people could name a program with direct benefits–the now expired "Cash for Clunkers" program that helped spark new car sales.
In the New America Media survey, most adults of color agreed with Whites that they were not aware of actual benefits from the legislation. These poll results strongly indicate that President Obama's administration has not effectively communicated the ways stimulus spending has positively impacted families and the economy.
"It is really saddening to me that here we have the largest public investment in America by our government since the Great Depression. It has provided loans to many small businesses across the country, it has provided tax cuts to nearly every American and yet our poll found that most Americans don't know about this," said Aaron Glantz, New America Media stimulus editor.
"They don't know how to access the stimulus. It underscores the need for the administration to explain what opportunities exist in detail when it spends nearly $800 billion."
The poll also painted a picture of many Americans of color struggling to survive in difficult economic times. More than 60 percent of Hispanics worry about their ability to pay housing expenses; 50 percent of Native Americans worry whether they can afford basic food, medicine and clothing for their families; and more than 30 percent of Blacks and Asian Americans worry about losing their current full-time job.
"I'm just glad I have a job," said Henry Kimble. "So many people are out of work and looking for a job, losing their homes and cars. If that's one of the benefits then I'm good."
"Too many people are just holding on. I hope whatever the benefits are they start taking hold soon. People can't take much more misery and suffering. Everybody's mad about what's going on."
Only 48 percent of the recovery funds have been obligated which leaves hundreds of billions still available.
"Across the country," New America Media executive director Sandy Close said, "the Recovery Act has made billions of dollars available for extended unemployment benefits and health insurance for laid off workers. It has appropriated money for small businesses and arts organizations."
"It has prevented thousands of teachers from being laid off andkept firehouses from closing. Our poll shows that across the racial and ethnic spectrum most Americans remain unaware of the actual impact on their communities."
The poll is based on 1,000 interviews with Whites, Hispanics, Blacks, Native Americans and Asian Americans during the last week of August and the first two weeks of September, and has a margin of error of three percent. It is the first poll to measure public attitudes about the stimulus package along racial and ethnic lines, with questions administered in English, Spanish, Korean, Mandarin, Cantonese or Vietnamese depending on the language of preference of the respondent.