CHARLENEM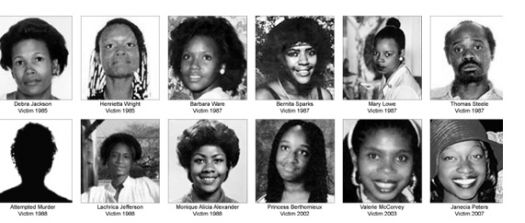 LOS ANGELES (FinalCall.com) – Two days after Barbara Ware turned 23, she was shot in the heart and her body dumped in an alley.
More than twenty years later, her family, including her now 26-year-old daughter, learned Barbara was the victim of a serial killer targeting women in South Los Angeles. The killings have been going on for over 20 years, but police responses were lackluster and important information wasn't shared or was shared years later, activists complain. They say the failures point to a lack of concern about the lives of Black women.
"She (Barbara) was murdered in January 1987 and the police kept in touch the first year, but then nothing. What was so disturbing about the situation is after we talked to the police, they ensured us they would stay in touch with us about what was going on. The next thing I'm watching TV about this 911 tape concerning Barbara's death," recalled her stepmother Diana Ware.
Someone had called in the night Barbara was murdered saying they saw a person dumping her body, but according to Ms. Ware, the police never informed her family, until after the LA Weekly wrote about the death last year.
Barbara would be one of 11 people killed, 10 women and one man, by a lone suspect who struck within a 40-mile radius over three time periods between 1985 and 2007. One woman survived his murder attempt in 1988.
According to police, the suspect is a Black male and his victims, at least those that have been documented so far, include Debra Jackson, killed in 1985; Henrietta Wright (1986); Thomas Steele (1986); Bernita Sparks (1987); Mary Lowe (1987); Alicia Alexander (1988); Lachrica Jefferson (1988); Princess Berthomieux (2002); Valerie McCorvey (2003); and Janecia Peters (2007).
"We were absolutely outraged that they waited until 11 women were already dead to even announce that a serial murderer was operating," said Margaret Prescod, founder of the Black Coalition Fighting Serial Murders. When she and about four other Black women went to the LAPD for more information and to hold the authorities accountable, Ms. Prescod said they were told don't worry. She and the women were told there is nothing to worry or fear; if they weren't hookers because "he's only killing prostitutes," Ms. Prescod said police told her.
The women didn't give up. They pressed police to rename the case the Southside Slayer instead of Prostitute Killer and as the coalition grew and tracked down some victims' families, it found out the women weren't prostitutes, Ms. Prescod continued.
One victim was a night duty nurse, another one was a PBX operator for the Los Angeles Times and several of the victims were mothers.
"To us it didn't matter if the women were sex workers or not, their lives had value. They were somebody's daughter and that didn't mean anybody should be out there murdering them and that the LAPD should have such disrespect for the lives of Black women that they're going to wait until 11 are dead. … Everybody knew if the same thing had happened in Beverly Hills, or any other darned place, the response would be different," Ms. Prescod said.
After the coalition held weekly vigils in front of LAPD headquarters, distributed about 150,000 fliers door-to-door and people and the media started to take interest in the murders, police offered a $35,000 reward, according to Ms. Prescod.
The killer was renamed the Grim Sleeper by a reporter for the LA Weekly, who helped to uncover how Ms. Peters' death was linked to the others.
Despite current rewards from $50,000 to half a million dollars for anyone with information leading to the killer, not enough evidence has turned up to catch the murderer.
At one point, the police arrested one of their own, a Black officer in the Sheriff's elite division by the name of Ricky Ross. Police charged him with three of the 11 murders, held a press conference announcing the arrest–but several days later released him because of insufficient evidence.
A short time later Mr. Ross, who had maintained that he was innocent and was being framed by police, died but the murders continued.
Loved ones of the victims and activists charged that police let opportunities to crack the case slip away. According to Detective Paul Coulter, a member of the current five-member task force, the case is still progressing. The early murders were linked through ballistics, he said, and the 2002-2003 and 2007 murders were linked through DNA.
"This guy's targeting people on the streets. Most of our girls have had issues with narcotics or prostitution, so it's not so much that he's creeping around, taking innocent mothers off the street. We suggest people just use caution when they're out," Det. Coulter told The Final Call.
Family members of victims held a meeting with task force investigators to determine what else they didn't know, like police had a composite sketch of the suspect but have never released it. And the 911 tape about Barbara Ware's murder existed in the 1980s–but wasn't made public until earlier this year.
According to Atty. Nana Gyamfi, of Human Rights Advocacy, no one is completely sure when the murders first began but police have said there are an additional 33 murders that cannot conclusively be linked to the Grim Sleeper.
"They have a sketch that was done back in 1988 and that is something that normally you get out everywhere. You think about the Craig's List killer, and how they had pictures of him and his head was always down or turned to the side. They didn't care. They put that mess up and said if you have any information let us know," she said.
There were also descriptions of two vehicles used by the suspect, a "souped up" orange Pinto with stripes on the side and a church van that was used to dump Barbara Ware's body.
"It's the difference between the valuing of Black life versus the valuing of White life. Clearly if these were White women, as opposed to being Black women, especially if these were White women sort of in the working class, there would be an all-out onslaught. It would be national news … whether or not they were prostitutes," said Atty. Gyamfi.
She pointed out that the Craig's List victims were sex workers, who advertised prostitution on the Internet, but they weren't blamed for the attacks and their prostitution was not held out as a negative. "Their prostitution was treated like it was a regular job and it was made clear that this man did not have the right to kill these women based upon their job description. So with Black women it should be no different," Atty. Gyamfi said.
(The Black Coalition Fighting Serial Murders has established a hotline for anyone with tips involving any of the 12 murders: (323) 221-1698, or email [email protected]; www.blackcoalitionfightsback.org.)