JABRIL.MUHAMMAD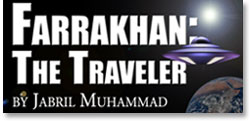 On January 29, 2007 I published the fourth edition of Is It Possible That The Honorable Elijah Muhammad Is Still Physically Alive??? This fourth edition contains all of the previous and a letter from the Honorable Elijah Muhammad written to me in 1966 and a letter from the Honorable Minister Louis Farrakhan written to me on June 5, 2006.
The book open with these words:
"What's In This Book?
" … the testimony of Jesus is the spirit of prophecy."
(Revelation 19:10; King James Version)
"There are two significant additions to this edition of this book. They are in the appendix.
"The first is a letter written by the Honorable Elijah Muhammad to me in 1966. In it he expressed his conviction, that by divine help, he would escape a particular death plot that he would one day face.
"In a previous edition of this book, published in 2001, I made reference to this letter in the last chapter of this book. I did not have it then. However, on June 27, 2002, I was very surprised and very happy to receive a phone call that a copy of that letter was to be faxed to me later that day.
"That letter is now contained in this book.
"This edition also contains a statement by the Honorable Minister Louis Farrakhan expressing his view of this letter's value. He made it on June 5, 2006 while answering questions from me for Closing The Gap."
"Jabril Muhammad
"January 29, 2007"
*****
In the appendix we can read:
"On the morning of June 17, 2002, I received a phone call from Sister Andrea Muhammad of Muhammad Mosque #12, Philadelphia, Pennsylvania to the effect that she received a letter from Minister Rodney Muhammad (of that same Mosque) for me.
"It was the letter I referred to on page 114 of the eighth chapter of this book that was written to me by the Honorable Elijah Muhammad in November 1966.
"I had it when I published this book in 1983 and in 1990. It did not occur to me to mention nor include it in those printings.
"However, I did not have this letter at the time this book was published in 2001. If I did I would have published it in that printing which was about double the size of the previous two."If you notice I did not mention, in that chapter, whether or not this letter came up in what he told me of his future escape from a death plot. The letter was not on my mind at the time of our discussion, which developed, for me, quite unexpectedly. Nevertheless, I was and am grateful to Allah and to him for what he did tell me.
"I am very thankful to Allah for blessing me that day with that letter. I hope you share this gratitude. And, perhaps this letter will stimulate deeper thought over the future of the Honorable Minister Louis Farrakhan.
"Jabril Muhammad
"May 26, 2006"
*****
In my last article for The Final Call I wrote:
"In this same edition on June 5, 2006, I interviewed the Honorable Minister Louis Farrakhan on a number of topics for the book, Closing The Gap. One of them was this, what he thought about my idea of placing the letter that the Honorable Elijah Muhammad sent to me back in November 1966 to be placed in this book. Here was part of his response.
"There is no witness stronger than his own witness of what he knew would come to him, except Allah. He told you in the letter that he would escape a death plot. He gave several instances of scripture that confirmed that.
"So our saying he's alive is strengthened by his words and he confirms what we've been saying that he is alive in the face of those who say: 'Well the Honorable Elijah Muhammad never said nothing like that' or 'I never heard nothing like that' or 'I don't believe the Honorable Elijah Muhammad is alive.'
"Well here's a letter that he wrote at such and such a time in a certain context. And he bears witness that he would be taken on the heel of a death plot. Then, in connection with this death plot, the Honorable Elijah Muhammad told you that, 'If Allah had not shown me how I was going to escape, I would have no hope.'"
I ended the same with these words that I wrote a few days, on July 28th 2009:
"I know that there are people who do not agree with him, not to mention me. I know that many do not accept his public statements that came out of his more than a vision experience, that the Honorable Elijah Muhammad is still physically alive. That experience should help you to see that the Honorable Elijah Muhammad is alive, right now!
"What does this mean? It does mean that Minister Farrakhan has tremendous power backing him."
The same fourth edition contains a very short chapter, titled Minister Farrakhan's Magnificent Answer. I gave it that title when I made the fourth edition in 2006.
In chapter six it starts with my words: "The interview of the Honorable Minister Louis Farrakhan, from which I excerpted a small part, and placed it in an earlier part of this book, was done over a period of several days. On April 3, 1994, in a follow up question, I asked him this:
"Do you think you would have come to the position in which you are without your having come to the realization that the Honorable Elijah Muhammad is yet physically alive?"
Without hesitation he responded: "Never, never, never could I have reached the point that I'm reaching, or have reached, and am still reaching right now, had I not come into that realization.
"In education there is a thing that is called a 'plateau of learning'. When one reaches a plateau of learning, and stops there, the process of learning stops and the process of intellectual death begins. So when I saw my leader as dead, the fountain of my spiritual and intellectual growth had died.
"There were so many unanswered questions in what he had taught me, that I then had reached a plateau of learning, and having stopped there, a process of intellectual death had begun. This was because certain things I had been taught, and of which I was convinced–which were the foundation of my life–and which were linked inextricably to his life, were now being broken down, as I was convinced that he was dead.
"And at a certain point, even though I wanted to rebuild his work, out of my love for him and love for the people, there is no way I could have carried myself or the people forward without coming to that realization.
"Once I realized that he was in fact alive, the whole of the Bible, from Acts to Revelation, took on new and vital meaning, which meant there was no longer a plateau in my growth. I began to grow again. And not only grow again, but grow into a new growth, because the realization of his life and his growth … the realization of his [my note: the Honorable Elijah Muhammad's] growth and his higher life, after I thought he was dead, is also the realization of my growth and my life.
"The realization of his [my note: the Honorable Elijah Muhammad's] renewal, after what appeared to be his death, is the realization of my own renewal after my appearance of death.
"It is the realization that all of humanity can be renewed, but only renewed in him, in a proper knowledge of him–the Honorable Elijah Muhammad. And this is why I believe the scripture says 'All become new creatures in Christ.'"
Minister Farrakhan has a beautiful heart.
More next issue, Allah willing.