JABRIL.MUHAMMAD
Previous Farrakhan The Traveler Articles
T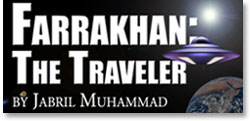 he Honorable Minister Louis Farrakhan said these words: "In education there is a thing that is called a 'plateau of learning.' When one reaches a plateau of learning, and stops there, the process of learning stops and the process of intellectual death begins."
These words appear on page 71 (or in chapter six) of "Is It Possible That The Honorable Elijah Muhammad Is Still Physically Alive???" That chapter is titled "Minister Farrakhan's Magnificent Answer."
I am urging the reader to ponder the wisdom contained in Minister Farrakhan's words in the beginning of this article; even as I'm writing a part of this article based on a recent personal experience that pertains to my health. Ponder means to "think about something carefully over a period of time or especially before making a decision or a conclusion."
The first time I ever remember I saw the "effects" of high blood pressure; I was in the home of the Honorable Elijah Muhammad in Chicago. That was in October 1960.
I had an appointment with him in his home in Chicago. Approximately 1 hour into it, he motioned me to follow him from the dining room into the living room. He told me that his blood pressure was up and he wanted to put his feet up on the ottoman. He told me of the previous day's activities that were very pleasant and lasted into the night but also very tiring. That day included a wedding that involved one of his sons.
We continued our business. I did not understand high blood pressure and to me he looked the same.
Over the years, I did not study that health condition. But, I was introduced much deeper into what high blood pressure was in 1987. My Big Brother (Minister Farrakhan) took me to see a doctor because my blood pressure went way up. He got it way down. After three months he wondered why he could not get it down below 150/90.
I'm going to skip from that time (1987) to October 2008 last year when I was trying to get to Chicago to make the Holy Day of Atonement event in October 2008. I did not make it. (I intend to mention a few facts pertaining to my bouts with high blood pressure between 1987 to October 2008 because they may help others.)
About three months ago, I was not seriously thinking about going to Chicago, for Saviours' Day, due to my high blood pressure, which had not yet stabilized, at that time. I had also not yet flown on an airplane since the ending of 2000. I'm aware that some people had died because their heart was not ready to deal with the high elevation.
Most doctors, in general, look at three organs that are "responsible" for high blood pressure. The heart is the first organ. The second is kidney. The third is the brain. In 1987, the doctors could not find a cause of my high blood pressure because they concluded there was nothing wrong with my heart, kidneys or brain that produced my high blood pressure.
I was still able to fly and did fly while I had high blood pressure. Over a period of years, high blood pressure affected my heart. When I was poisoned in 1999, that caused me to have a heart attack in 2000. My heart was already weakened due to the high blood pressure.
It was not until the year 2000 when the doctors noticed that I had poor kidney function. These doctors thought that my kidney was the reason for my high blood pressure. Later that was proven to be false. In December 2005 I was admitted to the hospital and a CAT scan and MRI of my brain was done. The Cardiologists and the Nephrologists told me that my brain caused my high blood pressure.
In 2007 it was proven that it was not my brain that was causing my high blood pressure. I have medical records that cover everything I just stated and more. In December 2008, Dr. Patina Muhammad discovered that it was my adrenal glands. I intend to finish this point in the next article, Allah willing. I hope you will read it carefully and without prejudice.
Sister Claudette Marie Muhammad, National Protocol, Office sent me this short note.
"January 20, 2009, I was very Blessed by Allah to be there in the moment of time to "witness History in the Making at the Inauguration of the 44th president of the United States."
"As the Honorable Minister Louis Farrakhan has said, 'America's New Beginning,' President Barack Hussein Obama, II is a part of that 'Beginning.' In appreciation of your participation of our 'New Beginning,'please accept this memorabilia to be reminded, 'What is required of us now, is a new era of responsibility,' President Barack Obama. Happy Saviours' Day!"
She used the words, "History in the Making." Those words are usually used about events that are in the process or have happened. The Honorable Elijah Muhammad had also given us another view of these words when he explained that there are very powerful men who wrote of history–written in advance. That was implied back in 1964. Of course he has taught much on this. There's no reason to get into that here, in this short article. Minister Farrakhan has dealt with this. And, I am among those who had borne witness to this fact.
In 2008, I saw that Barack Obama became the President- elect representing the Democratic party. Due to my health condition, I had not really focused on the election process until this time. Among the other things I thougt, last year, that occurred during that time period-44 years ago- the Hon. Elijah Muhammad first announced that he was setting up the Three Year Economic Program. I was in the audience, along with other Ministers, as the Honorable Elijah Muhammad was conducting that meeting. One of the things he indicated that there was an election mentioned in the scriptures. He did not specify. But he did not indicate whether or not this election (1964) was it.
That meeting was held in October 1964. As I thought over this event, I thought if this Brother became the President-elect, in 2008 that would mark 44 years since certain significant events would have passed. Of course, that would include that meeting, in which he said very significant things about Minister Farrakhan. I remember them. He made a point that directly refers to Minister Farrakhan, but not by name. I intend to make this very clear, by the help of Allah.
Then in 2008, Barack Obama became the 44th president of America. In the eyes of many people, he is seen as the most important man on the planet. Of course others don't see that. But, they see him as a very significant person. I see him as a very significant man. He holds a powerful position.
I see Minister Farrakhan as a very, very significant man and he holds a very, very significant position and he represents plenty of power. To explain this requires either a very long speech, or a big book. Smile.
More next issue, Allah willing.