JABRIL.MUHAMMAD
Previous Farrakhan The Traveler Articles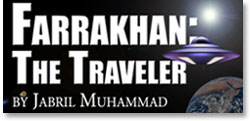 In the previous article I gave the reader a brief introduction on why I call this column and the articles in it "Farrakhan The Traveler." I intend to go back to this fact in the next article or two, by the help of Allah. I hope you will read it.
I was blessed to attend Saviours' Day 2009. Approximately 3 months ago, I had no idea I would be present. That was due to my ongoing bout with high blood pressure. I mentioned this because I really believe many people will be benefited by this recent discovery in my life.
I thank Allah, in the Person of Master Fard Muhammad and His Messiah, the Honorable Elijah Muhammad for the Honorable Minister Louis Farrakhan for paying the bills involved in getting me to Chicago. On this past Thursday, Minister Farrakhan allowed me to attend the Laborers meeting. I gave this note for Minister Farrakhan to read to the Laborers. Here it is:
"I asked my Big Beloved Brother–the Honorable Minister Louis Farrakhan, to read my statement to you all. During August of 2008, I made a public statement to the Believers in the Nation of Islam. It took me 6 weeks to make it. I asked him to read the first 4 paragraphs."
******
"As-Salaam Alaikum:
"In the name of Allah, the Beneficent, the Most Merciful.
"I bear witness that there is no God but He and
"Muhammad is His Messenger.
"Dear Believers,
"I've made only a few public remarks of my health condition since I was hospitalized on February 18, 2007. These few remarks have appeared in the beginning of a very few of my articles and at the end of one article that appeared in our newspaper–The Final Call.
"It did not occur to me that I would ever be compelled to make a public statement related to my health.
"The basis of this statement originated on the second day after I woke up in the hospital on February 25, 2007. I felt that it would be very educational. Moreover, I thought it would clear up some misunderstandings.
"Allah blessed me to awake with a clear mind. When I awoke I saw my son, Elijah, Brother Cedric and Brother Charles. I saw them and I smiled. My first words were, 'Where am I?' They answered. Then I asked, 'How many days have I been here?' They answered. They told me, 'Five days.' Then I said, 'Well, I guess I'm not in Detroit.' We all laughed. I then asked them, 'Is there anyway I can see the Minister Saviours' Day Address?' They told me, 'Yes.' I was satisfied. NOW, TWO YEARS LATER, ON FEBRUARY 26, 2009, ALLAH, IN THE PERSON OF MASTER FARD MUHAMMAD, AND IN THE NAME OF THE HONORABLE ELIJAH MUHAMMAD, THEY BLESSED ME TO BE HERE, TO LOOK AND HEAR MY BELOVED BROTHER, IN PERSON AND TO SEE ALL OF YOU, AND THEN, ALLAH WILLING, TO SEE AND HEAR HIM ON SUNDAY IN PERSON.
"I THANK HIM FOR READING THIS TO YOU AND FOR YOU LISTENING.
"AS-SALAAM ALAIKUM
"Jabril Muhammad"
He read it and the Believers responded. I'm grateful that he read it and the Laborers responded.
Later I learned that on the next day, Friday, Student Minister Brother Robert Muhammad of Houston, Texas referred to my words. I'm told that he elaborated on them. I thank him for his words and I thank the Believers for their response to his words.
I am grateful for being able to attend Mother Tynnetta's Ta Ha The Final Call Symphonic Suite. I'm also grateful for being able to watch and listen to Minister Farrakhan's Saviours' Day Address titled, Accepting Responsibility To Build Our Community. Both of them made magnificent performances.
Both of them are magnificent human beings. I was forced to look up the word "magnificent" to see if I could see more of that word. I would have to learn a better language to describe what I was blessed to witness of both of them. I intend to make comments as soon as I can on Minister Farrakhan's Saviours' Day Address, which gives more evidence that he is a world leader and then some.
My purpose for the column Farrakhan: The Traveler is not about my health. That would be insanity plus and to the height of vanity. That will not raise our people. Smile. My purpose for writing about my health and putting it in The Final Call Newspaper and in this article can be read on the website: www.cuttingedge.org. It reads in short, "The purpose of this website is to educate the general public on cutting edge information." I'm about to end these writings very soon. I hope it's helping others.)
Three months ago, I was not seriously thinking about going to Saviours' Day due to my high blood pressure that not yet, at that time, stabilized. Up to that time, I had not flown on an airplane since 1999. Once my blood pressure was stabilized, I had to be tested to see how my heart handles elevation.
I've just stated a problem that I was faced with just before I made the decision to attend Saviours' Day. Now I intend to inform you how that problem was overcome. I hope others will receive benefit from this experience.
In 2002, I went to Chicago by train. Some people died on the train due to health reasons.
Ever since I've been writing in this newspaper my aim has been to provide cutting edge knowledge, with truth, (and with others) of Minister Farrakhan. I tried to provide the same cutting edge information in chapter ten of This Is The One.
By the help of Allah, I will continue to do this.
More next issue, Allah willing.