JABRIL.MUHAMMAD
Previous Farrakhan The Traveler Articles
This is being presented July 2008 from the 4th Edition of "Is It Possible That the Honorable Elijah Muhammad Is Still Physically Alive?" I omit some of the words from this and the next article and raise a question at the end of one.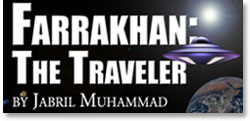 It has been about 13 years since I wrote the letter, first to a dear Brother, (and then to Minister Farrakhan), which became this book approximately 7 years ago. I never sent that letter to the one for whom I first intended it. However, I eventually gave him the letter in book form. That Brother is the esteemed and respected dentist, Dr. Abdul Salaam of Chicago, Illinois.
I decided to mention his name, at this time, because his expertise is relevant to the extremely important issue of whether or not the Honorable Elijah Muhammad is physically alive. The importance of that issue has been publicly heightened by means of the vision from the Honorable Elijah Muhammad to Minister Louis Farrakhan, on September 17, 1985, and the Minister's report of it to America and the world. Hopefully, the relevance of Dr. Salaam's expertise will become clearer when we come to Minister Farrakhan's first public announcement, in 1981, that the Honorable Elijah Muhammad was and is alive, a few pages from now.
That vision was relevant to a press conference, for which Minister Farrakhan was the spokesman, which was held in Washington, D.C., February 5, 1986. Later that night Minister Farrakhan began his world tour. It was his growing understanding of that vision that led Minister Farrakhan to alter his itinerary, after he had visited a few countries in Africa. The spirit of Allah moved him to go to Libya.
On the basis of that vision Minister Farrakhan delivered a powerful speech on March 16, 1986, in Tripoli, Libya. Before representatives of approximately 80 nations, he warned the then president, Mr. Ronald Reagan. At that time President Reagan was the Commander-in-Chief of the Armed Forces of the most powerful government of the Caucasian race, the United States of America. He warned President Reagan not to make war on Libya. He issued this warning from an authority superior to that which fueled the decision of Mr. Reagan and those with him to make war on Libya.
At a certain point, in that 1986 speech, he stated, "On the night of September 17th, in a little village in Mexico, Allah gave me a vision, which involved Mr. Reagan sitting with the Joint-Chiefs-of-Staff to plan a war. I did not know where the war was, but it is clear to me that with the ships of the Sixth Fleet in the waters of the Gulf of Sidra, that Mr. Reagan, and the Joint-Chiefs-of-Staff have planned to make war on Libya to destroy the fruit of the El Fatiha Revolution."
For the sake of His servant, Minister Farrakhan, and for the sake of an unwary general public, God Himself saw to it that the truth of the Minister's statement was confirmed in a powerful and public manner. Here, in brief, is part of how it happened.
In 1987 the news that President Reagan and the Joint-Chiefs-of-Staff had secretly planned a war against Libya–a few weeks before the Minister received his vision–became public through The New York Times news services, The Washington Post and The Atlanta Journal. This news spread throughout America and the world, thus publicly verifying Minister Farrakhan's powerful experience.
(I am interjecting now July 15th 2008 this note: That the sender of his vision saw this before anyone outside of The Joint-Chiefs-of-Staff new of the plans. What kind of power does this imply?)
Minister Farrakhan's vision occurred the night of September 17, 1985. Four years later in September 1989, Minister Farrakhan came to see that he had yet to hold that press conference which the Honorable Elijah Muhammad wanted him to hold in Washington, D.C.
So he held that press conference in that city, to reveal that plan, or plot, which involves the assassination of the Minister himself and the wholesale murder of Black people in this country, by President Bush and his Joint-Chiefs-of-Staff.
Was everyone who was involved, or was to be brought into this plot equally aware of the specifics? Only those who hatched it–and Allah and His highly placed angels–know for sure.
I urge the reader to get a copy of The Comer By Night by Sister Tynnetta Muhammad and Farrakhan: God's Man on the Straight Path by Jabril Muhammad which should be available in early 1990, as well as the various speeches made by the Minister, and back issues of The Final Call newspaper. All of which contain vital information pertaining to, and verifying the extremely significant spiritual plus experience of the Minister and its profound practical value for us all.
It is, of course, beyond the purpose of this introduction to this little book to go into those details necessary for the best understanding of the "vision" of Minister Farrakhan, and how it relates to the fact that the Honorable Elijah Muhammad is alive; is well; is in power; and is doing that which was written that he would do even as you read these words.
The reason I have decided to mention Dr. Salaam's name, at this time, in this context, is because he is one of the two dentists whom Minister Farrakhan mentioned during his Saviours' Day Address in February 1981. In that address he announced publicly for the first time his conviction that the Honorable Elijah Muhammad had escaped a death plot in 1975 and was with Master Fard Muhammad.
In the eyes of many people, Minister Farrakhan staked his reputation and risked being thought of as insane. He opened himself to public mockery by announcing that he had come to believe that the Honorable Elijah Muhammad was alive, even though he believed that he had seen his teacher's body in a coffin at the end of February, 1975.
Nevertheless, he stated not only his conviction, but he offered to pay whatever costs were required to have the buried body, said to be that of the Honorable Elijah Muhammad exhumed. He mentioned that there were two dentists who had dental records, which would verify whether or not the body in the ground was that of the Honorable Elijah Muhammad.
Dr. Abdul Salaam is one of the two dentists.
Moreover, the Minister announced that if it was truthfully determined that the body in the ground, reported to be that of the Honorable Elijah Muhammad, was in fact his, he would stop teaching!
It is one thing to say that you believe the Honorable Elijah Muhammad died of natural causes in 1975. It is quite another thing to say that there was a death plot and that it succeeded.
If there was a plot, and if it was successful, then murder took place. If there was a plot, which did not succeed, did it fail because he died of "natural causes" before it was put into effect?
Or, if it failed, was there another reason?
We would agree, no doubt, that it is still quite another thing to say that not only was there a death plot, but that the Honorable Elijah Muhammad escaped it; was restored to full health; and is with Master Fard Muhammad on that huge wheel-like plane that is even now flying over our heads.
Add to this that he knows who the plotters were and knows those who have joined their ranks to plot against Minister Farrakhan, his followers and the Black Nation generally, since then and is doing something about it, with both mercy and firmness.
Furthermore, Minister Farrakhan's experience in Mexico, was next to actually seeing him in his physical body. He has publicly stated that in this experience he heard the voice of the Honorable Elijah Muhammad, on the Wheel (Mother of Planes), and was told by the Honorable Elijah Muhammad that which he has told the world.
More next issue, Allah Willing.