JABRIL.MUHAMMAD
Previous Farrakhan The Traveler Articles
I want to open this article with the question, why did I ask you to read section 10 of Closing The Gap when you already have the book, or I have reason to think that you own a copy of this book?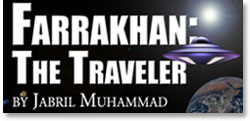 The last three articles begin on page 314 and ends on page 322 of Closing The Gap. I did not ask you to read the last three articles to offend, insult or annoy to any extent. I'm sure that you are well able to read with intelligence.
However, unless you are able to read minds then you do not know what went on in my mind to ask my Big Brother this question. Why did I ask the question I asked him that opened up the last section of that book? The last section ends the book.
Many people think that we have arrived to the end of the end of this world. My question is how many people base their views about this time on the words of the teachings of the Honorable Elijah Muhammad as taught by the Honorable Minister Louis Farrakhan?
My view is based on the teachings of the Honorable Elijah Muhammad as taught by Minister Farrakhan. Why? Minister Farrakhan was appointed by a man who met God, taught by God and is now backed by the Two of Them.
This is critical.
Minister Farrakhan has been working, absent his teacher physical presence, from 1977 to now.
I wrote the words below in the early nineties. It appeared in The Final Call in a book. It deals with this specific time period that we're living. Almighty God raised Moses a long time ago. Then he raised Aaron to assist Moses with his mission. Aside for God purposes at that time, it was a sign of what have occurred at the end of the world. Moses was a sign of the Honorable Elijah Muhammad and Aaron was a sign of Minister Louis Farrakhan.
We're definitely in that time period. Here are the words I wrote as witnessed as a follower.
"Yes. Yes. Yes. Most of us don't see, much less hear, this yet. But we will; for, as the Honorable Elijah Muhammad has said and written, that it is the will and purpose of Allah that we will know the truth and rise up into power! Our ignorance will be overcome by the power of the wisdom of Allah, in the Person of Master Fard Muhammad! The Supreme Being simply will not be defeated by our ignorance; self-hatred; love of enemies and in general, our collective insanity. We just don't have enough power to force our practically nonexistent will against His will.
"Just as "nothing" stopped the God in the beginning of creation "nothing" will hinder the God from fulfilling His vision in the recreation of the new heavens and the new earth. We, the Black people of America are the people written of, in the scriptures, who were made "no people," or "Negroes." But, things are changing.
"The Honorable Louis Farrakhan's presence and work is proof enough of the above. I did not say he was evidence, but proof, in every sense of that big word.
"It is written in Isaiah 29:18-24 that, "And in that day shall the deaf hear the words of the book, and the eyes of the blind shall see out of obscurity, and out of darkness. (19) The meek also shall increase their joy in the Lord, and the poor among men shall rejoice in the Holy One of Israel. (20) For the terrible one is brought to naught, and the scorner is consumed and all that watch for iniquity (who seek to trap God's man and people) are cut off: (21) That make a man an offender for a word, and lay a snare for him that reproveth in the gate, and turn aside the just for a thing of naught. (24) They also that erred in spirit shall come to understanding, and they that murmured shall learn doctrine."
"In the 10th chapter of Romans, there are some very beautiful words about the fulfillment of what was written in Isaiah 29. At one point we read that Paul said whoever calls upon the name of the Lord shall be saved–at a certain time.
"Romans 10:14 and 15: "How then shall they call on him in whom they have not believed? and how shall they believe in him of whom they have not heard? and how shall they hear without a preacher? (15) and how shall they preach except they be sent? as it is written, How beautiful are the feet of them that preach the gospel of peace, and bring glad tidings of good things!" (Note: first, a preacher, then preachers … which refers to the Honorable Louis Farrakhan, and then others … who preach the gospel …).
"What I'm driving at, is: the Honorable Elijah Muhammad knew that the God Who taught him had determined how best to remove all poison and rust from all of us; regardless to our condition and number, which may well be over 40 millions.
In The Fall of America he wrote, on page 102, with reference to us (Black folks):
"Perhaps all of you will be saved; for you are bound to submit when you see what is coming."
On page 143, he also wrote:
"Do not think that the 144,000 prophesied of, are the only ones who will be saved."
Now, I have said and written this before, and I'll touch it again here, and I don't tire of it, for I am among the beneficiaries of what I'm about to sum up.
I've written in The Final Call newspaper Vol. 11-20, August 24, 1992.
God told the Honorable Elijah Muhammad, in 1964, that He was going to bring down the fullness of His wrath within 18-24 months of that time. He had no choice but to publish what he was told. However, he begged Allah, in prayer, for more time. Allah gave it to him. And out of that we have the Honorable Louis Farrakhan today! If that had not happened, where would we be?
I am among the grateful for the great sacrifices the Honorable Elijah Muhammad and the Honorable Louis Farrakhan have made for the future of our poor people.
In Surah 7 verse 142, we read of Allah appointing for Moses 30 nights and that he completed them with 10. In brief: the 30 nights were about from 1935 to 1965 and the 10 nights were about from 1965 to 1975.
Did not you read of those times when the people provoked God to anger, due to their rebellious attitude and deeds, and Moses and Aaron fell on their faces and prayed to the God for mercy and for time to work with the people?
Both the modern Moses and the modern Aaron have likewise prayed to Allah for time to get to our people, out of hearts filled with intense compassionate love. They warned of a day–a specific day–that is all but upon us, when God will punish those who reject the warnings these two have and are giving.
More next issue, Allah willing.